Superb adaptation of Stephen King's bestseller, with a chilling central performance from Bill Skarsgård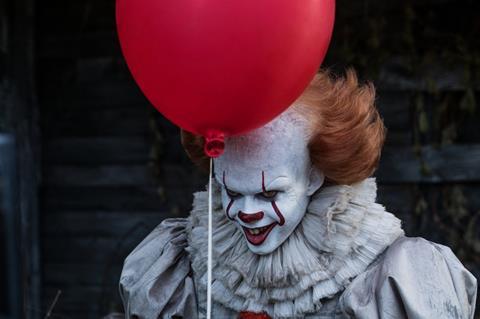 Dir: Andy Muschietti. US. 2017. 135mins
The terrors are everywhere in It, the superb adaptation of Stephen King's horror novel about a group of teen outcasts who discover that a mysterious killer clown is just one of their problems. Scary but also emotionally visceral, the film compellingly articulates the universal anxieties associated with adolescence — small wonder, then, that director Andy Muschietti doesn't just focus on fanged bogeymen but, also, the daily torment presented by bullies, abusive parents, rampaging hormones and the loss of a sibling. Consistently, persuasively unnerving, It turns the coming-of-age drama into a nightmare.
Muschietti and editor Jason Ballantine don't rely on cheap jump-scares to elicit their jolts.
Opening September 8 in the UK and US, this Warner Bros. release doesn't boast much star power, but King fans will come out in droves to support one of the author's most popular books, which was made into a 1990 American miniseries. It looks to do major business and will pave the way for a sequel that is in the early stages of planning.
Taking place over the summer of 1989 in a small Maine town, It stars Jaeden Lieberher as Bill, a geeky, stuttering teen still mourning the disappearance of his younger brother the year before. He and his friends — all around the age of 13 — are outsiders at their school, a fate they find less humiliating when the pretty tomboy Beverly (Sophia Lillis) starts hanging out with them. But Bill's insistence that his brother isn't dead puts him in the path of a clandestine creature named Pennywise (Bill Skarsgård), who's trying to murder them one by one.
Those familiar with King's 1986 bestseller won't be surprised by It's plot machinations. (This first film involves only the kids' storyline, with the sequel featuring the characters as adults.) But, judged as a standalone movie, this first instalment is a brutally compelling chiller, delivering plenty of shocks and successfully amplifying the tension until it's resolved in a spectacular finale.
Three core components work in unison to make It hum. The first is the effective casting of young actors to play these awkward, uncool teens. While some of the members of the so-called Losers' Club aren't particularly well-drawn, each character has enough dimension that we care about their fate. And the central players, especially Lieberher and Lillis, believably convey that ungainly mixture of petulance, sweetness, fragility and innocence so familiar to all parents of teenagers.
As Pennywise, the deeply spooky spectre who appears in the guise of the teens' greatest fears, Skarsgård is icily menacing, the character's evil eyes freezing the audience in its tracks. Mostly appearing as a creepy clown, Skarsgård taps into the disturbing juxtaposition of frivolity and derangement that many people associate with this common children's entertainer. With the aid of makeup and special effects, the actor's nerve-wracking stillness allows Pennywise to rightly assume his place among cinema's memorable horror villains; even more appropriate as the film takes place during the late 1980s, when icons such as Freddy Krueger and Jason Voorhees were haunting cinemas.
And then there's Muschietti's ability to stage myriad fright scenes. The director of Mama utilizes plenty of familiar horror locales — dank sewers, low-lit basements, condemned houses — but he and editor Jason Ballantine don't rely on cheap jump-scares to elicit their jolts. Instead, the filmmakers explore how these terrors affect the characters, whether it's excavating Bill's guilt and grief about his missing brother or producing a shocking bathroom sequence that, in part, ties into Beverly's fear of her domineering, abusive dad. We're troubled by what Muschietti shows us, but, because we understand these teens, we also recognize their inner trauma.
Production designer Claude Paré and cinematographer Chung-Hoon Chung drape the horror scenes in a clammy atmosphere that's not too far removed from the otherwise realistic portrayal of racism, sexual humiliation and bullying that the Losers' Club faces from some brutish classmates.
Admittedly, It's self-consciously epic final confrontation strives for a grandeur that's out of proportion with the rest of this modest horror film, but Muschietti arrives at an ending that poignantly reconnects to the movie's unspoken themes of friendship and the importance of letting go of fear — until the sequel.
Production companies: New Line Cinema, RatPac-Dune Entertainment, Vertigo Entertainment, Lin Pictures, KatzSmith
Worldwide distribution: Warner Bros., www.warnerbros.com
Producers: Roy Lee, Dan Lin, Seth Grahame-Smith, David Katzenberg, Barbara Muschietti
Executive producers: Dave Neustadter, Walter Hamada, Richard Brener, Toby Emmerich, Marty P. Ewing, Doug Davison, Jon Silk, Niija Kuykendall
Screenplay: Chase Palmer, Cary Fukunaga & Gary Dauberman, based on the novel by Stephen King
Cinematography: Chung-Hoon Chung
Production design: Claude Paré
Editor: Jason Ballantine
Music: Benjamin Wallfisch
Website: www.itthemovie.com
Main Cast: Jaeden Lieberher, Wyatt Oleff, Jeremy Ray Taylor, Sophia Lillis, Finn Wolfhard, Jack Dylan Grazer, Chosen Jacobs, Bill Skarsgård