Vanessa Kirby is magnetic in Adam Leon's shapeshifting examination of an amnesiac in New York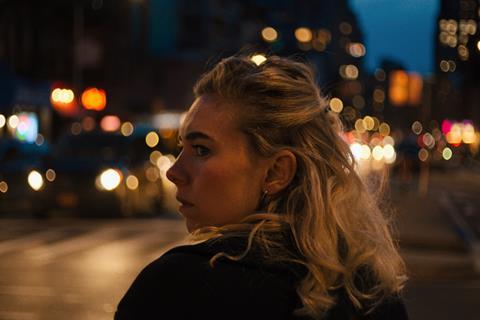 Dir/scr: Adam Leon. US. 2021. 79 mins.
The third feature from Adam Leon (Gimme The Loot) takes an unconventional and tangential approach to the theme of memory loss. Weaving a tangle of timelines and layers of real and imagined encounters in a dreamlike odyssey through the streets of New York City, the film treats amnesia as an opportunity, a chance to rediscover the world from the starting point of a more-or-less blank slate. It's something of an ask for the audience, and with a less-compelling actor in the central role, the film might have found itself mired in its own enigma. But Vanessa Kirby is a magnetic presence playing writer Alina Reynolds, unexpectedly poised for a woman who has lost all memory of herself and her surroundings; a spikily capricious and, at times, reckless character, she is defiantly at odds with the idea of the amnesiac as a vulnerable, helpless victim.
A freewheeling, spontaneous voyage into the unknown
Alina's assurance, even while adrift, without shelter and money, does leave us with questions about her condition. And both Leon's sinuous, shapeshifting storytelling and Kirby's ambiguous performance keep such queries largely unanswered. Best approached as a film which is as much a puzzle as it is a character study, Italian Studies should be a talking point on the festival circuit following its Tribeca world premiere. Kirby's profile post-Oscar-nomination, and the quality of her performance, will be a key selling point for arthouse distributors and boutique streaming platforms, as will Leon's indie-rising-star credentials.
Although the story is bookended by segments set in London, the main body of the film unfolds in New York. But there's a complicated origami to the timeline within the US section, which folds in on itself, deliberately playing continuity tricks with Alina's changing wardrobe, and even the season in which the story takes place. That she is adrift, following the sudden onset of what seems to be a fugue state in a hardware shop, is not in question. But there's an elasticity in our understanding of how long the amnesia lasts; how much she has forgotten and how much she has chosen to free herself from.
At the onset of her memory loss, Alina is wearing a light blouse in a striking saffron yellow which finds echoes in the colour palette throughout the film. Later she is dressed for autumn, in a roll-neck sweater and an overcoat. The film doesn't explain where she got the change of clothes, leaving us with the niggling possibility that the amnesia is partially faked, or embraced as a chance to relearn ways of seeing the world. More likely, however, is the option that Alina's confusion is genuine, but her self-confidence and her sense of self remain, even though she has little idea who that self actually is. Jarring musical clues, from an inventively expressive score by Barry Jenkins' collaborator Nicholas Britell, give us a moment-by-moment update of Alina's mental state.
A connection with a geeky but charismatic teenager (Simon Brickner) opens a door into a hitherto unseen city; rediscovery of her own short-story writing (after she is recognised by a fan) brings a new set of voices into the picture. The barrier between the real and the fictional encounters is increasingly permeable, as is the line between social norms and unacceptable behaviour, in this freewheeling, spontaneous voyage into the unknown.
Production companies: Animal Kingdom, Tango Entertainment, Topic Studios
International sales: Topic Studios - First Look Media, ryan.heller@topic.com
Producer: Brad Becker-Parton, Joshua Astrachan, Jamund Washington, Andrea Roa, Jason Reif
Cinematography: Brett Jutkiewicz
Editing: Sara Shaw
Production design: Maite Perez-Nievas, Maggie Ruder
Music: Nicholas Britell
Main cast: Vanessa Kirby, Simon Brickner, Annika Wahlsten, Annabel Hoffman, Maya Hawke