This portrait of naturalist Jane Goodall benefits from colour video footage which was previously thought lost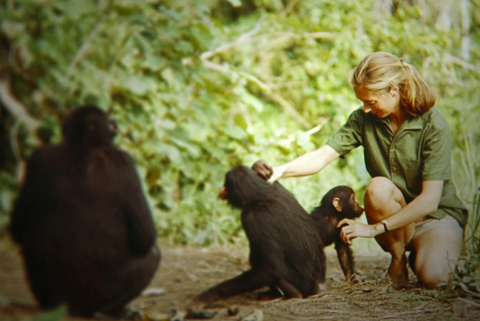 Dir/scr: Brett Morgen. US. 2017. 90min
The recent discovery of 1960s colour video footage has given rise to this engaging documentary about trailblazing naturalist Jane Goodall, the first person to document chimpanzees in their natural habitat. Combining these fascinating archive visuals with a contemporary interview with Goodall, Jane is both a stunning celebration of nature and insightful study of our changing relationship with the world around us.
Morgen delivers both an intimate, inspirational portrait and a powerful message of compassion and conservation
Having enjoyed a successful festival run, most recently heading to IDFA, Jane opened on limited release in the US on October 20 to solid returns, taking just over $1m from under 100 screens. A UK release on November 24 should yield similar results, with word of mouth likely helping the film to an extended life on VoD; particularly if it achieves its expected Oscar nomination.
Opening text explains that the footage, filmed during the 1960s by video journalist (and, later, Jane's husband) Hugo Van Lawick, was believed lost until 2014. Its human subject, Jane Goodall, was a 26-year-old secretary when she was asked in 1957 by her boss, Kenyan paleoanthropologist Dr Louis Leakey, to travel to Africa to live in the jungle and study the behaviour of chimpanzees; primates he believed central to the understanding of human evolution. Leaky specifically chose his new researcher for her non-academic background; he wanted someone who could observe and record from a humanist perspective
Jane, now in her 80s, then takes over the chronological narration of her own remarkable story, speaking both to camera (in scenes filmed in Tanzania by Ellen Kuras) and in voice over. Following her lifelong love of animals and the "magical invitation" to Africa, she describes her arrival in the jungle as a sense of coming home. While winning the chimps' trust took several frustrating months, Jane's determination finally paid off when she was accepted by the local group, who then allowed her to get close enough for detailed study. What she found was nothing short of seismic at the time; that chimps used rudimentary tools, cared for each other and clearly felt emotions such as empathy, love and grief.
While Jane's richly-textured narration is softly spoken and endearingly humble, the archive footage — expertly assembled by director Brett Morgen and editor Joe Beshenkovsky, who worked together on lauded 2015 Nirvana documentary Cobain: Montage of Heck — tells the story of a fiercely independent modern woman, determined to buck the expectations of the day. When we see newspaper headlines and TV newsreels that remark on her looks ahead of her research, Jane shrugs and comments that she used what she had to get herself heard.
Although Jane never harboured ambitions of marriage and children, both did happen. After she fell in love with Van Lawick when he was foisted upon her by National Geographic, the couple married and had a son, Grub. She never allowed family to interfere with her work — when Van Lawick's career took him elsewhere, Jane chose to remain with the chimps and the couple eventually divorced — but speaks openly about how her own personal experiences impacted, and sharpened, her professional focus.
It's in Jane's explanation of how motherhood allowed her to better understand the chimps' sense of community and nurturing behaviours, which in turn lead to the realisation that they share our emotional intelligence and sense of empathy, that the documentary makes its most salient points. We have, as Jane says, a "responsibility to other life forms on the planet." In allowing Jane to tell her own story, and footage to speak for itself (augmented by a powerfully emotive score from Philip Glass), Morgen delivers both an intimate, inspirational portrait and a powerful message of compassion and conservation.
Production companies: National Geographic Studios, Public Road Productions
International sales: Cinetic Media office@cineticmedia.com
Producers: Bryan Burk, Tony Gerber, Brett Morgen, James Smith
Cinematography: Ellen Kuras
Editors: Joe Beshenkovsky
Music: Philip Glass
Featuring: Jane Goodall, Hugo Van Lawick