Dir/scr. Amy J Berg. US, 2015, 103 mins.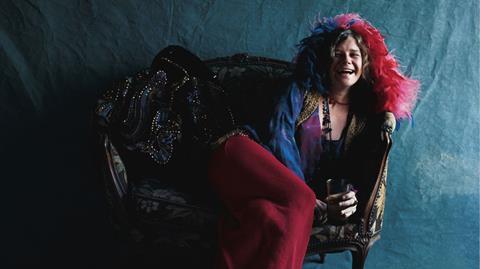 Three decades before Amy Winehouse there was Janis Joplin, another dynamic, feisty, bluesy female vocalist whose life came to a tragic end at the rock world's unlucky age - 27. A different Amy – documentary-maker Berg – pays joyous, moving tribute in this feature-length film to the girl from Port Arthur, Texas, whose breakout performance at the 1967 Monterey Pop Festival ushered in a short but intense three-year period of rock fame before her death from a heroin overdose in October 1970.
If there's one thing Janis: Little Girl Blue conveys brilliantly it's the exuberant love for life and sense of fun that emanated from every pore of this snub-nosed singer.
Co-produced by PBS' long-running American Masters series, Janis: Little Girl Blue is a classic rock documentary, told using a conventional but well-sifted mix of present-day and archive interviews with performance and backstage footage. It's a good stopgap until Get It While You Can, the much-postponed biopic of the singer slated to star Amy Adams, finally gets underway – and such is the larger than life presence of the real Joplin here that it risks overshadowing that troubled project.
Like Asif Kapadia in Amy and Brett Morgen in another 2015 rock-doc, Cobain: Montage of Heck (both of their subjects also died at 27), Berg also has access to the singer's writings – specifically the poignantly upbeat, girlish letters she wrote to her parents and to the men (all of them bar one bad choices) on whom she pinned her romantic hopes. These are given a voice by singer Chan Marshall, better known by her stage name, Cat Power, whose countrified southern drawl helps to ground Joplin in the home territory she always resented but was also forged by.
It's this story before Joplin became a story that underpins everything that follows in a film whose US home will inevitably be on the small screen, but which should reach out to Woodstock-generation nostalgics elsewhere in curated theatrical releases or on auxiliary platforms. It was the Joplin estate that approached Berg in the first instance with the idea for the documentary, but surviving siblings Laura and Michael are refreshingly candid about their sister's stubborn "demand to be different" and the persecution she suffered as a result, especially at school, in a bigoted, conservative Texan town which at that time still had an active Ku Klux Klan chapter.
Painfully sensitive about her plain appearance and the jibes she received as a result, Joplin blossomed when she discovered her singing voice, and moved, in 1963, to laid-back San Francisco, whose folk and blues scenes were morphing slowly but surely into psychedelic rock. But this was also where Joplin progressed from her favourite performance-enhancing drug, Southern Comfort, to harder stuff, and entered the first of several cycles of binge and (relative) abstinence that would mark her career from then on in.
Downbeat? No, because if there's one thing Janis: Little Girl Blue conveys brilliantly it's the exuberant love for life and sense of fun that emanated from every pore of this snub-nosed singer. If she overshadowed the boys in the bands she fronted – among them Big Brother & the Holding Company and The Kozmic Blues Band – it wasn't just a question of superior musical talent, it was also (as interviewees then and now bemusedly acknowledge) something to do with her sheer animal magnetism.
And then there was that voice, which could modulate from soft lilt to hoarse, full-throated yell in a heartbeat. Though we have tasters of this secret weapon in the deftly-edited early part of the film, Berg holds the full force of Joplin's vocals back until they're unleashed in the famous Monterey Pop performance of Ball And Chain, as filmed by D.A. Pennebaker – who also features as a talking head here. It's a mindblowing turn, one that wraps with a close-up of a wide-eyed Mama Cass in the audience mouthing the words "Wow, that's really heavy!" – a sentiment most viewers of this exhilarating, well-crafted music documentary will no doubt echo.
Production companies: PDisarming Films, Jigsaw Productions, Thirteen Productions
International sales: Content Media, harry.white@contentmediacorp.com
Producers: Alex Gibney, Amy J. Berg, Jeffrey Jampol, Katherine LeBlond
Executive producers: Michael Kantor, Susan Lacy, Noah C. Haeussner, Stacey Offman, Michael Raimondi
Cinematography: Francesco Carrozzini, Paula Huidobro, Jenna Roshner
Editors: Billy McMillin, Garret Price, Joe Beshenkovsky
Music: Joel Shearer
Narration: Chan Marshall