Miransha Naik goes behind the sandy beaches of Goa for his debut, a social drama about a community of migrant workers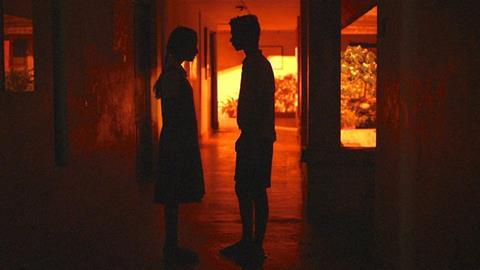 Dir/scr: Miransha Naik. India/UK/France/Netherlands, 2017. 93mins
For his debut feature, Indian filmmaker Miransha Naik goes behind the sandy beaches of tourist hotspot Goa to tackle the harsh realities faced by many of those who live there. Set in the 1990s, this tale of a community of migrant workers who are systematically abused by their slumlord boss is hard-hitting in subject, but skillfully sidesteps the soapbox to become an involving human drama. The combination of socially conscious theme and cinematic sensibility could see Juze (JuJe) connecting with festival audiences, although its rough edges and complex politics may make it a more challenging sell to traditional Western markets.
Juze may be an exploration of an existence which is endured, rather than lived, but there's no trace of melodrama or didacticism
While it may be named after the cruel, loutish Juze (Sudesh Bhise), who runs roughshod over his migrant workforce — individuals and families who arrive from all across the country in search of a living, only to end up working for a pittance and housed in a corrugated shantytown — the film is actually told through the eyes of teenager Santosh (Hrishikesh Naik). Living under Juze's rule with his ageing grandmother, Santosh is torn between his emerging responsibilities, his lack of options and his increasingly desperate need for escape.
Santosh attends school when he can, and studies hard, but knows it's all for nothing; post-graduation prospects for him are non-existent. Outspoken and defiant, Santosh is an easy target for Juze's violent wrath and, when tasked with tutoring Juze's young son, his spirited nature also attracts the uncomfortable sexual attentions of Juze's frustrated wife.
When Santosh falls for warm-hearted classmate Maya (Barkha Naik), it seems that hope may finally be on the horizon; only for the burgeoning romance to sour when Maya plays witness to the cruelty Santosh faces in his daily life.
Arguably, the strength of Naik's film lies almost entirely with the character of Santosh. While the eponymous Juze is the pivot around which the drama revolves, Santosh shoulders the dramatic and thematic responsibilities of the narrative. While he could easily have become a cipher for the ravages of poverty and suffering, young actor Naik (who also starred in director Naik's 2014 short Ram) imbues the character with energy and spirit. Like his migrant neighbours, Santosh understands the desperate nature of his situation but refuses to accept the limits placed upon him; a motivation born as much out of clear-sighted ambition as youthful rebellion and abject fear.
While Juze may be an exploration of an existence which is endured, rather than lived, there's no trace of melodrama or didacticism. Working with a predominantly local cast and crew, Naik has chosen to tell this story in straightforward style via a lean screenplay, naturalistic performances and restrained camerawork from Abhiraj Rawale. The abuse meted out by Juze to workers of all ages — which extends from taunts to beatings and rape — is unflinching but measured; a treadmill of routine, almost mundane, horror effectively punctuated by lighter moments in which Santosh shares a walk with Maya, or visits a local fair.
A single, short sequence in which the film leaves the grubby confines of the migrant community to track across the idyllic golden sands, on which white tourists are buying coconuts from a local, is just one example of Naik's subtle approach which delivers a profound emotional impact.
Production companies: Thin Air, Three Rivers, Kepler Films, Cine-Sud Promotion
International sales: Films Boutique info@filmsboutique.com
Producers: Miransha Naik, Thierry Lenouvel, Derk-Jan Warrink
Executive producer: Sidharth Yaji
Cinematography: Abhiraj Rawale
Production design: Pronita Pal, Ravi Shah
Editors: Jacques Comets, Siddesh Naik, Suzana Pedro
Music: Pierre Aviat
Cast: Rushikesh Naik, Sudesh Bhise, Barkha Naik, Gauri Kamat, Prashanti Talpankar