Dir/scr: Wayne Roberts. Us, 2016, 88 mins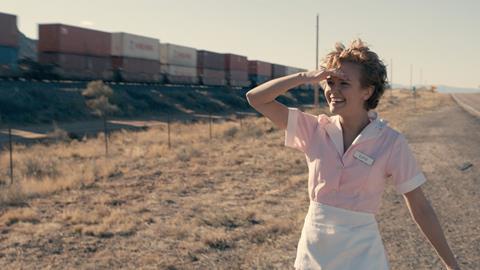 A luminous, heartbreaking performance from Olivia Cooke shines through every frame of Katie Says Goodbye. The debut feature from writer/director Wayne Roberts is a surefooted, discreetly handled tale of a young woman struggling to bridge the gap between her sweet dreams and the hard-knock realities of life. A plaintive character study with a big heart, it has the emotional kick to connect with an audience hungry for distinctive American indie features. Critical acclaim, the buzz generated by a star-making performance from Cooke and possible awards season attention should all enhance theatrical prospects, especially internationally.
Unless you knew in advance, you would never even stop to think that Cooke wasn't born in America
Roberts' film invites comparisons with revered 1970s classics like Alice Doesn't Live Here Anymore and Cooke's plucky waitress Katie could be a character from that period played by Sally Field or later by Jessica Lange.
Katie is a naive young woman who could be dubbed Little Miss Sunshine thanks to her eternally cheerful manner. She works at Maybelle's roadside diner and has a kind word for everyone. Polite, well-mannered and respectful, she says her prayers at night and has become the household breadwinner in the absence of any contribution from her feckless mother (Mireille Enos). Katie also harbours dreams of leaving her dusty New Mexico backwater, heading to San Francisco and studying to become a beautician. In order to fund those dreams, she has turned to prostitution but seems to attract the nicest, gentlest clientele, including kindly truck driver Bear (Jim Belushi).
Katie appears to be protected by her guileless innocence but If her life seems too comfy cosy to ring true, there is a constant sense that a day of reckoning will arrive. Keeping her bankroll stashed away in a shoebox under her bed seems a recipe for disaster. If nothing else, the film becomes a great advert for having a bank account.
Katie thinks she may have found her Prince Charming in taciturn, ex-con mechanic Bruno, played by Christopher Abbott (who is almost unrecognisable from James White). Pinning all her hopes on Bruno is the start of a change in fortunes that threatens her future.
Katie Says Goodbye is beautifully shot by Paul Huidobro who gives the film a sense of the vast spaces in the American heartland where empty roads stretch clear towards the horizon, the sky is always blue and sunset comes with a blush of crimson. Editor Sabine Emiliani maintains a tightly controlled sense of pace with everything counting in a concise narrative. Director Roberts doesn't lessen the dramatic impact of key scenes by choosing to let a violent attack and a sexual assault largely happen off camera.
All of those individual decisions contribute to a film where the viewer feels in safe hands and becomes absorbed by the story and mesmerised by Cooke's performance. Unless you knew in advance, you would never even stop to think that she wasn't born in America.
The casting throughout works a treat with Mary Steenburgen offering a typically warm performance as Katie's supportive boss and surrogate mother Maybelle. Jim Belushi has some nice, understated moments as Bear and Christopher Abbott's dour Bruno is like a wild animal struggling to cope with a fierce temper and the offer of an unconditional love he finds hard to accept.
Olivia Cooke is just terrific as she captures all the various facets of the waif-like Katie from the vulnerable to the neurotic. Katie's decision to always show the world a happy face becomes increasingly heartrending as she is assaulted by waves of disappointment and betrayal. Katie is so trusting, recklessly romantic and optimistic that she constantly lives on the edge of tragedy. You could image her life as the early years of the future Blanche Du Bois.
The script and performance never depict Katie as a victim and eschew the easy option of blatantly tugging at the heartstrings. Cooke conveys her warm, open spirit in a way that makes us hold her to our hearts.
Production companies: Parallel Cinema, Relic Pictures, Unknown Subject
North American Sales: CAA tristen.tuckfield@caa.com
International sales: Cercamon World Sales sebastian@cercamon.biz
Producers: Eric Schutz, Carlo Sirtori, Jacob Wasserman, Max Born, Kimberly Parker, Benjamin Steiner, David Steiner
Cinematography: Paul Huidobro
Editor: Sabine Emiliani
Production designer: Tania Bijlani
Music: Dan Romer
Main cast: Olivia Cooke, Mary Steenburgen, Jim Belushi, Mireille Enos, Christopher Abbott.