Director Joaquin LaFosse sets a mother and son at odds on a trip across Kyrgyzstan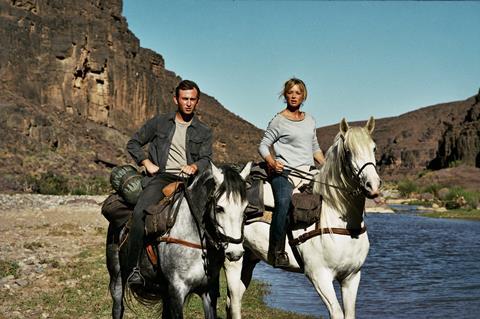 Dir. Joachim Lafosse. Belgium-Fr. 2018. 84mins
An intrepid French mother and her permanently angry teenage son travel together on horseback across gorgeous but potentially menacing terrain in Kyrgyzstan in Keep Going (Continuer). The (mostly) unspoken tension is delicious in Joachim Lafosse's unconventional family drama, his eighth film and first literary adaptation. Viewers who grow antsy without plenty of backstory may be frustrated at first but this ultra-cinematic adaptation of Laurent Mauvignier's 2016 novel exerts a rewarding aura of real-world and inner adventure.
There are just enough narrative jolts to subtly confound expectations in a manner that feels pleasingly original
Belgian actress Virginie Efira (Victoria, Elle, 20 ans d'écart), who has repeatedly proven her knack for comic timing, is completely convincing in a serious role as Sybille, who had son Samuel too young and has been absent from his life for too long. Perhaps over-optimistically, she envisions them bonding as self-reliant riders in the wilderness. Former child actor Kacey Mottet-Klein (Keeper, Quand on a 17 ans, L'enfant d'en haut) continues to grow into young adult roles with assurance and the distinctive edginess that has always made him interesting to watch.
Sybille has just sold her late father's house to bankroll this rugged trip. She and Samuel are way more at ease with their handsome steeds than with each other. Samuel loves horses but he's an urban personality at heart and has no idea why his mother has dragged him to the middle of nowhere to camp their way across mostly unpopulated expanses. Sybille speaks fluent Russian and Sam doesn't understand a word, which makes him feel even more cranky and left out. If Sybille seems secretive, it's because she is.
As they depart the rustic home of a native Kyrgyz couple, the hostess rides after them with a gift she thinks may come in handy. It's a gun.
Lafosse doles out useful snippets of information at a leisurely pace while maintaining suspense. Is this mother-and-son adventure healthy or unhealthy? Should they be trusting or on their guard during the occasional encounter with fellow humans? Is it a good idea to ford that small body of water?
After a dodgy experience, Sam begs his mother to use her phone to "call somebody!" She maintains that that won't be necessary because they're fine. But when you need a blacksmith in the wilds of Kyrgyzstan it's not as if you can just use a horseshoe app. Will Sam's anger level ever dip below 'furious?' Will Sybille make much yearned-for emotional repairs with her son? Will the landscape remain as welcoming as it is attractive? And is that pistol a crucial component or not?
Working in a simmering, low-key register, the director toys with filmic conventions of foreshadowing. There are just enough narrative jolts to subtly confound expectations in a manner that feels pleasingly original.
The daughter of the late French president François Mitterand, author Mazarine Pingeot, is one of the five credited screenwriters.
Production companies: Versus Production, Les Films du Worso
International sales: Le Pacte, ­contact@lepacte.com
Producers: Sylvie Pialat, Jacques-Henri Bronckart, Benoît Quainon, Olivier Bronckart
Screenplay: Joachim Lafosse, Thomas Van Zuylen, Samuel Doux, Fanny Burdino, Mazarine Pingeot based on the book by Laurent Mauvignier.
Production design: Stanislas Reydellet
Editing: Yann Dedet
Cinematography: Jean-François Hensgens
Main cast: Virginie Efira, Kacey Mottet-Klein, Diego Martin, Mairambek Kozhoev, Damira Ripert, Belek Mamatkoulov