In which Rian Johnson enjoyably de- and re-constructs the classic whodunnit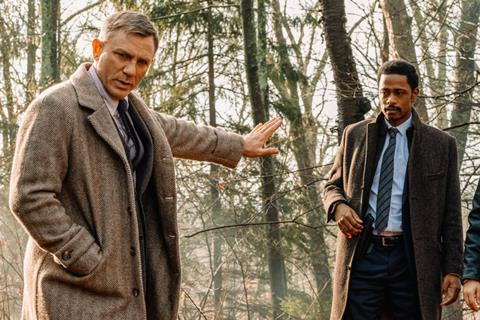 Dir/scr: Rian Johnson. US. 2019. 130mins
A whodunnit awash in twists, turns and rampant cleverness, Knives Out is, above all, a celebration of murder mysteries that puts on a fairly nifty impression of one itself. As he often does with his films, writer-director Rian Johnson tinkers with genre, relishing its pleasures while upending expectations, which creates a fun game: can we spot the cinematic referencing and figure out which member of a bestselling novelist's family killed him? This thriller can sometimes be too mechanical — a breezy exercise if not always an emotionally satisfying one — and yet the large cast's willingness to get on Johnson's brainy, sprightly wavelength makes this an enjoyable romp.
There's a wink-wink irreverence as the filmmaker encourages viewers to laugh at the genre tropes on display
Arriving November 27 in the US and two days later in the UK, Johnson's fifth feature boasts a murderers' row of A-list talent, including Daniel Craig, Chris Evans, Michael Shannon, Toni Collette and Christopher Plummer. After an enthusiastic response in Toronto, Knives Out will ride good word-of-mouth to solid box office.
The film introduces us to the Thrombey family, led by Harlan (Plummer), a world-renowned crime writer. But when Harlan is found with his throat slashed, detective Benoit Blanc (Daniel Craig) investigates, convinced this was no suicide. His suspicions lead to several members of the Thrombey clan, including his daughter Linda (Jamie Lee Curtis), son Walt (Shannon) and daughter-in-law Joni (Collette).
The fact that Craig affects a deep-Southern accent as the showboating Blanc is an indication that Johnson is playing with movie conventions, presenting us with an Agatha Christie-style mystery that takes place primarily in one location — the palatial Thrombey estate — and features a slew of suspects and a faintly ridiculous investigator. Although Johnson treats the whodunit seriously, there's a wink-wink irreverence as the filmmaker encourages viewers to laugh at the genre tropes on display.
But it's not enough to simply call attention to those tropes, and Johnson does a fine job of surprising us with where his story goes. Even after we feel certain about what happened to Harlan, flashbacks and alternate views of past events complicate our understanding of why the crime occurred. In this regard, Ana de Armas is crucial as Marta, Harlan's caregiver and one true friend, who becomes an unlikely Watson to Blanc's Holmes. (The character also inspires Knives Out's most cutting running joke: Harlan's bigoted family like Marta, even if none of them can agree which South American country she's from.)
With such a starry ensemble, it's inevitable that some actors will have too little to do. (To pinpoint specific cast members would be, in a way, a spoiler.) Craig never entirely breaks free of the straitjacket of his knowingly preposterous role — he's a little too stiff to be truly freewheeling — but de Armas shines as the hired help plunged into the middle of a murder investigation. And in flashbacks, Plummer elegantly plays an ageing patriarch saddened that his rotten offspring have become too dependent on his success.
In Johnson's best films (Brick, The Last Jedi), he's able to combine his love for genre deconstruction with that sort of emotional undercurrent, a mixture of craft and heart. Much like Blanc, Knives Out is pleased with its own swagger, but along the way, a more human story emerges, leading to a finale that's smartly executed but, in retrospect, oddly touching.
Production company: T-Street
International sales: Lionsgate, sales@lionsgate.com
Producers: Ram Bergman, Rian Johnson
Production design: David Crank
Editing: Bob Ducsay
Cinematography: Steve Yedlin
Music: Nathan Johnson
Main cast: Daniel Craig, Chris Evans, Ana de Armas, Jamie Lee Curtis, Michael Shannon, Don Johnson, Toni Collette, LaKeith Stanfield, Katherine Langford, Jaeden Martell, Frank Oz, Riki Lindhome, Edi Patterson, K Callan, Noah Segan, Christopher Plummer