Julianne Moore stars in Stephen King's adaptation of his own novel for Apple TV+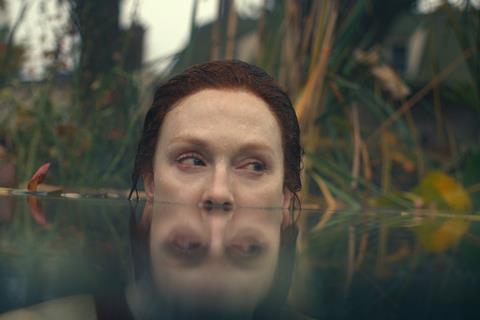 Series director: Pablo Larrain. Creator: Stephen King. Apple TV+. 8 x 60 mins.
Lisey's Story is, on all fronts, too much. Too long, too over-produced, too many talents, too overwrought, too much going on. It's what results when Stephen King, the world-famous author known for the blockbusting nature of his novels, adapts his own 528-pager for the small-screen, acts as showrunner, and filters his vision through the distinct lens of Pablo Larrain, the brilliant Chilean auteur known for arthouse titles Ema, Jackie, and Tony Manero. With Apple signing the cheques, you feel as if this team – which also includes Darius Khondji as DoP - could have gone on forever, but even stalwart lead actor and EP Julianne Moore shows signs of flagging by the end (which is, frustratingly, by far the best episode, although some viewers may have given up by then).
There's also a sense of brilliant people shouting over each other
King has always claimed Lisey's Story as his favourite, and the author of Carrie, The Shining, and The Shawshank Redemption, to name but a few, has held it back from big-screen treatment in favour of small-screen episodic. Like Misery, it involves a successful author and – in part – an obsessed fan (played with excessive relish by a deranged, bug-eyed Dane DeHaan). But this tale of Lisey (Moore), the bereft Maine-farmhouse-living widow of the mysterious writer Scott Landon (Clive Owen), lacks the necessary cruelty which comes with a Kubrickian adaptation of original material. It's violent, sure, but King can't quite kill his darlings in Lisey's Story.
There's a lot to unpack here. The most intriguing and affecting element of the series is its treatment of mental illness and PTSD and the fragmentation of the self, presented in a fantastical, yet also literal way. But also it's a jarring mix of horror that isn't scary, fantasy which can seem half-hearted, and a love story which is confusing to everyone including the two lovers involved. There's also a lot – too much – slashing of wrists and smashing-in and crunching of faces, particularly Moore's: Lisey has to make far too much use of the healing water which swirls around the tale.
Larrain, ever the visualist, takes delight in setting out his stall. A mosaic of colours and textures and patterns and orchestral music eventually crystallises to present three sisters, all living close to each other in Maine – this is elliptical story-telling, always recoursing to flash-back and -forward. Lisey is mourning her beloved husband Scott (a "national treasure" who "seamlessly joined the realistic and the fantastic"). Amanda (Joan Allen) lives nearby, slashing, carving and unpicking her wrists while moving slowly towards becoming fully catatonic. In a series which hits some sustained morose notes, it's a relief whenever eyerolling third sister Darla (Jennifer Jason Leigh) gets some screentime. Especially because there's a backstory involving Scott and his family to come which never lets up on the filthy reality of dreary backwoods Pennyslvania with a crazy sadist daddy.
In one strand of the plot, Lisey is being pursued by a professor from Tennessee, Dashmiel (Ron Cephas), who wants her to relinquish Scott's unpublished work. He sets his malevolent "deepspace cowboy" Jim Dooley (DeHaan) on her trail. Dooley is a Scott Landon superfan, wears a yellow raincoat, does crazy dancing and says things like: "No more of your bitchery!". In the meantime, Scott is revealed to have had a particular rapport with Amanda – both self-harmed – while Lisey has repressed memories from her marriage of a particular place to which Scott and Amanda would retreat. This has the unfortunate name of Boo'ya Moon, which Larrain visualises as a morgue-coloured amphitheatre of the dead and passing over.
King's folksy colloquialisms can get in the way of Larrain's fondness for the cinematically flighty. Apart from deepspace cowboys and Boo'ya Moon, Scott's nickname is Bool and he calls Lisey "babyluv", suggesting he's an author in need of a spellcheck programme, as well as some therapy after a childhood which could teach Dickens a thing or two about a hard-knock life. Whatever the case, it all sits very uneasily with the continued use of Maria Callas on overwrought backing music. Larrain seems to be aiming to tie Twin Peaks visuals to earthy material from King which simply and absolutely refuses to surrender to that treatment.
Each week, it seems, brings a new collaboration between cinematic greatness and the new world of high-end television. Despite the headlines, not all of it hits, although the metrics of streaming are far more forgiving than the opening weekend box office. Kate Winslet has struck TV gold in the procedural Mare Of Easttown, with screenwriter Brad Inglesby and seasoned TV director Craig Zobel. While there's much to take away from almost eight hours of writing by Stephen King, the direction of Pablo Larrain, and the acting of Julianne Moore, there's also a sense of brilliant people shouting over each other. To use King's vernacular, it may also be a case of horses for courses as well.
Production companies: Bad Robot
Worldwide distribution: Apple +
Creator: Stephen King. Teleplay: Stephen King, from his own novel.
Executive producers: Stephen King, JJ Abrams, Julianne Moore, Pablo Larrain, Juan de Dios Larrain, Ben Stephenson
Cinematography: Darius Khondji
Production design: Guy Hendrix Dyas
Main cast: Julianne Moore, Clive Owen, Joan Allen, Jennifer Jason Leigh, Dane DeHaan, Ron Cephas, Sung Kang