It's hot in the kitchen as a team of Chinese detectives go undercover as restaurateurs to smoke out a gangster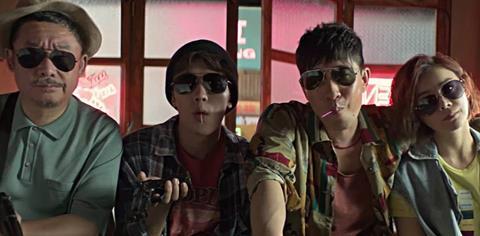 Dir: Lu Xinyun. China. 2018. 94 mins
With a title that almost begs you not to take it seriously, Lobster Cop is a broad action-comedy which throws a team of undercover detectives into the restaurant business with sporadically amusing results. First-time director Li Xinyun, best known for her role in Beijing Flickers (2012), and a game ensemble cast certainly mine the scenario for all its worth, but the execution lacks the finesse needed to elicit anything more than a lukewarm recommendation.
Close-up shots of the bad guys' faces as they suck on the heads of spicy crawfish capture the anticipation and elation that comes with satisfying a food craving.
Served up in China as a busy summer season is already underway, Lobster Cop could prove popular in lower-tier cities where moviegoers may not be so inclined to gorge on such Hollywood feasts as Jurassic World: Fallen Kingdom and The Incredibles 2. Opening simultaneously in limited global release, its appeal will likely be limited to undemanding diasporic crowds seeking a taste of home with streaming prospects being similarly niche.
Du Yufei (Wang Qianyuan), Hua Jie (Yuan Shanshan), Neng Shu (Liu Hua), and Chen Li (Zhou Yu), are a team of floundering detectives tasked with bring down a narcotics kingpin known as The General. While staking out the shady logistics company that is likely a front for his cartel, the cops realise that the best vantage point is from the bathroom of the neighboring seafood restaurant, a shabby establishment whose proprietor (Shen Teng) lacks both culinary flair and a knack for customer service.
Seizing the chance to make an impressive bust, they raise enough money to buy the business and pose as a family. Beleaguered team leader Du plans on running a low-key operation but complications ensue when the irresistible crayfish recipe of eldest team member Neng, who once dreamed of becoming a chef, turns the restaurant into an overnight success. Soon, the targets have become loyal customers with their preference for takeout giving impulsive rookie Chen the opportunity to get a closer look at their activities when making deliveries.
It's a promising enough set-up with an uproarious cameo from local comedy sensation Shen providing an early high point as his disgruntled restaurant owner is so inept at bargaining that one of the cartel henchmen unwittingly helps the cops by acting as a meditator. From here, potentially fun avenues are suggested, then abruptly dropped, notably how the unexpected success of the restaurant briefly distracts Hua, Neng, and Chen from their detective duties since their state salaries pale in comparison to the wads of cash generated by Neng's tasty dishes. There's also a halfhearted romantic subplot as assuming the roles of 'husband and wife' leads the banter between the recently divorced Du and the feisty Hua to become more flirtatious, although Du's 'paternal instincts' towards 'son' Chen at least gives the makeshift family element some heft.
Perhaps lending the formulaic material more panache than it deserves, Jiao Jin's production design and Lin Fei's cinematography make the most of the main location as the traditional restaurant is bathed in cheerfully garish red neon. Giving the impression that the behind the scenes talent has more of an affinity for the preparation and consumption of meals than the rigors of police work, the cooking montages are dynamically cut by editor Wang Gang while close-ups of the bad guys' faces as they suck on the heads of spicy crawfish capture the anticipation and elation that comes with satisfying a food craving.
The ensuing fights and shoot-outs are perfunctory by comparison, with an ill-fated attempt to apprehend The General at a fairground taking the proceedings into jarringly solemn territory. However, there's a late burst of dexterity as Wang crosscuts between three well-staged climatic fights, one of which finds two combatants wrestling on the restaurant's kitchen floor. With their sweating faces emphasised by heightened red lighting and blood spilling from their wounds, they resemble oversized lobsters flailing in a frying pan.
With more inspired lunacy or smarter plotting, Lobster Cop could have been a surprising treat. As it is, this is perfectly digestible light entertainment that won't have anyone coming back for seconds.
Production company: Big Cat Films, Wanda Media Co.
International sales: Wanda Media Co.
Producers: Li Zhi Gao, Zhang Li, Christy Liu, Mao Yuan
Screenplay: Fan Jiu Wei, Li Zin Yun, Lu Xun, Wen Zhong Ri
Production design: Jiao Jin
Editing: Wang Gang
Cinematography: Lin Fei
Music: Chen Kun
Main cast: Wang Qianyuan, Yuan Shanshan, Liu Hua, Zhou You, Zhou Yunpeng, Shen Teng