Steven Soderbergh comes out of big-screen retirement to remind viewers just how good he can be; Channing Tatum, Adam Driver and Daniel Craig hop on board for this NASCAR-themed ride.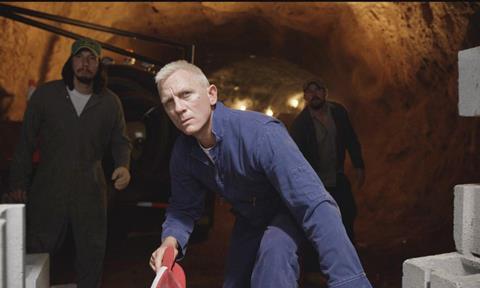 Dir: Steven Soderbergh. US. 2017. 119mins
A blue-collar Ocean's Eleven, Logan Lucky represents Steven Soderbergh's first big-screen feature in four years, and the filmmaker delivers a smooth-running, pleasantly familiar crime caper. Exhibiting the same casually consummate craftsmanship and breezy stylishness that have long been his calling cards, the director's slick lark never strains for greatness, but its consistent superficial pleasures are strengthened by a game, accent-sporting ensemble and the faintest hints of emotional undercurrents which gird this story of working-class thieves who strive for a better life.
In a movie full of cons, the greatest may be how deceptively easy Soderbergh makes this whole enterprise seem
Opening on August 18 in the US, Logan Lucky will entice the Oscar-winning director's fans, who should also be attracted by a starry cast that includes Channing Tatum, Adam Driver and Daniel Craig. The film's heist-comedy premise ought to be a selling point, too, and even if reviews aren't euphoric, this Bleecker Street offering could be a modest late-summer commercial success.
The Logans of the title are West Virginia brothers Jimmy (Tatum) and Clyde (Driver), who have a reputation in their small town for being luckless souls who have been dealt a bad hand. (Jimmy was a high school sports star until he blew out his knee, while younger brother Clyde served in Iraq and lost an arm.) Together with their hairdresser sister Mellie (Riley Keough), they team up with incarcerated bomb expert Joe Bang (Craig) to hit a popular local NASCAR race in the midst of the event to steal the speedway's massive cash haul.
Written by first-timer Rebecca Blunt, Logan Lucky does little to disguise its narrative similarities to Soderbergh's 2001 Ocean's Eleven remake. But unlike Danny Ocean's suave, cocky, high-tech criminals, the Logan Lucky bandits are lower-class guys and gals with lazy Southern accents and unsophisticated worldviews. But despite the humour Soderbergh and his ensemble derive from these blue-collar, sometimes bumbling characters, the film's heroes are far from backwoods caricatures, instead displaying plenty of smarts and soulfulness.
Tatum, making his fourth film with Soderbergh in the director's chair, exudes some of the same regular-guy vulnerability that was evident in 2012's Magic Mike, another portrait of Southern life told from the perspective of a restless, impoverished dreamer. Jimmy may just be a working stiff with an ex-wife and a little girl, but Tatum turns that small-town cliché into something quietly poignant, even when the film makes fun of his lack of computer expertise and book smarts. Alongside the mournful, puppy-dog-eyed Driver, whose Clyde seems to have lost a lot more than just his arm in the war, Tatum helps to find the humanity in these lovable hicks.
Soderbergh, who claimed to have retired from filmmaking in 2013, turning his attention to television for his period drama series The Knick, flaunts the sharp, meticulous attention to detail which has always been a highlight of his work. But where Ocean's Eleven luxuriated in every nuance of the elaborate heist, Logan Lucky zips by such details, refusing to orient the audience and, instead, trusting that we'll be bright enough to follow the crew's plan. And it's not just one plan: first, Jimmy and his team must break Bang out of prison — which involves putting Clyde into prison — and then stage their daring raid under the track during the NASCAR race. Serving as his own editor and cinematographer — as per norm, using pseudonyms — and working with his frequent composer David Holmes, the director demonstrates a tight, confident control over the material, juggling family dynamics and thriller elements with aplomb.
Admittedly, the cheerful, lightweight tone has its limitations. For every expert supporting performance — Craig has a blast portraying this snide Southern lowlife — there's an errant turn from someone like Seth MacFarlane, who plays a race-car driver who's so cartoon-ish that he feels like he's been beamed in from a different film. Likewise, the cheeky humour, which includes references to everything from Game Of Thrones to Ocean's Eleven itself, can be so slight and sarcastic that Lucky Logan occasionally feels dashed-off, as if Soderbergh decided to show off his trademark style without taking this cinematic exercise all that seriously.
But that impression short-changes how surprisingly involving Jimmy and Clyde's odyssey proves to be — especially during an extended finale in which a new threat emerges to jeopardise their scheme. In a movie full of cons, the greatest may be how deceptively easy Soderbergh makes this whole enterprise seem.
Production companies: Fingerprint Releasing, Bleecker Street
US distribution: Bleecker Street, www.bleeckerstreetmedia.com
International sales: FilmNation, www.filmnation.com
Producers: Gregory Jacobs, Mark Johnson, Channing Tatum, Reid Carolin
Executive producers: Michael Polaire, Dan Fellman, Zane Stoddard
Screenplay: Rebecca Blunt
Cinematography: Peter Andrews
Production design: Howard Cummings
Editor: Mary Ann Bernard
Music: David Holmes
Website: www.bleeckerstreetmedia.com/loganlucky
Main Cast: Channing Tatum, Adam Driver, Seth MacFarlane, Riley Keough, Katie Holmes, Katherine Waterson, Dwight Yoakam, Sebastian Stan, Brian Gleeson, Jack Quaid, Hilary Swank, Daniel Craig