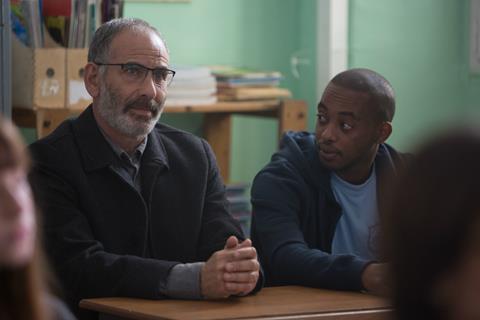 Dir/scr: Savi Gabizon. Israel, 2017. 103 min
In its story of a middle-aged man who discovers too late he has lost a son he didn't know existed, this "extremely sad comedy" — to quote director Savi Gabizon — walks a narrow path between pathos and irony. Entertaining and moving, it never quite exploits the potential of its hallucinatory ending, leaving the audience to fill in the gaps instead.
Gabizon's typically light directorial touch is once again in evidence here
Writer/director Savi Gabizon (Shuru, Lovesick on Nana Street) does confront such weighty issues as the meaning of parenthood and belated grieving, but he gently nudges them towards an absurdist if ultimately bland climax, relying on actor Shai Avivi to carry most of the story through as he did in the recent One A Week And A Day. The Audience Award Longing collected at the Jerusalem Film Festival suggests a possible hit at home, while its universal themes could lead to a decent international release.
Successful single businessman Ariel Bloch (Avivi) is shocked to learn from a former girlfriend of his, Ronit (Assi Levy), that she was pregnant when they separated two decades previously but kept quiet as she knew he didn't want to be a parent. Now that their 19-year-old son has died in a car accident, however, she feels compelled to tell him.
Shocked by the news, Ariel takes a day out of his busy Tel Aviv schedule to visit his son's grave, where he bonds with another grief-stricken parent, Gideon (Yoram Toledano), who is coming daily to the cemetery to nurse his own personal guilt about his daughter's suicide. Determined to find out more about his son, Ariel travels to Akko (Acre), a picturesque city by the sea in the north of the country, where he meets those who knew the boy. These include Ronit and her husband; the pretty teacher (Neta Riskin) his son was besotted by; Lilia (Ella Armony), his 15 year-old girlfriend; and the school principal (Shmuel Edelman), who didn't sufficiently appreciate his son's poetical talents. Each one reveals a new and different side to the boy he never knew.
It's revealed that Ariel's decision not to have children was motivated by his own cruel treatment at the hands of his violent father; a decision he desperately tries to atone for, even though he's never clear how. He persistently defends the memory of the son he never knew — apparently as imperfect as most kids his age — to anyone who dares throw even the slightest doubt over the boy's character, carried away by a kind of love and devotion he never suspected of having in himself.
Gabizon's typically light directorial touch is once again in evidence here, surface ripples which imply more substantial matters going on deep down. One dream sequence — a caricature of the adored teacher, gigantic and naked, sitting astride the whole school compound — suggests a surrealistic approach which Gabizon prefers not to pursue any further. Instead, he follows Ariel's trip, taking in people whose initial compassion for the grieving father wears thin every time he tries to reach beyond their polite replies.
Avivi, who is almost never off the screen, plays the part with the earnest naiveté of someone dabbling in uncharted territory, never quite sure of what he feels but thrusting ahead by sheer instinct. The rest of the cast performs well, though none of their roles is particularly substantial.
Production companies: United Channels Movies
International sales: Film Boutique info@filmsboutique.com
Producers: Chilik Michaeli, Avraham Pirchi, Tami Leon, Savi Gabizon, Moshe Edery, Leon Edery
Cinematography: Asaf Sudri
Editor: Tali Helter-Shenkar
Main Cast: Shai Avivi, Asi Levy, Neta Riskin, Yoram Toledano, Shiri Golan, Ella Armony, Shimon Mimran