Britain's Fyzal Boulifa - a double award-winner for his shorts at Cannes - makes an anticipated move into feature film-making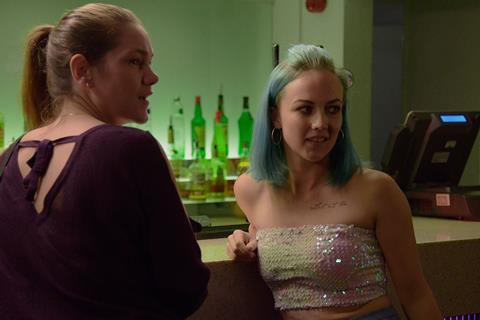 Dir/scr: Fyzal Boulifa. UK. 2019. 90 mins.
Set in Harlow, a former New Town north of London with one of the UK's highest concentrations of social housing, Lynn + Lucy is full of empathy for the struggling working class characters it spends time with – especially the two women in their mid-twenties who give the film its title, best friends since schooldays who embody a resilience that the inert men around them lack. But if there's strength, not all of it a force for good, in the sororities Lynn + Lucy homes in on, there's far less in a hesitant plotline centering a tragedy that tests these female friendships, family bonds and the community at large.
A strikingly expressionist take
Striking formal control is not always matched by the narrative depth of this first full-length feature by British filmmaker Fyzal Boulifa, who pulled off the remarkable feat of winning the Quinzaine Premier Prix Illy short film prize not once but twice at Cannes with The Curse (2012) and Rate Me (2015). The film looks likely to slip into the same slot occupied by rule-breaking British social realist films, embraced more by critics and festivals than general audiences – such as the London Film Festival, where Lynn + Lucy is set to screen next.
The film's boxy 4.3 ratio was last memorably used in a British film by Andrea Arnold for Wuthering Heights (coincidentally, Leeds-born actress Nichola Burley features in both). Here the format also brings a sense of the suffocating pressure of a world where choices are as narrow as the cramped spaces the characters inhabit. In Lynn + Lucy these are drably-furnished rooms in cheap brown-brick council houses. What Boulifa and DoP Taina Galis add to the mix – thanks also to their four-hander edit – is a strikingly expressionist take on a story that otherwise might look like typical Dardenne brothers or Ken Loach material (it comes as no surprise to see Loach taking an associate producer credit here through his company Sixteen Films). The film often cuts to long close-ups on faces, especially those of the two protagonists, played by Burley and newcomer Roxanne Scrimshaw, with no musical soundtrack to distract from the intense gaze.
Lynn (Scrimshaw) is the film's centre of gravity. Pregnant at sixteen, she now lives with disabled army vet partner Paul (Shaq B. Grant) and daughter Lola (Tia Nelson) in a council house opposite her best friend Lucy (Burley), who has just had her first child with her own younger partner Clark (Samson Cox-Vinell), a lad who is barely out of school himself. Both girlfriends suffer from low self-esteem, but the blue-haired Lucy deals with it by being an extroverted, hard-drinking party girl who simply ignores hurtful truths, while Lynn, with her puffy face and uncertain eyes, is a wary introvert who seems to expect to be treated like dirt, yet is a kind, attentive mother. She's a link between the judgmental, small-minded town at large – represented by the hairdressing salon managed by small-town babe Janelle (Jennifer Lee Moon) where she finds work as cleaner and tea lady – and the rage that boils inside Lucy at being penned into a dead end life by birth and circumstance.
Pairing a street-cast actress like Scrimshaw with a professional such as Burley creates an edgy dynamic, and it's not the able Scrimshaw's fault if her character is unable to carry a shift into ethical thriller territory that takes place midway through the film. That's down to a script whose weakness isn't entirely masked by Lynn + Lucy's formal poise. What could have been a tight drama can come across as a stilted modern morality play. And while that's partly the point – as it's arguably the mob mentality of Brexit Britain that is Boulifa's target – the shift from buddie movie to social-media-age persecution drama often feels clunky.
Production company: Rosetta Productions
International sales: Charades, nicolas@charades.eu
Producer: Camilla Bray
Screenplay: Fyzal Boulifa
Production design: Samuel Charbonnot
Editing: Fyzal Boulifa, Taina Galis
Cinematography: Taina Galis
Main cast: Roxanne Scrimshaw, Nichola Burley, Kacey Ainsworth, Jennifer Lee Moon, Shaq B. Grant, Tia Nelson, Ashleigh Bannister, Samson Cox-Vinell