A strong documentary of abuse and survival in a closed community in Israel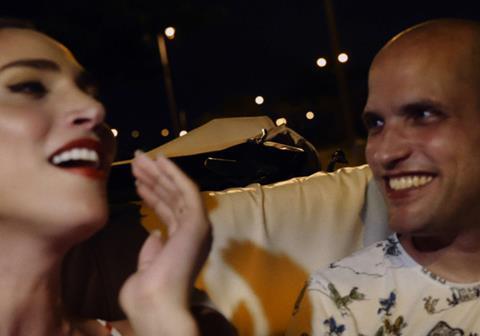 Dir Yolande Zauberman. France. 2018. 105 mins
The only way to escape the past is to confront it head-on in M. Yolande Zauberman' s revelatory, thought-provoking documentary quietly breaks down barriers and challenges taboos as it follows one man's return to a community that left him with profound emotional scars. The result is a compelling personal tale that is sensitive to the complexities of the wider issues it confronts. Festival interest could be brisk following the Locarno world premiere.
Zauberman's unobtrusive observational style brings its own rewards
Menahem Lang is a brash, larger-than-life character who seems to enjoy being the centre of attention. He has acted in a number of films, including Promised Land (2004) and Jellyfish (2007), has a beautiful singing voice and a deeply troubled past. Raised in Bnei Brak, an area of ultra Orthodox Judaism east of Tel Aviv, Lang left when he was twenty. He subsequently revealed that he had been systematically raped throughout his childhood and used as a plaything by the elders of the community. He did not think his experience was unique.
Lang went on to secure a confession on camera from one of his abusers that was broadcast on Israeli television. His rape was part of a much bigger story of abuse within the community. Lang is now in thirties and still seeking the kind of answers and acceptance that might give him peace.
Zauberman follows Lang's return to Bnei Brak. It feels like entering forbidden territory, as her discreet camerawork, all under the gloomy cover of nightfall, offers a clandestine glimpse into a world that prizes its secrecy.
Yiddish is spoken throughout and Lang is a man who likes to talk. The more he muses and unburdens himself, the more we understand how his life was marked. We learn of his marriage and divorce, the estrangement from his family, the shame, and the anger that nobody sought to protect him. He is frequently met by people who say they find it hard to believe his story. The easiest way to silence Lang is to deny him a hearing.
Zauberman's unobtrusive observational style brings its own rewards. Eventually, there are people in the community willing to admit there has been a problem and openly discuss ways in which a cycle of abuse can be broken.
Lang is clearly a troubled soul but what is most poignant about M. is that he misses being in Bnei Brak, desperately wants a reconciliation with his mother and father and still has a commitment to his faith. He is now a cantor and seems at his most relaxed on a street corner in Bnei Brak, surrounded by others and singing his heart out.
Filmed mostly at night, M. feels like a film noir. It is claustrophobic and stifling in a way that reflects life there for some. As figures close to the camera talk, the background is filled with residents going about their lives in a way that seems unchanging. A quick, furtive glimpse towards the lens is the only sign of curiosity or concern. Lang's story often prompts more questions than it resolves but that only makes M. a richer, more intriguing act of testimony.
Production companies CG Cinema, Phobics Films
International sales CG Cinema production@cgcinema.eu
Producer Charles Gillibert
Editing Raphael Lefevre
Cinematography Yolande Zauberman