Lovers of extreme cinema should flock to Panos Cosmatos' latest release, starring Nicolas Cage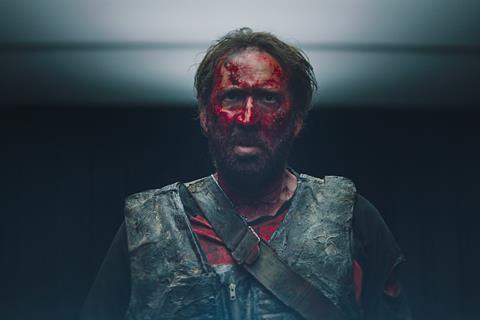 Dir: Panos Cosmatos. Belgium/US. 2017. 121mins
A sensuous swath of striking imagery and otherworldly atmosphere, Mandy is a hypnotic, bloody pleasure. Director Panos Cosmatos' revenge tale flows from one moody set piece to the next, plunging deep into midnight-movie nirvana to craft the sort of big-screen experience that's imperfect in lots of small ways but utterly arresting in its scope and ambition. Nicolas Cage delivers a predictably frenzied performance as a grieving man on the trail of those who killed his beloved, but the film's real star is the spell Cosmatos effortlessly weaves.
The director expertly establishes his eerie vibe from the opening credits
Picked up for distribution in the US by RLJE Films after its Sundance premiere, this Quinzaine offering will court lovers of extreme cinema, with mainstream audiences probably being turned off either by the deliberate pace or graphic violence. Cage's commercial cachet may have evaporated in recent years, but fans of Cosmatos' Beyond The Black Rainbow will be first in line.
Set in the California wilderness in 1983, Mandy stars Cage as Red, a lumberjack besotted with the enchanting Mandy (Andrea Riseborough). But their domestic bliss is shattered when a dangerous religious cult led by a would-be prophet named Jeremiah (Linus Roache) kidnaps Mandy, torturing and killing her. Full of sorrow and fury, Red vows to avenge her death.
Cosmatos' loosely plotted, dreamlike thriller is a period piece, but the power of Benjamin Loeb's smoky cinematography and the late Jóhann Jóhannsson's epic-sounding, metal-tinged score make Mandy feel as if it's taking place outside of time, dwelling in its own nightmarish realm in which frightening supernatural creatures coexist with their human counterparts.
The director expertly establishes his eerie vibe from the opening credits, and in a few, broad strokes he quickly sketches out this love story between two soulful, possibly damaged individuals. Mandy's first half is given over to constructing the surreal, almost alien landscape that the characters occupy, slowly introducing the encroaching horror of Jeremiah's fanatic followers into the mix. The visual are so sumptuous — deep, rich colours amidst this mythic forest environment — that it scarcely matters that the storytelling is pedestrian by comparison.
Once the revenge plot takes over, however, Cosmatos and cowriter Aaron Stewart-Ahn shift gears, turning Mandy into an increasingly gory affair as Red slays those in his path in the build-up to a final confrontation with Jeremiah. Perhaps inevitably, the film's initial spell starts to dissipate as the body count increases and a shop-worn narrative travels down a familiar path, no matter the freaky figures Red encounters along the way.
In a relatively small role, Riseborough has a bewitching presence, while Roache overdoes the psycho-shaman routine, perhaps to keep pace with Cage's equally gonzo lumberjack. Asking for subtlety from Cage at this stage of his career would be akin to expecting pretty, delicate paintings from Jackson Pollock — impassioned, messy intensity is their metier — but the Oscar-winner's bug-eyed anguish does somewhat complement Mandy's tenuous grasp on the real world. Much like its star, Mandy happily drifts off into its own demented, entrancing reverie, untethered to anything resembling modesty or conventional cinema.
Production companies: Piccadilly Pictures, Sun Capital, SpectreVision, Umedia, XYZ Films, Wallimage
International sales: XYZ Films, info@xyzfilms.com
Producers: Adrian Politowski, Martin Metz, Nate Bolotin, Daniel Noah, Josh C. Waller, Elijah Wood
Screenplay: Panos Cosmatos and Aaron Stewart-Ahn from a story by Panos Cosmatos
Production design: Hubert Pouille
Editing: Brett W. Bachman
Cinematography: Benjamin Loeb
Music: Jóhann Jóhannsson
Cast: Nicolas Cage, Andrea Riseborough, Linus Roache, Ned Dennehy, Olwen Fouere, Richard Brake, Bill Duke