Dir: Todd Hughes, P. David Ebersole, US/UK, 2017, 96 mins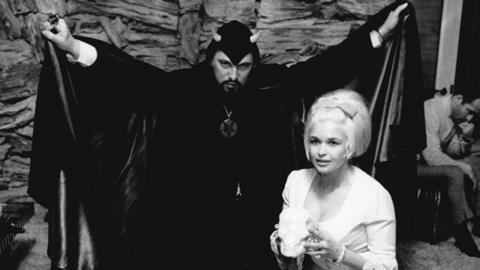 Even today, a scandalous frisson tends to accompany the mention of Jayne Mansfield, über-pneumatic patron saint of Tinseltown scuttlebutt – she is, after all, the cover star of Kenneth Anger's gleefully muck-raking classic Hollywood Babylon. It's time for another trip to Babylon in Mansfield 66/67, an oddball hybrid that's part documentary, part stylistic mish-mash, but wholly celebratory of Mansfield's often derided 'blonde bombshell' image.
The link with contemporary self-created stars like the Kardashians and Paris Hilton is not made explicit, but Mansfield's rehabilitation couldn't be more timely.
What's new about the film is its concentration on a bizarre episode in the star's personal life, her association with notorious Hollywood satanist Anton LaVey. With an oddball cast of pundits including Anger himself, John Waters and other less usual suspects, including UK pop fly-by-night extraordinaire Marilyn, the film represents, for all its lurid jazziness, a serious attempt to get beneath the surface of the Mansfield myth.
Unfortunately, the interpolated dance sequences and skits bring an amateurish touch to what is otherwise a cogent, hugely entertaining production. But commercial appeal should be brisk in cultish quarters, and it'll be a crowd pleaser with fests, especially of the LGBT, cinephile and pop culture stripes.
The film is the creation of P. David Ebersole (Hit So Hard, about Hole drummer Patty Schemel) and Todd Hughes, who were executive producers on the Kubrick documentary Room 237. Recounting Mansfield's career in seven sections, the film's doc component intersperses episodes of her life with contributions from assorted commentators, ranging from showbiz fans like Marilyn to theorists and academics, including Barbara Hahn, Eileen Jones and Eve Oishi. Also appearing are cult icon Mary Woronov; some veteran movie bombshells, notably Mansfield rival Mamie van Doren; and, in her current role as animal activist, Tippi Hedren.
What emerges from the film is that Mansfield shouldn't be written off, as per tabloid legend, as a living cartoon (an image this manifestly intelligent woman knowingly played with), nor should she just be seen as a tragic figure whose life is a long chaotic prelude to her grisly death. Instead, interviewees contextualise this quintessentially 50s star as a precursor to the feminist advances of the 1960s, as a woman who tested the limits of then acceptable female behavior – and as "the first reality TV star".
The film's main focus is the mid-60s when Mansfield started an association with former police photographer and lion tamer Anton LaVey, the buoyantly self-publicising founder of San Francisco's Church of Satan, whose own Demon King image skirts the farcical just as much as Mansfield's did. Whether or not they were lovers, he and Mansfield are depicted as 'Beauty and the Beast' counterparts – right down to the contrast between her Beverly Hills 'Pink Palace' and his pokey Frisco 'Black House'.
There's much fun to be had from the gleefully collaged material, the glimpses of Mansfield's golden moments – including a priceless montage of her patented breathless giggle – and even a couple of slightly incongruous animations, with Mansfield and LaVey voiced by Ann Magnuson and Richmond Arquette.
The 'musical extravaganza' part of the film is less satisfying. It starts well, with a Hairspray-esque dance routine and snazzy 50s-style graphics, but much of the material featuring dancers and a quartet of British actors feels shoddily presented and, at worst, studenty (one hesitates to say the phrase, but be prepared for 'interpretative dancing'.)
At its best, however, the film manages on the one hand to revel in the tawdriness of the gossip industry that Mansfield so spectacularly fueled, and on the other, to offer a serious Cultural and Gender Studies analysis into the meanings of the Mansfield myth and its relation to changes in sexual and cultural history. The link with contemporary self-created stars like the Kardashians and Paris Hilton is not made explicit, but Mansfield's rehabilitation couldn't be more timely. Mansfield 66/67 certainly makes you want to go back and re-watch Frank Tashlin's deathless The Girl Can't Help It – if perhaps not the long-forgotten likes of The Las Vegas Hillbillys and Single Room Furnished.
Production company: The Ebersole Hughes Company
International sales: Stray Dogs, laura@stray-dogs.com
Producers: P. David Ebersole, Todd Hughes, Larra Anderson
Cinematography: Larra Anderson, John Tanzer
Editors: Todd Hughes, P. David Ebersole, Luke Smith, Joel Maudsley
Production design: Jane Morton
Music: Robert Davis, James Peter Moffatt
Featuring: Jayne Mansfield, Anton LaVey, Ann Magnuson, Richmond Arquette, Kenneth Anger