Dir. Don Cheadle. US, 2015. 100 mins.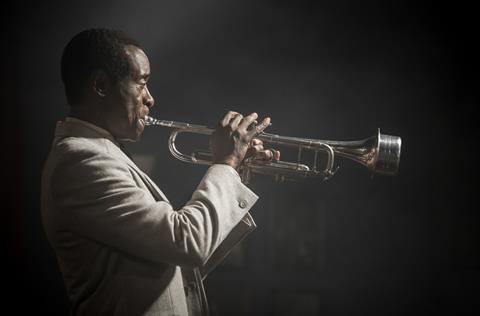 First-time feature director Don Cheadle has made an invigoratingly bold attempt to structure his film about Miles Davis as an extended visual and narrative equivalent of modal jazz, the form the legendary trumpeter pioneered on his groundbreaking 1959 Kind of Blue LP. No one, of course, need recognise this strategy to appreciate the passion of Cheadle's portrayal of the volatile Davis and that of Emayatzy Corinealdi as his muse and abused first wife, Frances.
The search for missing tape regrettably frames Cheadle and Ewan McGregor in a New York City buddy caper replete with a car chase and gun battle.
Contextualised by transporting musical interludes, the performances should ensure the movie succeeds in urban markets. The dissonance between its two story strands may nevertheless alienate some viewers.
The framework for the film's "modal" experiment is the increasingly dark and turbulent progression of Davis's relationship with Frances, whose career as a dancer he curtailed after their 1958 wedding. Recalled by the melancholy Davis and depicted in flashbacks, their courtship and early marriage is the lost paradise he grieves for as he searches for a missing session tape in the film's improvisatory present-tense story, set in 1979 toward the end of his six-year musical "hiatus". The improvisation incorporates rapid cutting, freeze frames, and the use of polaroids and photos (to telegraph Davis's transition from bed-hopper to bridegroom).
Driving the movie, this present-day strand is its wild equivalent of a Davis "solo". Unfortunately, it's played as a rarely funny deadpan comedy, one peopled with music biz sharks, dealers, groupies, and hangers-on. Whether serene or searing, Davis's playing and moments of dedicated band leadership rise above the moral morass these bottom-feeders represent (and which sucked him down prior to his early 1980s resurrection), but their presence in the film leads a sour aftertaste.
The search for the tape regrettably frames Davis in a New York City buddy caper replete with a car chase and gun battle. The buddy he reluctantly acquires is Dave Braden (Ewan McGregor), a gratingly brash, Scottish-born journalist introduced pestering the reclusive Davis at his Upper West Side apartment in 1979. He claims he has a Rolling Stone assignment to get the scoop on the star's withdrawal and to report on his rumored comeback.
Believing he's been set up by his boss at Columbia Records, the gun-toting Davis drags Braden to a confrontation with a sleazy producer (Michael Stuhlbarg), who's mentoring the young trumpet player Junior (Short Term 12's excellent Keith Stanfield, billed here as LaKeith Lee Stanfield). Davis and Braden proceed to "the other Columbia" to score some high-grade cocaine from a student. Skilfully used smash cuts interpolate Davis's memories of Frances – and, distractingly, Braden's memory of being knocked down by the lover of his alimony-seeking ex-wife.
The duo arrive at a party being thrown by one of Davis's girlfriends at his studio where Braden spots the can containing the session tracks which Davis hopes will re-inspire him. Braden considers taking it, but it's Junior's producer who actually steals it, leading Davis and Braden to Junior's apartment; not only a virtuoso but already a dad with a disgruntled wife and a heroin habit, Junior is presented as a Miles Davis in the making, though it's not clear if he jolts the original's conscience. However, he and the tape, once located, do work some magic on Davis.
A key flashback depicts the unprovoked police assault and arrest of Davis outside the Birdland Jazz Club in August 1959. It's followed by a shot of Davis smirking in his cell as he hears the enraged Francis stomping down a corridor to liberate him. The film doesn't show how lastingly disturbed Davis was by being racially targeted, but hurtles on to the end of his and Francis's marriage in a bout of domestic violence, she having inadvertently taken a call from one of his mistresses. A more patient examination of Davis's life might have probed the psychological causes of his self-medicating with sex and drugs – and how his addictions fostered his mid-1970s creative block.
Miles Ahead, which closed the New York Film Festival, is too frantic to replicate the grace and power of Clint Eastwood's Charlie Parker biopic Bird, which had its U.S. premiere at the festival 27 years ago. Since actors directing their first features traditionally opt for a formally unadventurous approach, however, Cheadle (who previously helmed two episodes of his ongoing Showtime series House of Lies) should be applauded for dispensing with a safety net. Miles Ahead indicates he has an exciting future on both sides of the camera.
Production companies: BiFrost Pictures, Crescendo Productions, Naked City Films, Sobini Films
International sales: IM Global (US distributor: Sony Pictures Classics)
Producers: Darryl Porter, Vince Wilburn Jr., Daniel Wagner, Robert Ogden Barnum, Don Cheadle, Pamela Hirsch, Lenore Zerman
Executive producers: Mark Amin, Steven Baigelman, Cheryl Davis, Erin Davis, Robert Lewis
Story: Steven Baigelman, Don Cheadle, Stephen J. Rivele, Christopher Wilkinson
Screenplay: Steven Baigelman, Don Cheadle
Cinematography: Roberto Schaefer
Editors: John Axelrad, Kayla M. Emter
Production designer: Hannah Beachler
Music: Robert Glasper
Main cast: Don Cheadle, Ewan McGregor, Emayatzy Corinealdi, Lakeith Lee Stanfield, Michael Stuhlbarg