Dir/scr. William Monahan, US, 2015, 94 minutes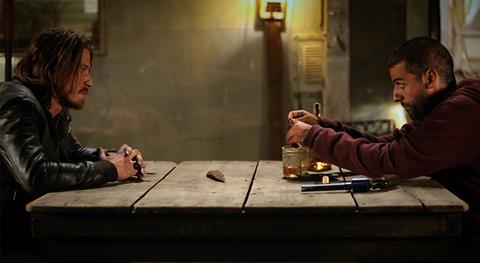 A would-be suicide ends up committing homicide in William Monahan's Mojave, as an artist in crisis meets the devil in the desert. But in this literary writer's movie, it's the scenery that may win you over.
Monahan is nothing if not well-read, and the battle between Thomas and Jack is a duel of words, with plenty of guns to keep the western spirit going.
Oscar Isaac has strong marquee credentials, a bearded Garret Hedlund has Brad Pitt appeal, and director/screenwriter Monahan has a screenwriting Oscar for The Departed. Yet Mojave, his second feature as a director (after London Boulevard), will test the audience's interest in a cerebral western groaning with allusions to cinema history and Shakespeare. The film should get a solid run in festivals, but box office is unlikely to be strong.
Hedlund (Troy, Tron, On the Road) plays Thomas, a frustrated artist who leaves a French girlfriend and the perfect house in the Hollywood Hills. He speeds in his jeep through the desert until he wrecks it. Into his camp that night walks Jack (Isaac), with a black hat and a golden tongue and a rifle. A fight by the campfire gets the sparks flying and Jack trudges off through the desert holding that grudge. Fleeing from him, Thomas shoots a park ranger by mistake, and Jack follows his quarry to some enviable Hollywood properties.
If the strongest influence here is the spaghetti western, and that sauce is seasoned with homages to Sergio Leone by composer Andrew Hewitt, other allusions also boil over – Hitchcock, the 1924 desert epic Greed by Erich von Stroheim, (which Thomas watches on television), Faust (with the dark-bearded Isaac as Mephistopheles) and Shakespeare, mostly Hamlet.
Monahan is nothing if not well-read, and the battle between Thomas and Jack is a duel of words, with plenty of guns to keep the western spirit going. The lines do get ponderous. You have to go back to Beckett for a script that repeats versions of "who are you?" and "why are you here?" so frequently. And the notion of a suicidal successful handsome artist (we're never sure what he does exactly) will strain credibility, especially since the origin of his malaise is so vague.
Humor does provide some welcome relief from the heaviness of Mohave's script. Mark Wahlberg plays at loopy comic-book level as a Hollywood producer with champagne and hookers, who gives you a sense of the movie hell that Thomas might be fleeing. And Monahan's best laughs in this over-serious film come from lines he's written for Louise Bourgoin, who plays a French actress who pouts when she's not on-stage performing improbably in a production of Shakespeare's The Tempest. When Thomas warns her that he and she and those close to him are being stalked, she shrugs: "A stalker? I have 27 of them, and that's not counting the ones in jail."
As Jack, Isaac plays the embodiment of evil with a smirking swagger that draws some inspiration from the cocky malice that Vincent Cassell has trademarked effectively. It takes some adjustment to feel his evil at first, though, when he appears in long coat and hat that seem styled by a Johnnie Depp fashion line.
Hedlund, as Thomas, gets fewer of Monahan's killer lines, but he looks great in sunglasses (a would-be Steve McQueen) on a motorcycle or behind the wheel of a jeep.
The directing by Monahan feels less studied than his script, except for over-extended close-ups to pump up Isaac's nastiness and Hedlund's self-destructiveness. Those shots don't do much for the story, but they may help sell the sunglasses that Hedlund wears so well.
Cinematography by Don Davis captures radiant beauty shots of Hedlund and the over-dressed Bourgoin (both were models), as well as burning vistas of the desert in the sun that provide the low-budget film moments of visual grandness. Davis and production designer Robb Buono give Thomas's hillside home a shadowy emptiness, suggesting abandonment and a life that seems worth ending. Elegantly composed, those shots are more distracting than persuasive, unless you're a realtor. The audience will be wishing they could live there.
Production companies: Atlas Independent, Henceforth Pictures, Relativity International, MICA Entertainment
International Sales: Relativity International camela.galano@relativitymedia.com
Producers: William Green, William Monahan, Justine Suzanne Jones, Aaron L. Ginsburg
Executive Producers: Andy Horwitz, Nick Quested, Jason Spire
Screenwriter: William Monahan
Cinematographer: Don Davis
Editor: John David Allen
Composer: Andrew Hewitt
Main cast: Garrett Hedlund, Oscar Isaac, Louise Bourgoin, Walton Goggins