Dir: Jodie Foster. US. 2016. 98mins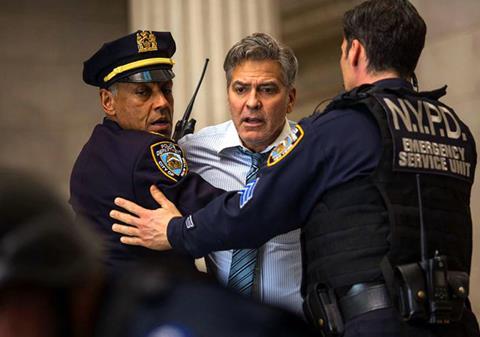 For a movie which is focused on current events, Money Monster feels five years behind the times. Chronicling a hostage scenario that takes place on live television, this unpersuasive thriller wants to examine the poisonous allure of cable news, the obscenity of Wall Street corruption, and the widening gap between the haves and have-nots. But director Jodie Foster fails to bring anything incisive to the story, and as a result her insights into these modern-day ills have little sting — even worse, the movie parades them as audacious revelations. Veteran stars George Clooney and Julia Roberts bring some gravitas to the proceedings, but this ungainly mixture of Dog Day Afternoon, Network and The Big Short neither stirs the imagination nor quickens the pulse.
Money Monster is about as fresh and exciting as yesterday's news
Premiering at Cannes shortly before it hits US theatres on May 13, Money Monster will skew older than the typical summer studio movie, and no doubt Sony hopes that the film's topicality and aging stars will attract audiences who want to skip superhero fare. But drab reviews could lead to mediocre word-of-mouth, meaning the movie might not live up to its name at the box office.
Clooney plays Lee Gates, the smug host of a flashy cable news show that offers stock tips to viewers. On the day that his brilliant, long-suffering producer Patty Fenn (Roberts) will be leaving the program, Lee is ambushed on the air by Kyle (Jack O'Connell), a desperate man with a gun who blames the host for his money woes. (Kyle took Lee's advice about investing in a seemingly can't-miss stock, losing his savings in the process.) Kyle threatens to kill Lee right there in the studio, and the host tries to reason with his assailant while a growing audience at home watches the tense standoff.
Foster's fourth film as a director — and her first since 2011's gutsy but flimsy satire The Beaver — shows her continuing to shift genres with each new project. But despite capable lensing from long-time Darren Aronofsky cinematographer Matthew Libatique, Money Monster lacks the confidence behind the camera that would make this thriller taut or juicily compelling. Whether she's depicting the controlled chaos behind the scenes of a popular live cable show or exploring the mystery of precisely why this stock collapsed, Foster shows no knack for the fast-paced material. The movie is competently made, but also perfunctory, telling us things about the greed of rich business executives and the shallowness of cable TV that we already know.
Indicative of Money Monster's lack of nerve, Lee is initially presented as a cynical, soullessly telegenic figure, but as played by Clooney it's clear that he's not really that much of a monster — in fact, he'll prove himself to be a pretty decent guy soon enough. Because our sympathies are so quickly aligned with Lee, there's no deeper conflict during his conversations with the blue-collar Kyle, who may not be bright but is aggrieved at how celebrities like Lee treat the stock market as some big game. The smarter, more daring film would give each of these men subtle shading so that our loyalties would be torn, but Foster and her three screenwriters make it too easy on the audience, quickly shifting the blame to a shadowy, simplistically evil CEO (Dominic West) who Patty must track down to learn the truth of the failed stock.
Working his impish smile, Clooney gives Lee the right amount of smarm, but he can't bring much surprise to a character whose understanding of how he has contributed to the dumbing-down of investment advice is terribly trite. Roberts fares better because Patty has no arc: She's just a hardnosed, stunningly efficient producer, and so the Oscar-winning actress lends her a no-nonsense steeliness in the midst of this hostage crisis. As for O'Connell, whose profile rose after starring in 2014's Unbroken, he exudes a weary, edgy commitment to the armed-and-dangerous Kyle, who is like a powder keg ready to explode. But the character has nowhere to go emotionally, and as Money Monster slogs along, O'Connell has to keep upping the intensity in a futile attempt to raise the stakes.
There are isolated moments in which Foster hits upon a clever idea or upends expectations. As Kyle's pregnant, exasperated girlfriend, Emily Meade has a one-scene cameo which is funny for how startling her character's reaction to this showdown is. And Caitriona Balfe, terrific on the period television drama Outlander, gets a few good scenes as the CEO's loyal right-hand woman, who will learn how strong a hold sexism has on Wall Street. But the flashes of intelligent, thoughtful filmmaking dissipate so quickly it only makes the rest of this pedestrian, socially-consciously thriller gall all the more. Money Monster is about as fresh and exciting as yesterday's news.
Production companies: TriStar Pictures, LStar Capital, Smokehouse Pictures, Allegiance Theater
Worldwide distribution: Sony Pictures, www.sonypictures.com
Producers: Daniel Dubiecki, Lara Alameddine, George Clooney, Grant Heslov
Executive producers: Kerry Orent, Tim Crane, Regina Sculley, Ben Waisbren
Screenplay: Jamie Linden and Alan DiFiore & Jim Kouf, story by Alan DiFiore & Jim Kouf
Cinematography: Matthew Libatique
Production design: Kevin Thompson
Editor: Matt Chessé
Music: Dominic Lewis
Website: www.moneymonster-movie.com
Main Cast: George Clooney, Julia Roberts, Jack O'Connell, Dominic West, Caitriona Balfe, Giancarlo Esposito, Christopher Denham