Julie Delpy's impassioned story of a mother's love for her only child.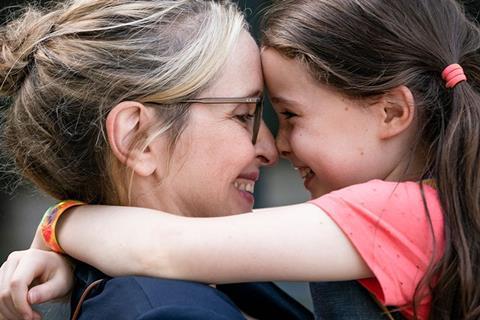 Dir/scr: Julie Delpy. Germany/France. 2019. 102mins
The incalculable depth of a parent's grief provides the narrative engine for My Zoe, a provocative look at motherhood and loss and a film that takes daring risks which don't always pay off. Writer-director-star Julie Delpy sets the audience up with a horrifying, yet straightforward melodramatic premise — a divorcing couple are forced to spend time together after their beloved daughter becomes gravely ill — but then she shifts tones, entering unexpected territory that intentionally strains credibility in order to raise ethical and moral questions. Delpy should be credited for her audaciousness, and My Zoe is a film which is often more interesting theoretically than it is to experience in the moment.
The passion in the performance is formidable
Delpy plays Isabelle, a geneticist living in Berlin who is finalising her antagonistic divorce from James (Armitage), the real bone of contention being how they'll split custody of young Zoe (Sophia Ally), the daughter they both adore. But one morning, Isabelle goes into Zoe's room to find her unresponsive, triggering a trip to the hospital and the alarming diagnosis that the girl has slipped into a coma.
In its opening reels, My Zoe appears to be a marital drama in which Isabelle and James will relitigate what went wrong in their relationship while worrying over their daughter, both of them blaming the other spouse for Zoe's mysterious ailment. It's difficult to discuss Delpy's film without spoiling what follows, but after comedies such as 2 Days In Paris and Lolo, here she's working in a sombre, darker, even more futuristic vein, chronicling Isabelle's relentless quest to save her daughter — even through illegal means.
Those measures seriously disrupt My Zoe's tenor — not to mention alter the movie's very genre — which allows Delpy to boldly question how this woman of science can become so irrational, even if it's for the benefit of her girl. But the outrageousness of Isabelle's plan is so pronounced that it can feel implausible — an unconvincing plot device meant to goad discussion rather than be a reasonable escalation of this mother's desperation. As a result, My Zoe's later sections, where the focus shifts to a controversial doctor (Daniel Brühl) working in Moscow, play out as intellectual and theoretical — we lose our connection to Isabelle's anguish because it morphs into a story device to discuss the role of mothers and the murky waters of reproductive rights.
Nonetheless, Delpy's fearless commitment to playing this unreasonably stubborn mother remains striking throughout. Again and again, the filmmaker-actress dares us to dismiss Isabelle's probably hopeless pursuit, but our scepticism is part of My Zoe's larger point: no one can imagine what a mother would do for her offspring — or what pain she might feel if she were to lose that child. The more preposterous My Zoe gets, the more ensconced in her grief Isabelle is. Armitage capably plays an ex-husband who's torn between falling back in love with his wife and walking away, but the movie is Delpy's showcase as her character pushes further and further, convinced that her Zoe can still be saved. The passion in the performance is formidable.
Production companies: Metalwork Pictures, Amusement Park Film, Warner Bros. Film Productions Germany, Electrick Films, Tempête Sous Un Crâne, UGC
US sales: CAA, filmsales@caa.com/International sales: Protagonist Pictures, info@protagonistpictures.com
Producers: Andrew Levitas, Malte Grunert, Gabrielle Tana, Julie Delpy, Hubert Caillard, Dominique Boutonnat
Production design: Sebastian Soukup
Editing: Isabelle Devinck
Cinematography: Stéphane Fontaine
Main cast: Julie Delpy, Richard Armitage, Daniel Brühl, Gemma Arterton, Saleh Bakri, Lindsay Duncan, Sophia Ally