Nathalie Biancheri makes her fiction debut with a striking tale of an uneasy friendship between a young girl and an older handyman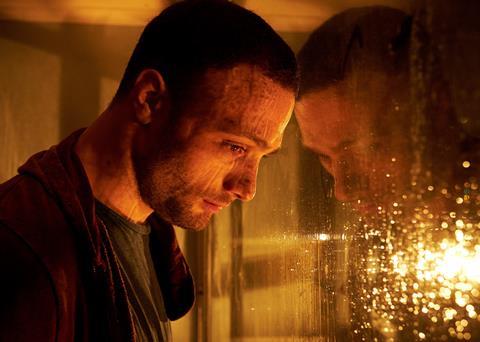 Dir: Nathalie Biancheri. UK. 2019. 85 mins
The long shadows of the past darken several lives in Nocturnal, a moody, absorbing first fictional feature from director and co-writer Nathalie Biancheri. There is the feel of 1960s British 'kitchen sink' drama to her exploration of the ambiguous, uneasy bond between a teenage girl and a thirtysomething handyman. The acute command of atmosphere and performance should attract attention to a modest film that confirms prolific documentary maker Biancheri as a rising talent.
Following on the heels of Calm With Horses, Nocturnal suggests that Cosmo Jarvis is starting to corner the market in sensitive brutes
Biancheri elevates a slight, potentially familiar tale with her soulful sensibility and eye for location. Nocturnal unfolds in a glum, windswept seaside town on the Yorkshire coast. It seems to offer all the exictement of an endless depressing Sunday. Factory chimneys belch, twinkling lights on the distant horizon suggest a more colourful world just out of reach. Glum skies and churning seas co-exist in shades of grey, the rain rarely stops and the damp seeps into your bones.
Middle-aged Jean (Sadie Frost) has chosen to return here from Dublin with her 17 year-old daughter Laurie (Lauren Coe). A promising athlete, Laurie struggles to fit in with her fellow pupils. She does respond to Pete (Cosmo Jarvis), a painter and decorator working at the school grounds. Naturally wary, she counters his attentions with snarky banter and half-joking concerns that he may be a serial killer or a creepy stalker at best. "How old are you?" she demands.
The fact that Laurie is so isolated and lonely makes her tolerance of Pete all the more convincing. She could be in search of a father figure or, more likely, just someone to break the monotony. Pete is besotted by her but behaves with a gallantry that signals his true agenda long before it becomes apparent to Laurie.
Following on the heels of Calm With Horses, Nocturnal suggests that Cosmo Jarvis is starting to corner the market in sensitive brutes. Pete is a brawny hulk of a man who behaves like an overgrown adolescent. His life is in a holding pattern and he seems prone to soulful introspection and regrets. Jarvis beautifully conveys the sense of frustration that constantly holds Pete back from making changes or spelling out the truth. There is a detailed physicality in his performance that rings true whether it is the way Pete chokes on the words he is desperate to say or the tremor in his clenched fists as he tries to restrain himself from violence.
Lauren Coe stands her ground in the face of such imposing work from Jarvis, investing Laurie with a brash surface confidence and easy cynicism that conceals a vulnerable young woman. Cinematographer Michael Dymek's scrutinising close-ups add to the sense of intimacy between the two, creating the impression that it is them against the world at times.
Only Sadie Frost's virtually invisible mum Jean feels shortchanged by a screenplay (co-written with Olivia Waring) that never makes her more than a sketchy figure. That same screenplay ultimately leaves little doubt where Nocturnal might be heading. The quality of the central performances guarantees your investment in these two lost souls and whether they might reach safe ground and the possibility of change.
Production companies: Rickshaw Entertainment, MOR Productions, Resolve Media
International sales: Urban Distribution International udi@urbangroup.biz
Producers: Colin Michael Day, Coco Marie Schneider
Screenplay: Olivia Waring, Nathalie Biancheri
Production design: Luke Moran-Morris
Editing: Andonis Trattos
Cinematography: Michael Dymek
Music: Aaron Cupples
Main cast: Cosmo Jarvis, Lauren Coe, Sadie Frost, Amy Griffiths