Olivier Assayas returns with a talky chamber drama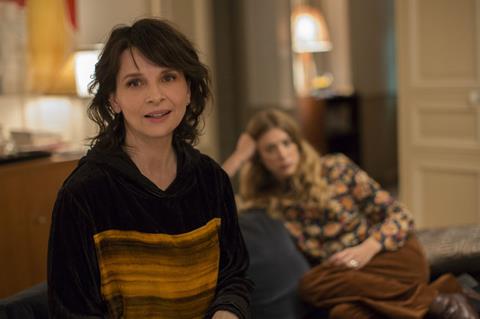 Dir/scr: Olivier Assayas. France. 2018. 107mins.
Bracingly Parisian and unrepentantly intellectual, Olivier Assayas' follow-up to Personal Shopper sees the French director turning a talky chamber drama centering on the crisis facing literary publishing into a twinkly sex-and-ideas comedy that channels the spirit of Eric Rohmer.
The prolific French director clearly needed to breeze through this – and the breeziness is infectious
Audiences will split, as they did at the film's Venice press screening, between those who tune into the director's gentle satire of a white bourgeois intellectual bubble and those annoyed by the satirist's very obvious occupation of the same bubble. The fact that Assayas' comedy is also about this very danger – the impossibility of getting away from what one character memorably refers to as 'auto-fiction' – will only serve to entrench both sides of the debate.
Running on quickfire dialogue Non-Fiction drops us straight into the world of suave, self-confident niche publisher Alain (a perfect fit for actor-director Guillaume Canet) who is currently wondering whether his small but influential literary imprint shouldn't switch entirely to digital, abandoning the costly printed book in favour of e-books, audiobooks and writer's blogs.
It's not clear where that would leave unreconstructed paper authors like scruffy, analogue Léonard (Vincent Macaigne), whose novels are basically just lightly fictionalised accounts of his life and loves. The fact that the subjects depicted in these 'auto-fictions' may have copyright over their own stories – a point brought up by a pair of antsy questioners at a book signing – has never even occurred to Vincent.
Juliette Binoche plays Alain's actress wife Selena, who is locked into a lucrative but stultifying role as a cop (or rather a 'crisis management expert', as she constantly corrects people) in a popular TV series. Binoche is on fine form, as sparkily comedic as she was in Claire Denis' Let the Sunshine In. But it's the final member of the film's two couples who risks stealing the show through sheer force of character – French comedienne Nora Hamzawi, in her first major film role as Leonard's feisty, independent partner Valerie, the only one of the central foursome not to work in the arts (she's the PA to a worthy but not media-sexy Socialist parliamentarian) and the only one to leave the comfort zone of Paris during the course of the film.
Acting as fifth wheel is Laure (Christa Théret), the young, lovely 'head of digital transition' of Alain's firm, who also transitions into his bed. She's one of those ambitious young digital natives that old media firms feel obliged to employ in case they miss something.
Non-Fiction is no mere parody of France's chattering literati. One of the film's strengths – indeed its main strength – is that it allows satire to co-exist with intellectual engagement. The questions the characters debate at lunch and dinner, in book signings and radio interviews, are urgent and thought-provoking. Is the Internet and social media killing literacy, or making us read, write and think about how we express ourselves like never before? Are we entering a post-truth world where prejudices and spin count for more than convictions and policies? Are internet algorithms that push content our way taking over from critics like yours truly?
It's only gradually that Assayas allows his self-penned script to open the comedy throttle, overlaying this strata of ideas with cute, smart, sexy comic strokes, without ever quite undermining it. There's a sense of haste about the exercise nevertheless, and the visuals are mostly just workmanlike, getting the scenes down without any of the artistry that the late Abbas Kiarostami brought to another Binoche film that keeps echoing here, Certified Copy. That's okay, though: after the more sombre reflections on double lives in Clouds Of Sils Maria and Personal Shopper, the prolific French director clearly needed to breeze through this one – and the breeziness is infectious.
Production companies: CG Cinéma, Vortex Sutra, Arte France Cinéma
International sales: Playtime, info@playtime.group
Producer: Charles Gillibert
Production design: François-Renaud Labarthe
Editing: Simon Jacquet
Cinematography: Yorick Le Saux
Main cast: Guillaume Canet, Juliette Binoche, Vincent Macaigne, Nora Hamzawi, Christa Théret, Pascal Greggory