This six-part BBC series flips the racial power structure in an alternative UK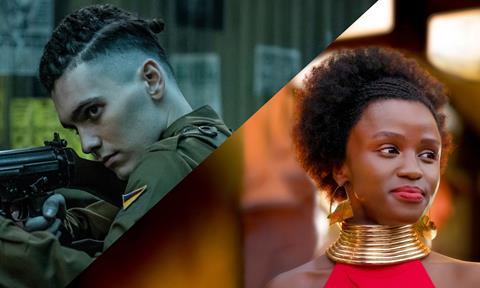 Welcome to Albion, colonial outpost of The Aprican Empire and the setting for the BBC's ambitious Noughts And Crosses. This 6x60 minute adaptation of Malorie Blackman's YA dystopian novel is a remarkably well-observed show; hundreds of tiny details feeding into some bristling big ideas. Here, a white underclass, the Noughts, rubs up against the black ruling elite: the Crosses. Miscegenation is forbidden. And good and evil run the same race.
If Noughts And Crosses makes you feel uncomfortable, it's doing its job.
Shot in South Africa, something which feeds texturally into the Apartheid-era sense of its story, Noughts And Crosses builds a remarkable world; architect-turned-film-maker Kibwe Tavares acts as an EP and the detail in this flipped-reality 'Romeo And Juliet' breaks new ground. Yoruba is scattered in day-to-day language; the Noughts style their hair in the manner of the ruling classes, who themselves debate the rights and wrongs of cultural appropriation. This is high-concept material, but Noughts And Crosses fleshes it out: the series worms its way into the psyche through a striking blend of imagination and execution.
It's worth remembering that Blackman's book is aimed at readers aged 12 and upwards, with the protagonists – Nought Callum and Cross Sephy, or Persephone – starting out on the first day of high school. Changes have been made to the TV narrative, tightening the timeframe, and casting the star-crossed lovers Callum (Jack Rowan) and Sephy (Masali Baduza) as older teenagers: he is the first Nought to attend an elite military school as a result of an inclusion initiative; she is applying to university. The immaturity of their multiple breakups and contrived misunderstandings won't be a barrier for young audiences, but over the course of the series it will inevitably distance more mature viewers drawn in by the series' conceptual sophistication.
Nobody here could be accused of behaving like they're part of a teen show, though, from the writers to the actors. Apart from rising star Rowan and newcomer Baduza, the extended supporting cast is a tight ensemble working its way throught multiple, ambitiously-plotted strands. Admittedly, the Crosses do have the best roles: Paterson Joseph as Sephy's father and Albion's scheming Home Secretary Kamal Hedley gives his character the right shade of nuance. Bonnie Mbuli is touchingly vulnerable as his troubled wife Jasmine, and Jonathan Ajayi is also in fighting form as Callum's love rival and uber-aggressive nemesis Lekan. For the Noughts, Helen Baxendale plays the Hedley's housekeeper (and Callum's mother) Meggie, with Ian Hart as his father and Shaun Dingwall as the leader of the resistance movement the Liberation Militia. (Viewers waiting to see grime artist Stormzy in his first dramatic role will need to wait until the final episode when the LM raids an establishment newspaper which his character edits).
Three writers adapted Blackman's work: Lydia Adetunji, Nathaniel Price and Rachel De-Lahay. Their work is consistently sharp and on-the-money. How is it the Crosses' fault that Noughts – who should be allowed their roast beef in peace on their Notting Hill Carnival-like day – are still poor centuries after they were enslaved (and subsequently "liberated")? "We look absurd to the rest of the world," says the liberal prime minister in the face of a right-wing faction led by Kamal and the stop-and-search policing of white boys. But the Noughts are as appalled by Sephy and Callum's romance as the Crosses; it's a black and white world with a lot of grey areas.
Pacing can be baggy, particularly in the latter episodes where the wow-factor of the world of Albion begins to fade and some of the set pieces become less lavish. By this stage, the key points have been made and the energy can evaporate as the show draws to a conclusion. There's been some half-baked criticism in the UK about the series' racial attitudes, something efficiently batted away by Blackman (if Noughts And Crosses makes you feel uncomfortable, it's probably doing its job.)
It should be noted that were Africa/Aprica to rule the world it would be a far more colourful place, according to the show's visualists: and that's a good thing for the viewer. Costumes are gorgeous, colourful for the Crosses, grungy with the Noughts, and matched by hair and accessories, although undoubtedly Baxendale was short-changed with a lumpy old cardigan. Expect a Noughts And Crosses fashion knock-on effect, especially in the Yoruba-inspired jewelry. And music, predictably, is terrific in this flipped world (courtesy of Matthew Herbert).
There are five novels and three novellas in the 'Noughts And Crosses' series to date, and Blackman is still writing.
Production company: Mammoth Screen
International distribution: ITV Studios Global Entertainment
Directors: Julian Holmes, Koby Adom
Producer: Johann Knobel
Executive Producers: Kibwe Tavares; Patrick Reardon for Roc Nation; Participant Media's Jeff Skoll and Miura Kite; Preethi Mavahalli and Damien Timmer for Mammoth Screen and Ben Irving for BBC One.
Written by: Lydia Adetunji, Nathaniel Price, Rachel De-Lahay from the novel 'Noughts And Crosses' by Malorie Blackman.
Main cast: Jack Rowan, Masali Baduza, Paterson Joseph, Bonnie Mbuli, Helen Baxendale, Ian Hart, Shaun Dingwall, Jonathan Ajayi, Kike Brimah, Josh Dylan