Dir. Johnnie To. China, Hong Kong, 2015. 117 min.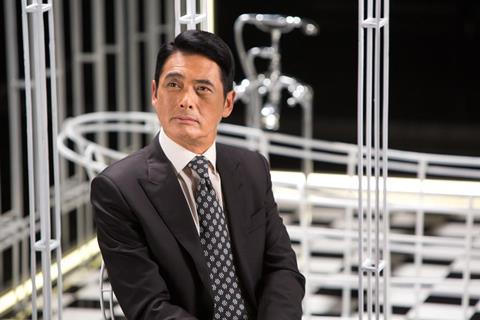 Far removed from Johnnie To's tradition of tough action movies (The Mission, Election), this spectacular musical extravaganza breaks entirely new ground for him. In a way, it must also be a dream come true, for To has always indulged in at least one piece of cinematic bravura in every picture he has made, sometimes more. Here he springs into virtuoso mode from the start and doesn't stop until almost two hours later.
Office is first and foremost about enjoying cinema's capacity to entertain and have fun
Already released in China prior to an international premiere in Toronto (to be followed by commercial releases in Australia, Hong Kong and Singapore), Office demonstrates a sharp turn by To in an unexpected direction. The script is based on a successful 2008 stage play by Taiwanese actress-director Sylvia Chang (Murmur of the Hearts) entitled Design for Living (no relation to Noel Coward or Ernst Lubitsch). Adapted for the screen by Chang herself, with a pumping, energetic, colorful score by Chinese pop master Lo Dayu, it was shot on a gigantic sound stage designed especially for this purpose by Wong Kar-wai's long-time collaborator William Chang Suk-ping and rumored to have cost some US$6m. The result is a marvel spread over several levels.
Almost the entire action takes place in the office of a high-powered financial company, Jones And Sunn. Chang wrote her play in 2008 following the global financial collapse (and took the leading part for every single performance on stage, which may explain part of its success). She is naturally the star of the film as well, playing Winnie Chang, the powerful CEO who is preparing to list her billion dollar company on the stock exchange, under the guidance of her lover and mentor Chairman Ho (Chow Yun-fat, Hong Kong's biggest movie star, looking here like a re-incarnation of the late Gregory Peck).
Though the reputation of these two towers over the rest of the cast, it is their prestige rather than their roles that carry the show. Smaller parts in Office are no less significant, whether it's singer-actor Eason Chan as Chang's deputy who has mismanaged the company's funds, Tang Wei as a devoted workaholic accountant, or Wang Ziyi as a bright upstart ready to conquer the world, despite his scruples.
The action takes place in William Chang's magnificent office set, with stairs going up and down in several directions, vast open spaces changing shape to accommodate every type of office (from cloistered cells to airy executive conference rooms). The transparent walls often give the impression that characters are about to drop into an abyss. Lighting magic covers and reveals hidden corners and a symphony of changing colors defines every separate area. Even Office's scant exteriors look like studio shots.
The plot clearly conveys the idea that 2008 was the wrong moment to put one's company on the stock exchange, but also notes that it was a great time for management to sweep the stables and get rid of excess baggage. Trying to grasp the details of the entire affair may be slightly more complicated, but To is mostly concerned with exploring William Chang Suk-ping's stunning set with dazzling tracking shots courtesy of his regular DoP Cheng Siu-kung.
Seamlessly incorporating Lo's score and Lui Fung-Shan's imaginative costumes and moving in the rhythm of Dayu's score, every single move of the cast is choreographed to make it look as if they never stop dancing even when sitting at their computers. Breaking from dialogue into singing seems practically natural here, with To showing distinct preference for ensemble numbers. Both sound quality and the use of 3D are admirable. Office is first and foremost about enjoying cinema's capacity to entertain and have fun, which Johnnie To certainly seems to have had himself in making it.
Production companies: Beijing Hairun Pictures, Edko Films
Producers: Johnny To, Sylvia Chang
International Sales: Edko Films,chiujulian@edkofilms.com.hk
Screenplay: Sylvia Chang based on her stage play Design for Living
Cinematography: Cheng Siu Keung
Editing: David Richardson
Production design: William Chang, Yau Wai Ming
Music: Lo Dayu
Cast: Sylvia Chang, Chow yun-fat, Tang Wei, Eason Chan, Wang Ziyi, Lang Yueting, Cheugn Siu Fai, Tien Hsin, Stephanie Che, Tkimmy Hung, Micky Chu.