Felicity Jones and Armie Hammer lead this tasteful, awards season biopic of of US Supreme Court justice Ruth Bader Ginsburg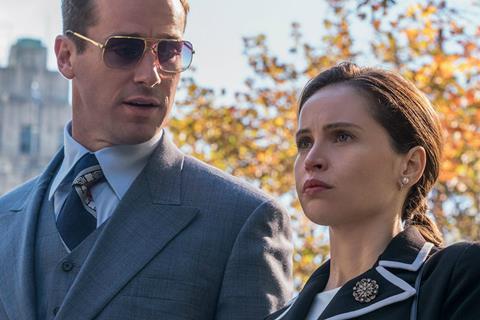 Dir: Mimi Leder. US. 2018. 120mins
A love letter to Ruth Bader Ginsburg, the passionate legal advocate for ending gender discrimination and a member of the US Supreme Court, On The Basis Of Sex has all the appeals and limitations inherent in such a reverent biopic. Director Mimi Leder and star Felicity Jones give us an origin story, a romance, an underdog tale, a courtroom drama and social commentary all wrapped up neatly in a smoothly executed, less-than-scintillating crowd-pleaser.
There's a faint but unmistakable scent of the prestige picture hanging over Sex
After premiering at AFI Fest, Sex will open on December 25 in the US, where the Ginsburg documentary RBG was one of summer's indie hits. While international audiences may be less interested, Ginsburg's popularity among American liberals should make this a solid art-house offering, with commercial prospects boosted by the star power of Jones and Armie Hammer.
Sex covers roughly 15 years in the life of Ginsburg (Jones), who as the movie begins in 1956, is one of the first women to attend Harvard Law School, where her adoring husband Martin (Hammer) also studies. Despite many obstacles — including Martin's cancer diagnosis and a sexist culture which is resistant to hiring female attorneys — Ginsburg has an opportunity to make a difference after taking up the case of a man who has been denied a caregiver tax deduction because of his gender. She hopes that, if she wins the case, she can set a precedent for other discriminatory gender laws to be overturned.
Leder (Pay It Forward, Deep Impact) and screenwriter Daniel Stiepleman (Ginsburg's nephew) view their protagonist's story through the lens of America's gradual cultural shifts, placing Ginsburg at a moment when the women's liberation movement was confronting a patriarchal society. As such, Sex is strongest when it highlights the subtle, everyday humiliations Ginsburg must endure as a brilliant lawyer who is treated shabbily by others simply because of her sex. (Those humiliations can also be meted out by Martin, who sometimes isn't aware of how he marginalises his soul mate.)
Even if one isn't familiar with Ginsburg's story, which was also sketched out in RBG, the film will stir feelings of déjà vu for viewers of these kinds of polite, handsomely mounted award-season biopics. Whether it's Mychael Danna's tasteful strings-and-piano score or the broadly villainous performances from the supporting cast, there's a faint but unmistakable scent of the prestige picture hanging over Sex. Leder has a sure, steady hand, but the story's cosy contours sometimes undercut what is so bracing and poignant about Ginsburg's fight for equality for women and herself.
What helps shake up the gentility is Jones' patient, focused performance. Like so many other bright, ambitious women who have been told they should smile more often, Ginsburg walks through a world of constant, demoralising sexism, and the Oscar-nominated actress quietly communicates how wearying that reality is. It's a portrayal which is offhandedly heroic, although when it comes time for the climactic court case, Jones honourably delivers the expected lump-in-the-throat speeches.
The film's legal machinations also prove sufficiently compelling. Ginsburg has spent her career fighting for women's rights — she joined the Supreme Court in 1993 — but it's an irony that her first major step towards reform was defending a man who was being discriminated against, which helped open the door for similar cases for women. Sex doesn't do anything new in terms of dramatising courtroom tension. And yet, these well-worn narrative devices are given enough electricity to remain engaging.
Hammer provides dashing and understated support to Jones, and the Ginsburgs have a chemistry which is fortified by mutual respect. Sex asserts that Ginsburg was her own person — she didn't need her husband to rescue her — but the filmmakers argue that the couple's warm, loving relationship was essential to her life. When she and Martin must work together to represent her client, Sex has fully established the depth of their bond, and we sense true teamwork between this wife and husband. The storytelling in Sex is ho-hum, but the sincerity of the undertaking — and the issues at the film's centre — make it hard to resist, no matter what objections might be raised.
Production company: Robert Cort Productions
International sales: Lionsgate, internationalsales@lionsgate.com
Producers: Jonathan King, Robert Cort
Screenplay: Daniel Stiepleman
Production design: Nelson Coates
Editing: Michelle Tesoro
Cinematography: Michael Grady
Music: Mychael Danna
Main cast: Felicity Jones, Armie Hammer, Justin Theroux, Jack Reynor, Cailee Spaeny, Stephen Root, Sam Waterston, Kathy Bates