Dir/scr: Emir Kusturica. Serbia-UK-US. 2016. 125 mins.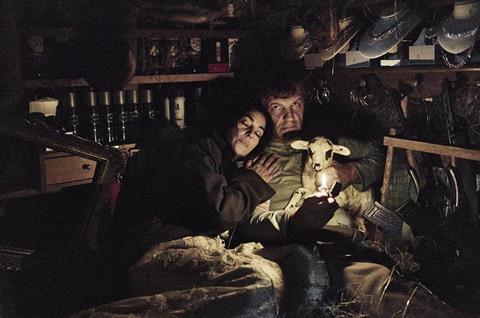 Sarajevo-born Emir Kusturica's first dramatic feature since his poorly-received Cannes entry Promise Me This in 2007 would dearly love to be viewed as a funny, touching, magical realist contemporary folk tale set against the background of the war that tore Yugoslavia apart twenty years ago. Glimmers of this emerge occasionally, especially in the film's use of the natural world as a kind of silent Greek chorus that puts human folly in perspective. But mostly this under-scripted romance, with its abrupt shifts of tone from slapstick to serious, comes across as a loud, frantic two-hour Balkan vanity project.
Kusturica gets to play the piano and cimbalom in a couple of wild and whacky plum-brandy-fuelled party scenes,
Part of the problem lies in Kusturica's decision to cast himself as the mild-mannered milkman whose love story with Monica Bellucci's femme fatale-on-the-run provides the film's dramatic core. The spark he inspires in Bellucci's character never quite translates from script to screen, and he's reduced to looking rugged and soulful for long stretches of the film, leaving Bellucci and several other cast members to compensate for the director's subdued performance by mugging their hearts out.
Audiences that take this mis-match on board, and surrender to Milky Road's Balkan zaniness, at least have something to look at and listen to in a film that rarely has a dull moment – and just as rarely an emotionally engaging one. Its epic qualities will ensure it rolls out in territories where the Kusturica of Time of the Gypsies or Underground still has a following.
Kusturica's character, Kosta, braves bombs and bullets to take milk to frontline troops on his faithful donkey, sometimes accompanied by the shoulder-perching falcon whose birds' eye view sets the scene. We're somewhere in rural Bosnia, in a picturesque ramshackle village defended by troops that appear to be Serbian (the cook is an orthodox priest). But which side they're on hardly seems to matter to Kusturica, who is more interested in comic-symbolic scene-painting than story. In this whacky, war-addled but good-natured community, geese dive into baths of pig's blood and an old Austro-Hungarian station clock with chain pendulums provides endless opportunities for characters to engage in physical comedy.
One of those characters is Milena, a former champion rhythmic gymnast, played at full zany volume by Sloboda Mićalović. We're simply required to accept this hot, sexy babe's attraction to Kusturica's unassuming milkman, as with Bellucci's nameless character, an Italo-Serbian woman on the run from a British peacekeeping-force general who she sent to prison. She's destined to become the bride of local war hero Žaga Bojović (Manojlović), in a double wedding that will aso unite Milena and Kosta, but the same blind Cupid that pricked Milena repeats the trick for 'The Bride' as soon as she sets eyes on Kusturica's unlikely donkey-riding Don Giovanni.
Animals that act as tutelary spirits – a CGI-animated horned viper, a herd of sheep, a bear in a stream, a butterfly in a well – feed the magic-realist subtext, while the landscapes of this crisply-shot, good-looking film take us into sweeping Bosnian Western territory. Kusturica gets to play the piano and cimbalom in a couple of wild and whacky plum-brandy-fuelled party scenes, and the same jaunty Balkan wedding music spills over into the score – kept deafeningly high in the mix at times – composed by the director's son Stribor.
Production companies: Rasta International, Pinball London, BN Films
International sales: Wild Bunch, ndevide@wildbunch.eu (USA: ICM Partners, pvs@icmpartners.com)
Producers: Paula Vaccaro, Emir Kusturica, Lucas Akoskin, Alex Garcia
Executive producers: Alex Garcia, Pilina Gonzalez, Guillermo Arriaga
Cinematography: Goran Volarević, Martin Šec

Editor: Svetolik Mića Zajc
Production designer: Goran Joksimović
Music: Stribor Kusturica

Main cast: Monica Bellucci, Emir Kusturica, Predrag Manojlović, Sloboda Mićalović