Dir: John H. Lee. South Korea. 2016. 110 minutes.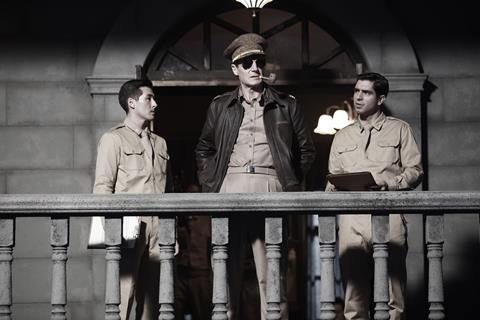 "Get God on the phone. Tell him it's me. Tell him we need more time," barks Liam Neeson, playing General Douglas MacArthur in John H. Lee's engaging but nationalistic, locally-shot Korean War epic about a covert operation to prepare the way for the Incheon landings, a turning point in the conflict in 1950.
Undoubtedly, it's Neeson who appears to have difficulties embracing his role, coming across as wooden
It's hard to take Neeson seriously with such awkward dialogue, but his name attached to the project was enough to help the film open strongly at home, where it took $13.5m (or 1.79m admissions) on its first weekend (July 29-31), despite intense competition from local hit Train to Busan. While Neeson's role is not extensive, he pops up throughout the film dishing out orders and arguing with other high ranking military officials from the Truman administration over the feasibility of the operation. The film hits screens in North America on August 12, where Neeson's presence may also pique interest, though on a much lesser scale.
Taking place three months after the Korean War began in 1950, when North Korean troops had forced South Korean forces to the southernmost tip of the peninsula, 'Operation Chromite' was devised and led by General MacArthur with the goal of cutting off the North Korean supply line to the South.
The operation itself involved staging a landing akin to Normandy on the shores of the North Korea-occupied Incheon, west of Seoul. To give this risky mission its best chance of success, the General ordered a covert unit named 'X-Ray' to be set up to infiltrate the North's forces.
Led by Captain Jang Hak-soo (Lee Jung-jae), its seven members work undercover to gather intelligence and obtain a map which locates all the mines off the coast of Incheon. They soon encounter the dangerous and ruthless North Korean commander Lee Gye-jin (Lee Bum-soo), however, who suspects that Jang might be a spy.
The film wastes little time with historical context apart from very a brief history lesson at the beginning, jumping straight to a flashback one week before the landing when X-Ray team members assume their North Korean identities. While this moves the film along at a clip, it comes at the cost of significant character development.
On a technical level, the film is most effective when the combat scenes take place in confined spaces, whereas the grander battle sequences are overly reliant on CGI. Much like Lee's 2010 Korean War film 71: Into the Fire, which documents a group of student-soldiers trying to defend a school in the south of the country in August 1950, the film's crafting is generally competent.
Undoubtedly, it's Neeson who appears to have difficulties embracing his role and thus comes across as stiff, wooden and below-par. Both Lee Jung-jae and Lee Bum-soo are adequate leads but it's the actress Jin Se-yeon as a hospital nurse who makes the strongest impression, despite a relatively small role.
Production Company: Taewon Entertainment
International Sales: Finecut (http://www.finecut.co.kr/renew/main.asp) & CJ Entertainment (http://www.cj-entertainment.com)
Producers: Chung Tae-won, Yang Chang-hoon
Screenplay: Lee Man-hee, Chung Tae-won, Kim Jae-hwan, Chung Tae-won
Cinematography: Park Jang-hyuck
Production Design: Choi Ki-ho
Editors: Steve M. Choe, Kim Woo-hyun
Music: Lee Dong-june
Main Cast: Lee Jung-jae, Lee Bum-soo, Jin Se-yeon, Liam Neeson.