Feature debut looks deep inside a Portuguese social housing estate scheduled for demolition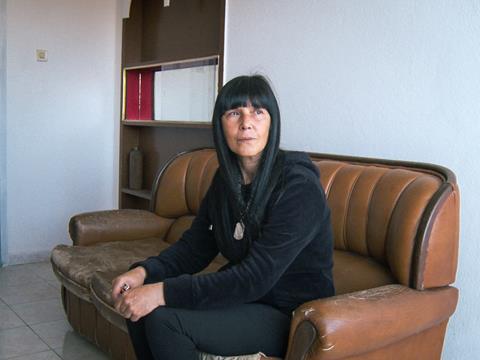 Dir: Andre Guiomar. Portgual. 2020. 77 mins
Home is where the heart is in Our Land, Our Altar. The feature directing debut of Andre Guiomar documents and dignifies the lives of the last residents in a social housing estate in Porto where eviction has become inevitable. An impressionistic work which captures an emotional sense of community and loss, it should look forward to extensive festival exposure should follow its world premiere at Sheffield Doc/Fest.
If the first half of the film is a celebration, then the second half is a lamentation
Best known for his shorts Piton (2011) and Pele de Luz (2018), Guiomar provides a bare-bones introduction to the subject. Titles inform us that the end of the Aleixo estate in Portugal's second largest city was announced in 2011. It is now two years later and resident families are still awaiting eviction letters. "Now that we are happy here, they want to move us out," observes one resident. There is no further context. No archive footage is used to provide the history of the area, no official voices are heard. Instead, we are plunged into a neighbourhood where all of the bustle of life spills into public spaces. Lines groaning with washing criss cross the ascending floors of a tower block, a birthday cake is shared on the steps, smoky barbecues, household chores and child care all happen in stairwells and corridors.
We gradually gain some sense of Aleixo's notoriety. One resident reassures a potential visitor that nobody will bite her if she dares to visit. Later, a song describes an area ravaged by drugs. Guiomar's intention is very much to contrast reality with that reputation. His viewpoint is that of an insider, offering a window into a vibrant, close-knit community that is starting to slip away. The door of one abandoned home has been filled with cement. Decay and neglect are starting to leave their mark.
Guiomar clearly has great affection for his subjects and his presence is very unobtrusive. He allows us to be present within the community and also has a great eye, picking out an old man feeding pigeons, a china doll with a broken arm, a blind man playing dominoes and a turtle in a fish tank. All kinds of lives are lived here, connections formed that run deep.
If the first half of the film is a celebration, then the second half is a lamentation. Filmed six years later, it depicts an area that has become a ghost town. The wind howls through empty buildings. People strip away anything that might have the slightest value. Only a few hardy souls remain, still awaiting rehousing. The death of a young man called Israel only adds to the melancholy mood. We never learn the exact circumstances of his death but the coming together of past and current residents to mark his passing feels like a final farewell to Aleixo. One individual remarks "When my tower fell, my soul wept." Luisa prepares to leave her flat for the last time, her anger reflected in the words scrawled on a wall: "The Poor Don't Have The Right To Look At The River".
Our Land, Our Altar is never explicitly political. It allows the viewer to draw their own conclusions but there is no doubting the forces of gentrification and the casual disregard for lives that don't seem to matter. Guiomar speaks in a quiet, observant tone but his film is heard loud and clear.
Production companies: Olhar de Ulisses, Cimbalinho Filmes
International sales: Olhar de Ulisses olhardeulisses@gmail.com
Producers: Mafalda Rebelo , André Guiomar, Dinis Henriques, Miguel da Santa, Luis Costa
Editing: Miguel da Santa, Andre Guiomar
Cinematography: Andre Guiomar