In Tahiti, two cousins represent the past and the future of an island at the crossroads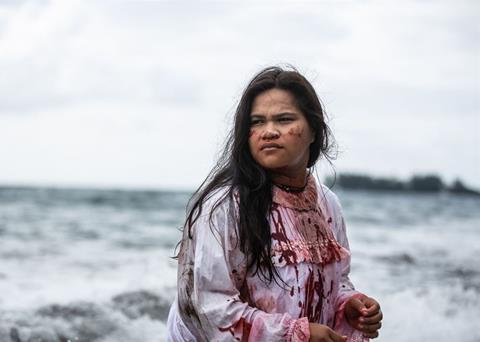 Dir: Paul Manate. France/Tahiti. 2019. 89 mins
The clash between long-held beliefs and the march of "progress" is personified by two Tahitian cousins in Paradise (Oiseau De Paradis). The debut feature from Paul Manate successfully blends social realism and mysticism to create a thoughtful portrait of a community in transition. The natural beauty of the setting, intriguing plot and the quietly assured storytelling should attract festival interest as it goes out into the international marketplace. (The film has been available through UFO Distribution in France since the end of May.)
Compact storytelling that covers a lot of ground
Initially, Paradise has the feel of a John Sayles fresco like Sunshine State or Lone Star as it explores the unexpected connections and contradictions within a community. Territorial elections are the focal point as we are introduced to cynical politicians, the promise of jobs from the development of the luxury Tahiti Millenium Hotel and generations of local residents facing inevitable eviction and rehousing. There is also toxicity in the water at Polynesian beach village Tautira that makes clearing the area both urgent and suspiciously convenient.
That is the backdrop to the life of Teivi (Sebastian Urzendowsky), an ambitous, well-connected parliamentary assistant to urban planning commissioner Charles Gilot (Patrick Descamps) who will do anything to ensure an election victory. Teivi is asked to use his position to find a job for his distant cousin Yasmina (Blanche-Neige Huri).
Manate effectively demonstrates the way in which the two cousins occupy the same island but are worlds apart. There are stark contrasts between those who prosper and those who struggle. Teivi operates in a world of nightclubs and swanky hotels, drives a smart car and cuts a dash in his Hawaiian shirts and skinny jeans. Proud Maori Yasmina has lived with her Aunt Rosa (Angela Chavez) since the death of her mother and is treated more like a housemaid than a family member. "Studying isn't for the likes of us," says Rosa as she vows to find Yasmina employment and swell her own income.
Yasmina is thought to be a witch with the same powers as her late mother. Teivi is shaken by her prophecy that he is going to die and a dormant connection between them is reawakened as he falls ill and starts to fear the worse.
The relationship between the two cousins illuminates the combination of traditional and modern in Tahiti. The rise of luxury hotels and tourism rubs shoulders with a yearning for a simpler past when a living could be made from fishing and a land that is now considered "sick". Family photo albums make Teivi nostalgic for his childhood and a time before his mother's Alzheimers. Yasmina beguiles children with campfire tales of an ancient ogress called Hina who lived on the southern islands.
The ghosts of the past become more present in the story as the film slightly drifts into Apichatpong Weerasethakul territory. Yasmina's use of her powers to avenge wrongs and settle scores lends tension to the closing third of the film.
Compact storytelling that covers a lot of ground, Paradise is enhanced by art direction that creates a cluttered, lived-in feel to various homes and cinematography that captures the beauty of Tahiti through the slivery glow of a full moon and the warm blues of its waters. Manate also makes good use of Blanche-Neige Huri whose glowering, taciturn presence makes Yasmina a mysterious woman you underestimate at your peril.
Production companies: Local Films, Filmin'Tahiti, A perte de vue, Anaphi Studio.
International sales: MPM Premium quentin@mpmpremium.com
Producers: Nicolas Breviere
Screenplay: Paul Manate, Cecile Ducrocq
Editing: Stephanie Araud
Cinematography: Amine Berrada
Production design: Thibault Pinto
Music: Olivier Mellano
Main cast: Blanche-Neige Huri, Sebastian Urzendowsky, Ahuura Temaru, Angela Chavez