Dir: Morten Tyldum. US. 2016. 116mins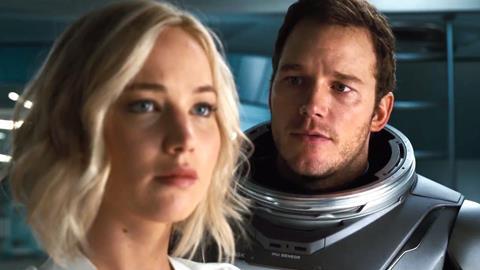 Part space romance, part space thriller and all space corn, Passengers is a messy and unconvincing mash-up that tries to get by on the not inconsiderable charm of stars Jennifer Lawrence and Chris Pratt. Lawrence and Pratt are almost the whole cast, and they're on screen for almost the whole film; but they don't generate nearly enough chemistry to make this unwieldy sci-fi effort take off.
Neither actor is able to make the more serious moments as affecting as they should be.
Sony releases the Columbia/Village Roadshow/Wanda production in the UK and the US on December 21, just two weeks after likely sci-fi juggernaut Rogue One. It will take all of Lawrence and Pratt's pulling power for Passengers to find a substantial audience in the shadow of the Star Wars spin-off.
The entire story takes place on the Avalon, a vast luxury spaceship transporting five thousand passengers plus crew – all of them safely tucked into their hibernation pods - on a 120-year journey to a new human colony on a distant planet. With 90 years still to go, a pod malfunction causes down-to-earth engineer Jim (Pratt, fresh from this autumn's The Magnificent Seven) to wake up early, and he's joined a year later by writer Aurora (Lawrence).
Jim's time as the ship's sole conscious human – who can't be put back into hibernation and is therefore doomed to live out his life on board - is often played for laughs (with a dark turn at the end). But while Pratt shows some of the comic twinkle that he put to good use in Guardians of the Galaxy, the script, by Doctor Strange co-writer Jon Spaihts, doesn't give him enough to work with. And Michael Sheen is underused as the ship's android bartender.
When Aurora arrives on the scene the film turns, for a while, into something close to a rom-com, with cutesy dating sequences and a mildly steamy sex scene.
The revelation of Jim's big secret puts a stop to the romance, and, with a crew chief (played by Laurence Fishburne) now also awake, the film becomes more of an action thriller, as the three characters try to fix the ship so that the other passengers and crew members can go on to their new world.
Norwegian director Morten Tyldum (who made his English-language debut with 2014's The Imitation Game) never quite solves the problem of having only two or three living, moving things on screen and as a result the film sometimes feels static, with too much attention being grabbed by the elaborately designed – in a mix of futuristic and retro styles - sets.
Lawrence and Pratt handle the comedy well enough – and they certainly make a handsome couple – but neither actor is able to make the more serious moments as affecting as they should be.
A handful of VFX sequences give the film some added visual punch but the lush romantic score intrudes more often than it enhances.
Production companies: Columbia Pictures, Village Roadshow Pictures, Original Film, Company Films, Start Motion Pictures
Worldwide distribution: Sony
Producers: Neal H Moritz, Stephen Hamel, Michael Maher, Ori Marmur
Executive producers: David Householter, Ben Browning, Jon Spaihts, Bruce Berman, Greg Basser, Ben Waisbren, Lynwood Spinks
Screenplay: Jon Spaihts
Director of photography: Rodrigo Prieto
Production designer: Guy Hendrix Dyas
Editor: Maryann Brandon
Costume designer: Jany Temime
Music: Thomas Newman
Website: www.passengersmovie.com
Main cast: Jennifer Lawrence, Chris Pratt, Michael Sheen, Laurence Fishburne, Andy Garcia