Modern Brooklyn-set romcom starring Rebecca Hall and Dan Stevens is lifted by a gay parenting subplot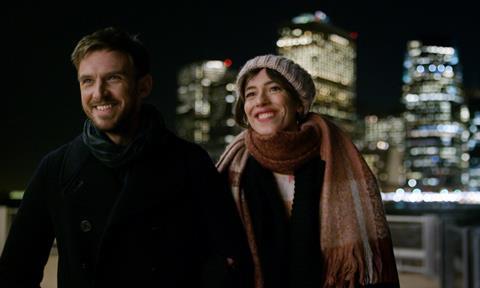 Dir/scr: Brian Crano. US. 2017. 96 mins
For over an hour, Permission unfolds as a mildly amusing romcom about two modern Brooklyn couples facing commitment crises. Toward the end, the main plot, about a straight pair experimenting with polyamory, takes a dramatic turn. It's as if writer-director Brian Crano had suddenly realised sentimentality is anathema to good fiction. Crano and producer-star Rebecca Hall have a feminist message to deliver, but the tonal shift is so unexpected, it feels inorganic. In contrast, the subplot, about two gay husbands disputing whether to become parents, grows steadily in complexity and robustness. Sadly, it won't guarantee Crano's sophomore feature a strong commercial future.
Neither Stevens nor Hall, a fellow Brit, seem attuned to Crano's evocation of the Brooklyn dating scene, Hall proving especially mannered.
One problem is that Permission's atmosphere is relentlessly beige. Set in the relaxed middle-class neighborhood of Cobble Hill, a cornucopia of restaurants and bars, it tells a story of middlebrow, middle-class thirtysomethings who are oppressively good-looking and dance badly to AOR-era Roxy Music. Their emotional needs are valid, of course, but Crano contrives his attempts to reflect their turmoil poetically—Dan Stevens' Will passing a burning car at a critical moment, for example.
The path of true love crumbles for hitherto monogamous furniture-maker Will and graduate student Anna (Hall) after each permits the other to have sex with other people. Virgins when they met, they have drifted into having perfunctory sex. The suggestion that they sleep around is made drunkenly by Reese (Morgan Spector)—Will's best friend and business partner—at Anna's 30th birthday dinner. The formerly promiscuous Reese is the long-time partner of Anna's brother Hale (Joseph David Craig). Unlike Hale, Reese doesn't yearn to have kids.
Anna is the first of the straight lovers to take the plunge. Following an excruciating nitespot sequence, in which Will jealously interrupts her flirtation with Dane (The Borgias' François Arnaud) and joins them on the dancefloor, Anna goes home with the gorgeous interloper, hokily revealed to be a once-successful pop balladeer. Stevens does his best work weakly rationalising why Will is down with Anna's hook-up; his subsequent questions about Dane's "size" and sexual performance reveal his insecurity.
Neither the ex-Downton Abbey heartthrob nor Hall, a fellow Brit, seem attuned to Crano's evocation of the Brooklyn dating scene, Hall proving especially mannered. This could be due to the direction. Stevens was exceptional in a psychologically demanding role in last year's Tribeca entry The Ticket.
Anna having got Dane under her belt, Will goes to bed with Lydia, a lusty divorced customer with money to burn. Though Lydia was written as a Cougar-ish cliché, Gina Gershon's relishable performance gives Permission's sagging second act a comic jolt. Lydia introduces Will to drugs. She also introduces him to her thrusting forefinger and allows him to spit in her mouth, a practice (presumably influenced by Internet porn) that Anna, peeved anyway by Will's playing away, regards with revulsion.
Anna enjoys sex with Dane because it's "looser" than sex with Will. But Crano allows that post-monogamy relationships seldom last: Anna is turned off by Dane's extravagant romantic gestures; Lydia poignantly reveals she's still carrying a torch for her ex. Anna and Will each opportunistically has sex with a second new partner—a gallerist and a barmaid, respectively. Crano had cinematographer Adam Bricker photograph these trysts discreetly—the showing of male but not female flesh smacks of political correctness—but their brutishness has the ring of truth.
Broody Hale has meanwhile been sneaking off to a park to talk to a sleepy new dad (Jason Sudeikis), who's often there with his baby, which Hale is delighted to hold when he gets the chance. When Reese stumbles on them, he accuses Hale of betraying him emotionally. Whereas Will's building of a house for Anna is tinged with patriarchalism, the moral high ground fought over by Hale and Reese is not easily won by either man. Though Reese is the dominant in the couple, he reckons without Hale's self-reliance or his own vulnerability. Craig, who is Crano's husband in real-life, and Spector, who is Hall's husband, are excellent. It came as no surprise to learn from the Q&A that followed Permission's post-premiere Tribeca screening that Crano and Craig are pondering parenthood.
Production company: Ball & Chain Productions
US sales: Deborah McIntosh, WME Global, dmcintosh@wmeentertainment.com
International sales: Fabien Westerhoff, Film Constellation, fabien@filmconstellation.com
Producers: Rebecca Hall, Margot Hand, Giri Tharan, Joshua Thurston
Cinematography: Adam Bricker
Editor: Matt Friedman
Production design: David Meyer
Main cast: Dan Stevens, Rebecca Hall, David Joseph Craig, Morgan Spector, Gina Gershon, François Arnaud, Jason Sudeikis, Sarah Steele