Paramount exhumes another Stephen King chiller.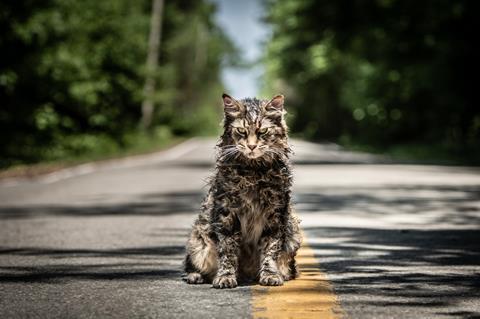 Dirs: Kevin Kolsch, Dennis Widmyer. USA. 2019. 101mins
As with all Stephen King stories, there are resonant universal themes running through Pet Sematary; guilt, grief and trauma fuel this tale of a family who move to the countryside and become embroiled with an ancient evil. Yet these are buried deep under a mudslide of horror cliches — jump scares, creepy kids, expositional newspaper headlines — that reduce this to just another run-of-the-mill horror remake. Adapted from King's 1983 novel, previously brought to the screen by Mary Lambert in 1989, Pet Sematary follows hot on the heels of King's It, which took over $700m globally on its release in 2017. While this may not reach those numbers, King's huge built-in fanbase and the current buoyancy of the horror genre should ensure a solid return for Paramount when it releases in the UK on April 4 and the US a day later.
There is nothing here that hasn't been seen ad infinitum
Moving from the hustle of Boston to the backwoods of Maine, ER doctor Lois Creed (Jason Clarke) and his wife Rachel (Amy Seimetz) are looking for a slower pace of life with their children, nine-year-old Ellie (an excellent Jete Laurence from TV's Younger and Sneaky Pete) and toddler Gage (Hugo and Lucas Lavoie). They haven't been in their new home for long when a procession of local children wearing eerie animal masks, pushing a dead dog in a cart, leads them to discover the titular animal graveyard on their land.
When their own cat Church is killed, Lois and Rachel disagree on what to tell Ellie. He believes they should be honest about death; haunted by terrifying childhood visions of her sister, deformed by spinal meningitis, she thinks they should spare their daughter the pain. Lois is helped by neighbour Jud (John Lithgow) to bury Church in the 'pet sematary', and is more than a little surprised when the feline returns the next day. It's immediately obvious, however, that Church is a changed beast, hissing, scratching and devouring local birdlife on the marital bed.
It's during Ellie's 9th birthday party, however, that real tragedy strikes, when she is killed by a speeding truck outside their home. Consumed by grief, Lois decides to take extreme action and reburies Ellie in the 'sematary'. She returns, of course, but at considerable cost to the entire family. (It's worth noting that this is the biggest of several changes from the novel, in which Gage loses his life and returns from the grave. Perhaps a three-year-old zombie was considered a step too far for modern teen audiences).
Stephen King famously based his original novel on his own experiences, and has described it as his darkest work. While all of his stories involve death, this is perhaps his most direct and personal confrontation of mortality, and the attempts we make to ignore or even overcome it. Screenwriter Jeff Buhler has skewed closer to the tone of the book than the 1989 version, adapted by King himself, which was more schlock than shock. (Pet Sematary 2, which followed in 1992, was simply forgettable). And the ideas at play here are certainly intriguing: the way in which past traumas shape our beliefs; the tension between science and religion; the power of grief to drive us to desperate acts.
Yet any such psychological explorations are overwhelmed by the filmmakers' need to provide easy scares. Aside from the genuinely horrifying sequence in which Ellie meets her end, there is nothing here that hasn't been seen ad infinitum — whispering shadows, booming jump cuts, foreboding woods. And while shots of the Maine scenery are beautiful and haunting, the film was made in Montreal and some of the key sequences play out on sets that are so obviously man-made as to be entirely distracting. More wooden still is the screenplay, stuffed full of clunky dialogue. "Do you remember that talk we had about metabolism," says Lois to his daughter after she questions why animals die quicker than humans. "Sometimes dead is better," intones Judd, rather too late.
The cast are solid across the board, with Clarke in particular giving a nuanced performance that transcends the blunt-edged material. Technically, there are few surprises; cinematographer Laurie Rose shoots in atmospheric shades of grey, and bookends the film with the overhead drone shots of woodland expanse that are becoming genre staples. Sound design is typically insidious, although the upbeat poppy cover of The Ramones' 'Pet Sematary' (originally made for the 1989 film) which accompanies the end credits is incongruous to say the least.
Production company: Alphaville Films, Paramount Pictures
Worldwide distribution: Paramount Pictures
Producers: Lorenzo di Bonaventura, Steven Schneider, Mark Vahradian
Production design: Todd Cherniawsky
Editing: Sarah Broshar
Cinematography: Laurie Rose
Music: Christopher Young
Main cast: Jason Clarke,
Amy Seimetz, Jete Laurence, John Lithgow