Abner Benaim's second feature explores the relationship between a melancholy divorcee and a poor street child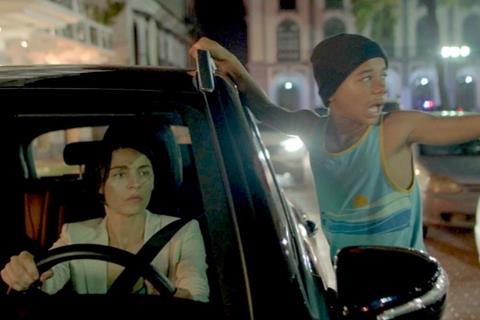 Dir/scr: Abner Benaim. Panama/Mexico/Colombia. 2021. 94 mins.
Twice selected as Panama's Oscar nominee for his documentaries, Abner Benaim earns his third official entry with his second feature Plaza Catedral, a powerful but strangely detached urban drama about the relationship between a bereaved middle-class mother and a Panamanian street child that is, ultimately, a critique of the sad impossibility of that relationship. One of the film's themes, the violence in the lives of these children, tragically played out in the real-life street killing of its teenage co-protagonist Fernando Xavier de Casta shortly after filming completed — an event that inevitably complicates any viewing of it.
The performances are affecting, with Salas carrying most of the dramatic burden alone
Benaim's documentary work has focused on issues specific to Panama — the 1989 US invasion of Panama in 2014's Invasion, which was the first ever Panamanian Oscar submission, and the career of a superstar musician in 2018's Ruben Blades Is Not My Name. Plaza Catedral ambitiously filters a local story about street violence through a universal tale of maternal bereavement, but ultimately it's too conventional, despite the clear urgency and importance of its message, to really bring that message home.
The life of Alicia (Mexican actor Ilse Salas) is bitter-tasting: she has lost her young son in a playground accident, is divorced from Diego (Manolo Cardona) and is pandering to Panama's wealthy by working as a real estate agent for the brutally cynical Jack (Benaim), whom by the end of the film she has learned to despise.
Alicia exchanges chitchat with fast-talking street child Alexis, aka Chief (Xavier de Casta), who ekes out a living attending to (i.e. agreeing not to damage) the parked cars of the well-to-do inhabitants of the titular plaza. But the uneasy separation between Panama's rich and poor becomes impossible to maintain once Alisha finds Chief lying with a gunshot wound on the stairs of her apartment.
"Get the kid out of your house," a friend warns Alicia in one of the film's more remarkable lines to non-Latin American ears. "The smaller they are, the more dangerous they are." But despite this sage advice, Chief moves in; it is suggested that Alicia being Mexican, and thus an outsider, is what allows that to happen. After the move, the film takes off emotionally: they work together on building Alicia's model wooden bridge, a nice symbol, while Chief teaches her street language and raises her only smile of the film.
The scene through which they share their pasts, tragic in different ways, is the film's strongest, and a shot of Xavier de Casta's face as he listens to Alicia talking about her loss is its most human moment. Indeed, this could be the scene that won them each an acting award at October's Guadalajara Festival. But the denouement, involving Chief's short, brutal past catching up with him, feels rushed and dramatically unearned.
For example, it's rather strange, in a film about street violence, that we have to wait an hour for Alicia's (and our) first short drive into the barrios that have made Chief what he is: much of the action takes place in the elevated, clean-lined and well-lit spaces of Alicia's symbolically-distanced apartment. Panama's middle class might prefer to ignore the poverty at their doorstep, but if the film is to achieve maximum dramatic impact, the viewer cannot afford to.
The performances are affecting, with Salas carrying most of the dramatic burden alone and looking suitably world-weary. Xavier de Casta, bright and energetic, was clearly well-directed so that his natural freshness remains intact for the camera. On a technical level— despite the heavy-handed use of Matthew Herbert's score through the first half — this is polished stuff.
Xavier de Casta's death becomes a part of the film, bringing to it a complexity and tragedy that, on its own, the film is lacking. It is a praiseworthy film in many ways: for its refusal, for most of its length, to become purely sensational, and for its intelligent, cool-headed analysis of the cruelty and hypocrisy of Panamanian society.
But we are always too aware of the overly schematic guiding hand of Benaim, moving his characters around to make them fit his thesis on the generally dehumanising impact of living in a violent society where children are regularly shot dead. That's a potentially rich and enlarging notion, and one hopes that Xavier de Casta's untimely death will go on to ignite debate. But it's also one that has a thousand human consequences, and the script is unable to go deeply enough into the characters of either Alicia or Chief to make the viewer truly engage with that tragedy.
Production companies: Apertura Films, Barracuda Films, Blond Indian Films
International sales: Luminosity Entertainment, daniel@luminosity-ent.com
Producers: Abner Benaim, Ruben Sierra Salles, Matthias Ehrenberg, Carlos Garcia, Maria Alejandra Mosquera, Jose Cohen
Editing: Soledad Salfate
Cinematography: Lorenzo Hagerman
Music: Matthew Herbert
Main cast: Ilse Salas, Fernando Xavier de Casta, Manolo Cardona, Marcos Bernal Lopez, Elsa Fajardo, Abner Benaim