Dirs: Akiva Schaffer and Jorma Taccone. US. 2016. 86mins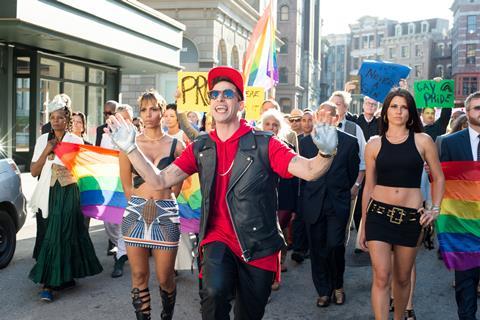 A superbly silly sendup of the modern musical landscape, Popstar: Never Stop Never Stopping is as thimble-deep as the throwaway hits it's satirising, but also just as lively. The brainchild of the comedic collective known as The Lonely Island, which launched onto the scene making smart viral videos for Saturday Night Live, this mockumentary about a spoiled-rotten pop star mostly avoids the pitfalls that await filmmakers who try to transition from bite-sized shorts to feature-length movies. The laughs are plentiful even when the targets are obvious.
This is an R-rated comedy that feels surprisingly kind-hearted and generous
Opening in North America on June 3, Popstar will be banking on audience awareness of star Andy Samberg and his Lonely Island cohorts, co-directors Akiva Schaffer and Jorma Taccone, from their SNL days. Samberg hasn't had much of a film career — his biggest hit is the TV series Brooklyn Nine-Nine — but even so, familiarity with the sorts of pop music being mocked will get twenty- and thirtysomethings into the theatre. This Universal release ought to be a solid performer, with ancillaries perhaps proving just as viable, especially if rosy word-of-mouth kicks in.
Popstar pretends to be a behind-the-scenes account of pop sensation Conner4Real (Samberg) as he prepares to unveil his much-anticipated sophomore solo album. But Conner quickly discovers that audiences have cooled on him, and even worse, his old friends in the boy band the Style Boyz, Owen (Taccone) and Lawrence (Schaffer), have become resentful of his success and the callous way he has left them behind to pursue stardom on his own.
Any music mockumentary will naturally be compared to the genre's magnum opus, This Is Spinal Tap, and although Popstar is a pale shadow of that classic, it does share an ability to capably skewer musical genres by creating sound-alike songs that are catchy in their own right. The Lonely Island trio, who wrote the film together, have made a career of this, releasing three albums in the last seven years that deftly parodied hip-hop, R&B and electronica. For Popstar, which will have an accompanying soundtrack, Samberg, Schaffer and Taccone again have devised some very funny tracks that are exaggerated but still rather faithful variations on current pop styles.
The subtitle Never Stop Never Stopping is a sly tweak of the 2011 Justin Bieber concert documentary Justin Bieber: Never Say Never, but while Conner may contain some surface similarities to that photogenic, bad-boy phenom, the Lonely Island collective crafts its protagonist to be more of an all-around numbskull rather than a direct attack on any one pop star.
Samberg has a natural sweetness that comes through in Conner, so even when the character's acting like a diva, he's more clueless than particularly mean or evil. (The exception, of course, is when he drops a would-be protest anthem called "Equal Rights" about the need for marriage equality — all the while anxiously assuring his fans that he is definitely not gay.)
Popstar has a zeitgeist-y fleetness to its comedy, lampooning everything from white artists' insensitive appropriation of African-American musical styles to the challenges contemporary acts face in order to get their music heard by the masses. (A desperate Conner is reduced to having his tunes integrated into refrigerators.) Spoofing sham celebrity marriages and audience fickleness, the Lonely Island trio always displays a light touch which results in an R-rated comedy that feels surprisingly kind-hearted and generous. And without overdoing it, Popstar also has an understated emotional undercurrent, Conner realizing that his real strength is working with his childhood pals Owen and Lawrence.
Individually as directors, Schaffer (The Watch) and Taccone (MacGruber) have struggled to tell consistently funny full-length stories, showing more aptitude for five-minute shorts and hilarious music videos during their years on SNL. But with Popstar, the trio's love for pop culture papers over the 90-minute script's occasional dull spots, their ability to mimic distinctive visual styles (from the concert film to reality television) making for a thoroughly entertaining package.
If Samberg is an amiable leading man, Schaffer and Taccone are enjoyable, if less charismatic, supporting players. Lawrence left the music business after the Style Boyz split up, angry that Conner stole the credit for songs he wrote, and Schaffer gives the character a slow-burn pathos that's humorous in spurts. Meanwhile, Taccone's Owen has suffered the indignity of becoming Conner's onstage DJ — he basically pushes a button on an iPod to start the show — and this pathetic hanger-on generates ample laughs.
A cavalcade of comedy pals and musical buddies provides cameos — everyone from Maya Rudolph to Justin Timberlake — and if few of them are particularly memorable, Tim Meadows at least squeezes a little sympathy out of his amusing portrayal of Conner's long-suffering manager. But everyone in the cast is attuned to the film's daffy spirit, ensuring that many of these jokes pop.
Production companies: Perfect World Pictures, Apatow Company, Lonely Island Production
International distribution: Universal Pictures, www.universalpictures.com
Producers: Judd Apatow, Rodney Rothman, Andy Samberg, Akiva Schaffer, Jorma Taccone
Executive producer: Morgan Sackett
Screenplay: Andy Samberg & Akiva Schaffer & Jorma Taccone
Cinematography: Brandon Trost
Production design: Jon Billington
Editors: Jamie Gross, Craig Alpert, Stacey Schroeder
Music: Matthew Compton
Website: www.popstarmovie.com
Main Cast: Andy Samberg, Jorma Taccone, Akiva Schaffer, Sarah Silverman, Tim Meadows, Maya Rudolph, Joan Cusack