A teen romance takes a dark turn in Indonesian director Edwin's fourth feature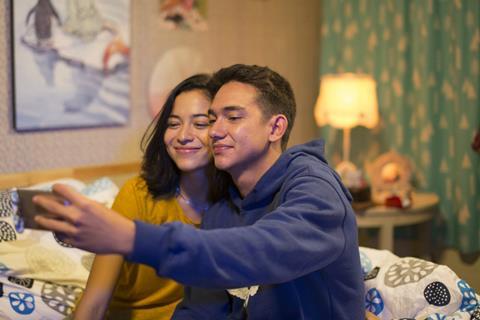 Dir: Edwin. Indonesia. 2017. 102mins
A star high-school athlete discovers the troubles of first love in Posesif, and Indonesian director Edwin discovers the struggles of jumping from applauded festival fare (Blind Pig Who Wants to Fly, Postcards from the Zoo) to more mainstream filmmaking. Here, girl meets boy and sparks fly, but their seemingly idyllic relationship is soon tempered by his darker nature — a scenario that sounds all-too-familiar and plays out the same way. While the filmmaker's fondness for lyrical imagery might remain, as the narrative flirts with soap opera territory his symbolism-laden visuals merely prove attractive wrapping.
Posesif often proves a case of good intentions gone astray; of attempting to dive deep but being lured back to a comfortable template
On home turf, the film has enjoyed some festival success, including best actress and supporting actor awards at 2017's Festival Film Indonesia. Elsewhere, it's likely to stick to the Asian circuit, making its international premiere in Singapore before screening in Hong Kong.
Taking its title from the Indonesian term for 'possessive', Posesif's romance-gone-bad angle is apparent from the outset — not that it makes its depictions of blossoming teen love any less routine. Lala (Putri Marino) is a diving champion, Yudhis (established star Adipati Dolken) is the new kid at school, they meet-cute over forbidden footwear and are soon wandering around parks, posting Instagram declarations of affection and rearranging their schedules to be together. Well, he's doing that, and it doesn't take long for his ire to rise over the fact that she isn't.
Cue tantrums, guilt trips and emotional blackmail, then trying to sabotage Lala's relationship with her father and clipping one of her childhood friends with his car. Yudhis has clearly read the abusive boyfriend handbook, his behaviour as boilerplate as can be. An unhealthy situation at home helps explain his volatile temperament, but that feels like an exercise in ticking the requisite boxes — the same applies to Lala's grief over her diver mother, her complicated relationship with her diving coach dad, and her gamut of reactions to Yudhis' toxic brand of affection.
Indeed, like its core relationship, Posesif often proves a case of good intentions gone astray; of attempting to dive deep but being lured back to a comfortable template. Edwin and screenwriter Gina S. Noer (Rudy Habibie, Pinky Promise) quest to serve up something more complex than the usual high-school romance is evident, but the film can't escape its blend of formula and melodrama. Packaged with twee, tinkling pop music filled with obvious lyrics ("oh what a beautiful day" one song croons during the movie's happier segments, for example), the end result is overemphasised rather than textured, and blatant rather than profound.
Edwin remains an interesting filmmaker to watch, however, whether in the subtle changes in the feature's palette as excitement turns to horror, or his love of visual metaphors. That said, literally tying the two protagonists together during their first meeting shows the same lack of nuance as Yudhis' escalating actions, though finding various ways to equate the central duo with their favourite animals (she's a cute penguin, he's a hulking whale) is more convincing.
Production company: Palari Films
Contact: Good Move, hello@goodmovemedia.com
Producers: Meiske Taurisia, Muhammad Zaidy
Screenplay: Gina S. Noer
Cinematography: Batara Goempar Siagian
Editing: W. Ichwan Diardono
Music: Mar Galo, Dave Lumenta
Main cast: Putri Marino, Adipati Dolken, Griselda Agatha, Chicco Kurniawan, Cut Mini Theo, Yayu A.W. Unru