Adelaide Clemens takes on twin roles in this horror debut from Luke Shanahan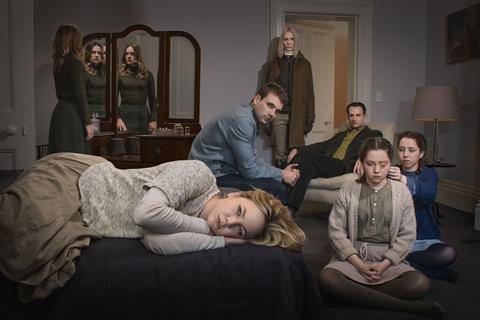 Dir/scr. Luke Shanahan. Australia. 2017. 103 mins.
A tense, twin-focused thriller eager to jolt audiences both viscerally and psychologically, Rabbit is a bold start for Australian writer/director Luke Shanahan. Starting with a blood-red screen, a loud blast of pulsating eeriness and the pre-title account of a woman (The Great Gatsby's Adelaide Clemens) fleeing through the woods, Rabbit makes an instant impression. Alas, while the scene is set for an ambitiously unnerving and stylistically meticulous effort, the resulting blend of missing siblings, troubling dreams, creepy communes and tested bonds can't quite sustain its initial momentum.
A swirling, droning, classical-meets-industrial music can verge on the overwhelming, even when doled out in sudden fits and spurts
Rabbitmay be more effective at the outset than when it delves deeper into its mystery, and at relaying a specific mood than narrative details, but the atmospheric puzzler still commands attention. As well as Australia, the film has already been sold to Germany, Austria and Switzerland, and genre festivals elsewhere should take note. Premiering in Melbourne after winning best pitch at festival's 37ºSouth Market back in 2015, it's also likely to find an audience via streaming platforms, though the movie's biggest asset — Michael Darren's (One Eyed Girl) immersive and unsettling score — deserves to be played as loudly as possible.
Indeed, Rabbit's swirling, droning, classical-meets-industrial music can verge on the overwhelming, even when doled out in sudden fits and spurts. The the heavy air of unease it conjures couldn't be more fitting, however. With the movie's protagonist first haunted by dreams about her missing twin's whereabouts, then following her visions to a remote compound, feeling anxious is part of her journey. Employing a washed-out colour palette and savvy editing that helps the film to suggest more than it shows, Shanahan and his crew — including cinematographer Anna Howard (Women He's Undressed) and editor Stuart Morley (Any Questions for Ben?) — convincingly share that sensation with viewers.
Studying medicine in Berlin almost a year after her sister Cleo's disappearance, Maude's (Clemens) nightmares lead to a fainting spell and a hospital stay, sparking a trip back home to Adelaide to recover. Her sister's absence lingers in the air, and though her grieving parents have already held a funeral, Maude, Cleo's fiancé Ralph (Alex Russell) and obsessed police detective Henry (Jonny Pasvolsky) take to the road in the hopes of finding Cleo alive.
As the horror genre has well and truly made plain, roaming through the countryside rarely ends happily, particularly when an array of ominous characters pops up along the way. As The Shining so effectively established, dallying with twins can be a terrifying experience. Eventually arriving at a caravan park, the central trio crosses paths with plenty of both, but seems to find a couple of friendly faces in doctor Nerida (Veerle Baetens) and her husband Keith (Charles Mayer). Then Maude wakes up in a luxurious house — and in the middle of a secret society experimenting with free will and fate.
It might be apt that a feature about twins splits its contents into halves — one terse, taut and foreboding; the other reveling in its unhinged gothic fairy tale vibe — but the two sections never sit comfortably together. And while that may also be appropriate given the film's fascination with testing the bonds of close siblings in unorthodox ways, Rabbit can't make its intriguing concept and engaging aesthetics play nicely with its narrative.
Juggling multiple parts works for Clemens, however. After making a name for herself on TV's Rectify, she returns home for a compelling turn that conveys the complexities of the twin relationship, while still committing to the movie's twists and tone. Her Wasted on the Young co-star Russell has less to do, with The Broken Circle Breakdown's Veerle Baetens proving the feature's other standout — the striving yin to Clemens' searching yang, and yet another example of Rabbit's duality in action.
Production companies: Longshot Films, Projector Films
International sales: LevelK, derek@levelk.dk
Producer: David Ngo
Executive producers: Bryce Menzies, Clement Dunn, Compton Ross, Gregory Apps, Phil Hunt
Cinematography: Anna Howard
Editor: Stuart Morley
Music: Michael Darren
Production design: Amy Baker
Main cast: Adelaide Clemens, Alex Russell, Veerle Baetens, Jonny Pasvolsky