Dir: Stephen Hopkins. US. 2016. 134mins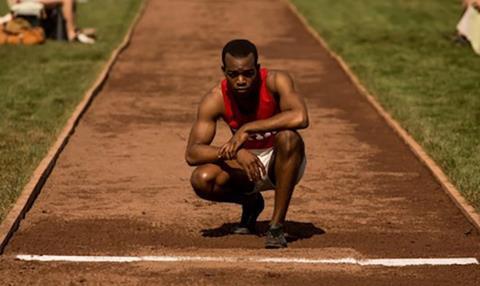 Chronicling the rise of Jesse Owens, one of America's greatest 20th century athletes, Race is only faintly stirring, turning history into a dry re-enactment. Produced in part by The Jesse Owens Foundation, this biopic can't help but feel like a feature-length tutorial on the young black man who faced racism and bigotry on the way to breaking records and winning four gold medals at the 1936 Summer Olympics. But neither director Stephen Hopkins nor star Stephan James can bring Owens' story to passionate life, resulting in a drama that's well-meaning rather than riveting.
Jesse Owens' achievements on the track are undeniable, but Race is surprisingly resistible
Releasing in the US on February 19, Race arrives in theatres a week before the arrival of another inspirational true-life sports tale, Eddie The Eagle. Considering that Owens' achievements occurred 80 years ago, there may not be a breathless urgency on audiences' part to recount his athletic glories. But with a supporting cast that includes Jason Sudeikis, Jeremy Irons, Carice van Houten and William Hurt, Race may court older crowds, who are just as likely to sample this film on VOD or other ancillary markets.
Spanning roughly three years, the film stars James as Owens, who enrols at Ohio State University to compete in track and field in the early 1930s. Guided by his tough-but-supportive coach Larry Snyder (Sudeikis), a former track star himself, Owens must confront racism on campus and, later, the pressure of appearing in the 1936 Games in Berlin, where Adolf Hitler is already rounding up Jews while discriminating against other minority groups, including black people.
With a script by the writing team of Joe Shrapnel and Anna Waterhouse, Race exudes an earnest, slightly stuffy air, which makes the film feel embalmed rather than lived-in. The problems extend to James' performance: he plays Owens as a slightly withdrawn young man whose athletic brilliance outpaced his charisma. There's potentially something intriguing in such an approach — the movie arguing that the shy Owens was thrust into a limelight he never sought — but James fails to make the character all that compelling. (It's difficult not to wonder what John Boyega, the appealing breakout star of Star Wars: The Force Awakens who was originally cast in the role, would have brought to the character.) Instead of watching an impressionable kid wrestle with historical and political forces far beyond his comprehension, Race presents Owens as a blandly noble hero without exhibiting much curiosity about his inner workings.
Hopkins, who started his career as a film director (A Nightmare On Elm Street 5: The Dream Child, The Ghost And The Darkness) before transitioning to television (winning an Emmy for HBO's The Life And Death Of Peter Sellers), keeps this drama moving along at a steady, unsurprising clip. Although Owens' college career and Olympics preparations are the film's main thrust, Race also examines the backstage machinations involved with the purposed American boycott of the 1936 Games. (Hurt and Irons appear in this subplot, both doing competent work that leans heavily on their weathered, regal gravitas.) Additionally, we see how German filmmaker Leni Riefenstahl (van Houten) saw the Games as an opportunity to capture on celluloid her homeland's emergence as a world power, an ambition that sometimes put her at odds with her Nazi bosses who wanted to censor her documentary Olympia.
All of these different plot strands are theoretically fascinating, providing a vivid backdrop to Owens' personal quest to triumph at the Games as a blow to bigotry everywhere (not just in Germany), but Hopkins and his screenwriters are simply too bloodless in their treatment to draw the requisite resonance from this scenario. Even the fact that the filmmakers sought authenticity by shooting James in the same Berlin stadium where Owens won his four gold medals proves underwhelming, as unconvincing CG crowd scenes mesh awkwardly with the character's pre-race, real-time preparation regimen.
It also doesn't help matters that supporting characters like Snyder come across as sports-movie clichés, complete with a tragic, secret back story and well-timed pep talks when Owens needs to hear one. Equally simplistic is Race's depiction of racism: Hopkins fails to articulate prejudice's corrosive, slithering evil, instead staging scenes with a thudding obviousness that doesn't take the full measure of its power and insidiousness. (Like too many American films, Race conveniently tells us which characters are horribly bigoted and which aren't at all — as if no troubling grey areas exist between the two extremes.)
To give credit where it's due, the film does spend a little time dramatising Owens' unsteady relationship with Ruth Solomon (Shanice Banton), the mother of his child before marriage, suggesting a hint of imperfection in this dully stoic icon. But the soft-spoken James leaves Owens a frustrating blank slate at the centre of his own film. This man's achievements on the track are undeniable, but Race is surprisingly resistible.
Production companies: ID+, Forecast Pictures, Totally Commercial Films, The Jesse Owens Foundation, The Luminary Group, Solofilms, Trinica, Trinity Race
US distribution: Focus Features, www.focusfeatures.com
International sales: Mister Smith, info@mistersmithent.com
Producers: Jean-Charles Lévy, Luc Dayan, Louis-Philippe Rochon, Dominique Séguin, Stephen Hopkins, Kate Garwood, Karsten Brünig, Nicolas Manuel
Executive producers: Patrick Teng, Paul Teng, Jonathan Bronfman, David Garrett, Sarah MacDonald, Al Munteanu, Mark Slone, Thierry Potok
Screenplay: Joe Shrapnel & Anna Waterhouse
Cinematography: Peter Levy
Production design: David Brisbin
Editor: John Smith
Music: Rachel Portman
Website: www.focusfeatures.com/race
Main Cast: Stephan James, Jason Sudeikis, Jeremy Irons, Carice van Houten, Shanice Banton, William Hurt