Mathias Schoenaerts and Adele Exarchopoulos star in the latest from 'Bullhead' director Michael R Roskam.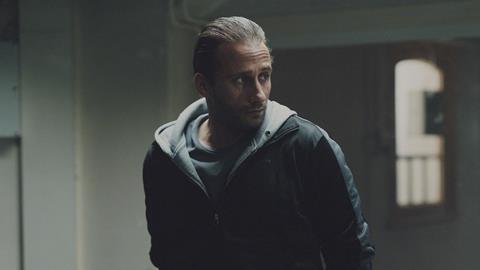 Dir. Michael R. Roskam. France/Belguim, 2017, 130 mins.
Racer And The Jailbird pairs the sizzling-hot chemistry of Mathias Schoenaerts and Adele Exarchopoulos with the film-making brio of Michael R. Roskam (Bullhead). Add a script credited in part to Thomas Bidegain (Les Cowboys, A Prophet) and it seems as if nothing could possibly go wrong, and even if it did, who would mind? That's a fair summation of the best part of this film, known more aptly as Le Fidele in French-speaking territories: but an indulgent 130-minute running time and a plot that wildly over-stretches sees Racer ultimately bounce off the rails.
Consistently stylish throughout, though, Racer powers up on speed and pushes adrenaline
Belgian director Roskam says this is the second part of a trilogy which started with 2011's muscular Bullhead (his last film was the less well-received The Drop in 2014). His taut style is certainly recognisable and they share the same charismatic lead actor in Schoenaerts. This time he's paired with the equally magnetic Exarchopoulos; together they find a chemistry which results in scenes which are wonderfully romantic as well as unabashedly sexy. They're believable as a bank robber and his racing car-driver girlfriend. The stretches the script makes with their mis-matched love story won't, however, be quite so easy to accept.
Early establishing scenes are played out with a fluid ease and palpable skill. Pre-credits we see a young Gino (Schoenaerts) fleeing squalid conditions. He's afraid of nothing, except, perhaps, dogs. Cut to a racetrack where the adult Gino meets talented driver Benedicte, or Bibi (Exarchopoulos). They immediately connect, and rapidly fall in love. He's a little bit shifty about what he does ("car import-export"), his friends seem a raw-around-the-edges, and the love-affair is going so terribly well that it's no real surprise when he turns out to be the leader of a gang which robs banks in an exciting Point Blank-meets-Heat sequence.
Bibi smells a rat (all these trips to Paris!), and Gino won't come clean. But, as Bibi's rich, suspicious father says, Gino "looks like the faithful type" so all he has to do is start telling the truth and they should have a bright future together. It seems clear, though, that Gino, whose first tendency is run when the going gets tough, will only fess up when it's too late. This "one-last-job" trope is so well-signposted that expectations run high The Racer And The Jailbird might be attempting to subvert it. It isn't.
Racer And The Jailbird isn't about a racer and a jailbird in the strictest sense, because Bibi only gets in a car when it suits the narrative for some fast driving and for her to unzip her driver's suit, and she's quick to leave the track behind when matters of the heart come calling. It's more a case of The Girlfriend And The Jailbird, and even Mathias Schoenaerts and Adele Exarchopoulos can't quite sell that old chestnut over 130 stylish minutes.
Roskam, though, has a unique and biting power: you know you're in his film, as nothing else around quite looks or feels like this. When Racer is following Bullhead in its probing of gangster culture, whether they be Belgian-born or Albanian, it has menacing authenticity. And again, the visual examination of Gino's relationship with dogs is a metaphor for our bestiality much like Jacky in Bullhead. Mixing this grit with a sexy, old-school film romance might have worked, if the story took fewer leaps.
Consistently stylish throughout, though, Racer powers up on speed and pushes adrenaline. It ends with a bravura sequence through Brussels streets at night which plays out like it was a joy for Roskam's longtime DP Nicolas Karakatsanis to shoot: it certainly is to watch.
Production companies: Stone Angels, Savage Films
International sales: Wild Bunch
Producers: Bart Von Langendonck, Pierre-Ange Le Pogam
Executive producers: Xavier Rombaur, Alexandre Chalanset
Screenplay: Thomas Bidegain, Noe Debre, Michael R. Roskam
Cinematography: Nicolas Karakatsanis
Editor: Alain Dessauvage
Production design: Geert Paradis
Music: Raf Keunen
Main cast: Mathias Schoenaerts, Adele Exarchopoulos, Erric de Staercke, Jean-Benoit Ugeux, Nabil Missoumi, Thomas Coumans, Nathalie Van Tongelen