Dir. Anurag Kashyap. India. 2016. 127mins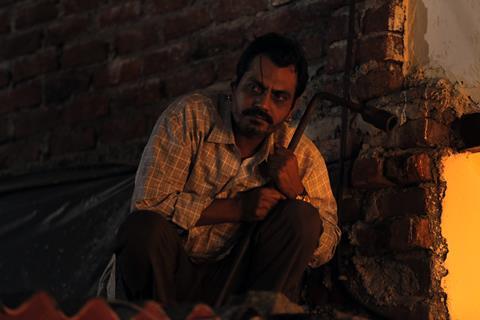 Something of a powerhouse in Indian independent cinema, Anurag Kashyap has made a name for himself with stylish, frequently visceral Desi reimaginings of well-worn genres. The sprawling epic Gangs Of Wasseypur took the Mafia saga and transposed it to rural Bihar. And now Raman Raghav 2.0 takes the cop versus serial killer picture and sets it against the backdrop of the streets and slums of Mumbai.
What the film lacks is the sense of a Manhunter-style battle of wits
It's a propulsive and bloodthirsty thriller with a brash use of music and a jangling, adrenalised energy which rarely flags. It should connect with a young Indian audience, both domestically and within the wider diaspora, looking for a hip, confrontational alternative to mainstream Hindi cinema. And the slick production values and deadly charisma of Kashyap regular Nawazuddin Siddiqui in one of the two lead roles should make this a popular fixture on the festival circuit, where it would be particularly well-suited to the Midnight slot. Broader theatrical prospects outside India are less certain, as the film doesn't bring much that is novel to the serial killer genre aside from the setting.
Raman Raghav – or 'Psycho Raman' – was a serial killer who was active during the 1960s and claimed to hear messages from God telling him to kill. But, as we are informed in a pre-titles sequence, this film is not about him. Instead, this picture focuses on a copycat killer who takes Raman Raghav as his inspiration and is driven by the connection he feels to police chief Raghavan (Vicky Kaushal), the morally bankrupt yin to his murderous yang.
The film opens with a prologue, set in January 2013. Raman (Siddiqui) has just committed his first murder – a hammer attack on a drug dealer. It turns out that he is Raghav's drug dealer. The cop stumbles onto the scene while Raman is still hiding there and cooly clobbers a stray junkie. Raman feels a kinship, he kills to feel close to Raghav.
It's a familiar premise – the cat and mouse dance between murderer and pursuer. But in this case, both cop and killer are the cats. Kashyap seeds the film with feline imagery. A picture of a cheetah on a wall echoes Raghav's posture; alley cats slink through the frame and Siddiqui's eyes are a feral amber hue which makes him look like a predator.
What the film lacks is the sense of a Manhunter-style battle of wits. Raman is hardly a criminal mastermind. He is hiding in plain sight, usually with a blood-caked tyre iron to hand. He's a lunatic blowhard who brags his crimes to all and sundry. Raghav, meanwhile, makes Harvey Keitel's Bad Lieutenant look positively pollyanna by comparison. Neither character is developed into much more than an assortment of base urges, which is one of the reasons that, bracing fun as it is to watch, the film is rather an empty thrill.
Production companies: Phantom Films PVT Ltd
International sales: Stray Dogs nathan@stray-dogs.com
Producers: Vikas Bahl, Vikramaditya Motwane
Screenplay: Vasan Bala, Anurag Kashyap
Cinematography: Jay Oza
Editor: Aarti Bajaj
Production design: Tiya Tejpal
Music: Ram Sampath
Main cast: Nawazuddin Siddiqui, Sobhita Dhulipala, Vicky Kaushal, Anuschka Sawhney