Artist Richard Billingham's debut feature is an autobiographical look at his difficult family life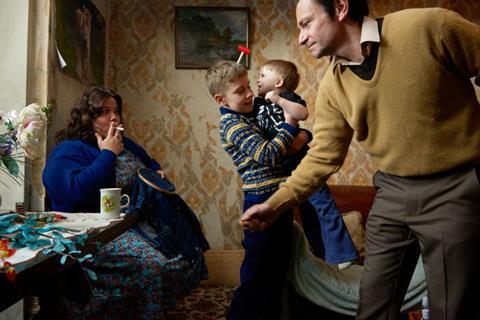 Dir/scr Richard Billingham. UK. 2018. 108mins
A pioneer of "squalid realism", Turner prize-nominated artist Richard Billingham brings a distinctive sensibility to his debut feature Ray & Liz. A meticulously staged evocation of Billingham's family life, it touches raw nerves, provoking reactions that range from revulsion to heartbreak.
A beautifully understated, heart melting performance from Joshua Millard Lloyd is a stand out
Thoughts of Bill Douglas and, especially, Terence Davies seem inevitable in considering Billingham's autobiographical film but the way Ray & Liz ultimately evokes a desperate sense of sadness ensures that he can withstand the comparison. It is a striking, sustained artistic achievement, but one as painful and distressing to watch as it must have been to live through. Commercial prospects will reflect that but with careful nurturing and critical support, this should be able to reach a committed specialist audience.
When we first see Ray (Patrick Romer), he has reduced life to a bare bones minimum. He rarely leaves his fly-infested room in a high rise flat, turning night into day, listening to the radio, watching life pass by and endlessly consuming home brew. His first act on waking is to down more alcohol and steady his shaking hands. The only thing missing from his paradise is partner Liz, who has now left him.
The film folds back on itself to capture stories from the past that establish daily life with the younger Ray (Justin Sallinger) and Liz (Ella Smith) and their two sons in Thatcher-era Birmingham. Their home is a vision of squalor; caked in dirt and infested with flies and cockroaches. Paper peels from the walls and hope never enters the front door.
Liz is a formidable woman. Sharp-tongued and permanently angry, she waddles through life with a cigarette in her mouth and a clenched fist ready to do damage to anyone that might annoy her. Nothing stands in the way of her love of jigsaws and flower-arranging. Her children seem like an inconvenience. Made redundant from his work, Ray cuts a diffident figure, happy to quietly grumble and ruefully shake his head at the hand that life has dealt them.
Ray & Liz feels like a bracing immersion in their world. Every little detail in Billingham's mind's eye bubbles to the surface, from Liz's gaudy, eye-popping floral wardrobe to the pattern on a plate and the way a menagerie of animals are never house trained. Visually, it often seems more like a crime scene than a home.
Billingham himself feels like an outsider or observer of the chaotic dramas of family life, and some of this is so grim and grotesque that it might have come from a Dickens novel or a Beckett play. Incidents from an acutely remember past include the horrific treatment of "soft" uncle Lol (Tony Way) and, some years later, the neglect of Richard's younger brother Jason (Joshua Millard Lloyd) that left him free to skip school, roam at will and treat the world as his own playground. There are, however, also some welcome moments of outrageous humour especially when the mischievous Jason fills his sleeping father's mouth with a spoonful of chilli powder.
It would be so easy to judge and condemn these characters, but Billingham wins you around to a position of empathy. The plight of Jason in particular makes you alive to the horror and the humanity of the whole situation. A beautifully understated, heart-melting performance from Joshua Millard Lloyd is a stand out and gives the film a real grip on the emotions.
Production company; Primitive Film
International sales: Luxbox fiorella@luxboxfilms.com
Producer: Jacqui Davies
Production design: Beck Rainford
Editing: Tracy Granger
Cinematography: Daniel Landin
Main cast: Ella Smith, Justin Sallinger, Patrick Romer