Dir: Barry Levinson. US. 2015. 106mins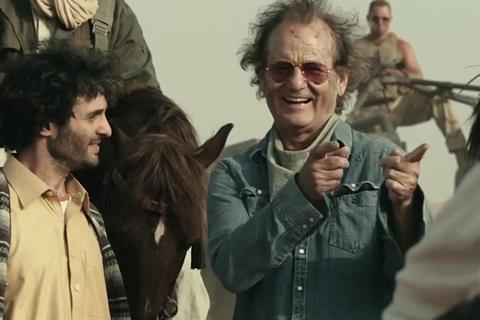 A stunningly misjudged comedy, Rock The Kasbah stretches and strains Bill Murray's deadpan nonchalance until it snaps, and what results is a singularly unfunny, often infuriating tale of a has-been US music promoter looking for a second chance in Afghanistan. Director Barry Levinson seems to be aiming for an ironic tone that mixes political commentary with wry observations about the absurdity of stardom, but he shows little aptitude for the tricky mix he's seeking. Murray floats along on his usual off-kilter wavelength, but even his reliable cool can't disguise an incoherent debacle.
One senses from the supporting cast's intentionally broad performances that all involved believed they were making an outlandish satire on the level of M*A*S*H
Opening October 23 in the US, this Open Road release will be hamstrung by poor reviews, and although Murray has his fans, they may not turn out to buy tickets. With a supporting cast that includes Kate Hudson, Bruce Willis and Zooey Deschanel, Rock The Kasbah will have some commercial visibility, and the movie's subplot about Afghan Star (that country's version of American Idol) could attract a few lovers of singing competitions. But this Rock could sink like a stone at the box office, heading to ancillary markets pretty quickly.
Murray plays Richie, an aging music manager whose glory days of discovering Madonna and hanging out with Fleetwood Mac seem far behind him. With few credible talents signed to his management company, Richie agrees to take his receptionist (Deschanel), who's an aspiring singer, on a USO tour of Afghanistan for a big payday. But once she ditches him in Kabul and takes all his money and passport, Richie must learn to survive in this hostile land, along the way stumbling upon a shy Pashtun girl named Salima (Leem Lubany) whose amazing voice prompts him to enter her in Afghan Star, even though women are forbidden to compete.
Loosely based on actual events documented in Havana Marking's 2009 Afghan Star, Rock The Kasbah would like to be a dark comedy in which over-the-hill, smooth-talking Richie learns that his slick L.A. style won't work in a country struggling with poverty, sexism and never-ending conflict — to say nothing of Western meddling. But Mitch Glazer's screenplay misguidedly puts the emphasis on "colourful" American supporting characters and Richie's inner growth, treating Salima's journey as practically an afterthought. (Lubany is barely given enough screen time to register.)
A smarter, tougher comedy might have excoriated the Americans we see in Rock The Kasbah, revealing their greed and shallow self-interest, but Levinson seems far too enamoured with his menagerie of would-be lovable oddballs, showing a shocking lack of interest in Salima and her fellow Afghans.
On a basic storytelling level, the film flounders, moving between narrative cul-de-sacs — Willis plays a nutty mercenary who indiscriminately pops in and out of the script — to finally, about halfway through, introducing Salima so that Richie can be the big hero who helps her win Afghan Star. There's a maddening arbitrariness to Rock the Kasbah as certain characters suddenly become crucial to the plot — Hudson portrays a one-joke Southern hooker who ends up becoming Richie's closest adviser — just as the film itself lurches in its final reels to become some sort of half-hearted statement about gender inequality in the Middle East.
What's tying all of these strands together is Murray, who plays Richie with the same sort of sad-faced-clown wistfulness that's been his staple for years. But his offhand pokerfaced delivery gains little traction in a story that lumbers this badly. Because Richie often exhibits a casually flippant attitude, another Murray trademark, Rock The Kasbah's myopic treatment of its Afghan characters makes it seem like he doesn't really care about Salima's plight. (In heavy-handed fashion, Rock The Kasbah makes it clear that she could be killed if she dares sing on Afghan Star.)
One senses from the supporting cast's intentionally broad performances that all involved believed they were making an outlandish satire on the level of M*A*S*H or Apocalypse Now, the characters' buffoonish or eccentric behaviour representing the absurdity of Westerners' influence in Afghanistan. But whether it's Hudson's collection of tics meant to suggest a no-nonsense prostitute or Danny McBride and Scott Caan's uninspired portrayals of wartime profiteers, Rock The Kasbah is filled with flabby ideas about the quagmire the US has helped create in the Middle East.
By the time the film shifts gears and becomes an unconvincing feel-good drama in which Richie uses his ace negotiation techniques to get Salima on Afghan Star, the ineptness of the whole project has become stifling. Richie may be redeemed by movie's end, but Rock The Kasbah is beyond saving.
Production companies: Venture Forth, QED International, Shangri La Entertainment
US distribution: Open Road Films, www.openroadfilms.com
International sales: QED International, www.qedintl.com
Producers: Jacob Pechenik, Bill Block, Ethan Smith, Steve Bing, Mitch Glazer
Executive producers: Tom Ortenberg, Peter Lawson, Iakovos Petsenikakis, Iakovina Petsenikakina, Sasha Shapiro, Anton Lessine, Brian Grazer, Tom Freston, Marsha Swinton
Screenplay: Mitch Glazer
Cinematography: Sean Bobbitt
Production design: Niels Sejer
Editors: Aaron Yanes, David Moritz
Music: Marcelo Zarvos
Website: www.rockthekasbahmovie.com
Main Cast: Bill Murray, Kate Hudson, Zooey Deschanel, Danny McBride, Scott Caan, Leem Lubany, Arian Moayed, Bruce Willis