Kate Hickey looks at the gentrification of Venice Beach in this affecting documentary
Dir: Kate Hickey. Australia/US. 2017. 82mins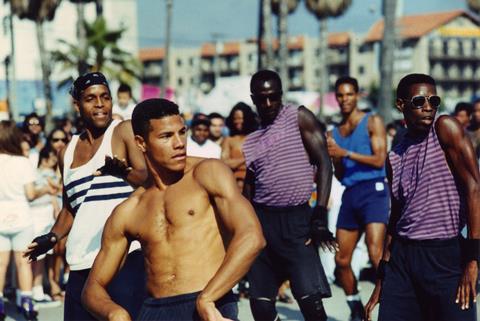 Contrasting vivid cultural snapshot with damning social commentary, Roller Dreams takes its place in the growing pantheon of documentaries which aim to expose the American Dream. Australian director Kate Hickey effectively uses the roller dance culture of LA's Venice Beach as a microcosm through which to explore uncomfortable truths about the country'attitudes to minority communities.
Issues of race snake a dark path through the history of Venice Beach
Coming to London after playing at both the Sydney and Los Angeles Film Festivals (and winning the Best Documentary Audience Award at the former) Roller Dreams is an accomplished debut from Hickey, who has hitherto forged a career as an editor on the likes of Cannes-nominated feature Oh Lucy!. That she follows a familiar route of well-choreographed archive footage woven together with insightful talking heads should see her film settle into the festival circuit, and its socio-political relevance will attract interest from similarly minded audiences.
The film opens with colourful archive footage of Venice Beach in the 1980s, when huge crowds would flock to see roller skaters peacocking on the smooth sidewalk. Talking heads introduce us to the original team of skaters; charming (and predominantly black) individuals like Terrell, Sally and Duval, who held court on the strip of asphalt known as Disco Alley as they performed elaborate routines to music pumping out of boomboxes. In the middle of it all is the group's imposing leader Mad; a hulking man who skated, as Sally recounts, like 'liquid poetry'.
The passion they have for skating goes far beyond the whooping appreciation of the crowd. For Tyrell, who grew up in South Central LA, skating's community and sense of discipline kept him out of trouble. For Sally, a Middle Eastern immigrant, its melting pot atmosphere offered a sense of true belonging. And for Mad, it was a true escape; both from the abuses of home and the brutality of downtown LA.
Issues of race snake a dark path through the history of Venice Beach. For the skaters of the 1970s and 80s, it was a multicultural haven; skating attracted men and women of multiple ethnicities, suggesting to idealists like Sally that the prejudices of her childhood were melting away.
What happened next, however, is familiar in retrospect. As skating grew popular, Hollywood came knocking; enlisting the Venice Beach skaters to act as trainers with the resulting slew of movies — Roller Boogie, Skatetown USA, Xanadu — centred entirely around white characters. Hip-hop music turned into gangster rap, replacing the empowering songs the dancers loved — James Brown's' I'm Black and I'm Proud, Garrett's Crew's Nasty Rock -— with ones that spoke of money, misogyny and violence. Tensions between old and new skaters increased, drugs arrived on the scene and police presence became oppressive. Finally, the city ripped up Disco Alley and relocated the skaters to a tiny corner patch.
Modern Venice Beach has been born from that domino effect of 'gentrification'. From the skaters' perspective, however, it could also be seen as a covert form of segregation; similar to that explored in Ava Duvernay's The 13th, or Steve James' Abacus: Small Enough To Jail.
And while the lack of input from anyone other than the skaters themselves may suggest a certain narrative bias, it's certainly difficult to disagree with Sally when she claims that the area has been "ethnically cleansed so that the terrified elite feel safe". In this way, while Roller Dreams may play out in Venice Beach, it chimes a universal chord.
Production company/international sales: Aquarius Films, bec@aquariusfilms.com.au
Producers: Cecilia Ritchie, Diana Ward
Executive producer: Angie Fielder, Polly Staniford
Cinematography: Toby Oliver
Editors: Kate Hickey, Rachel Grierson-Johns
Music: Kathryn Bostic
Featuring: Mad, Sarah Messenger, Terrell Ferguson