A concert promoter tries to stage an Iron Maiden concert in 1980s Dundee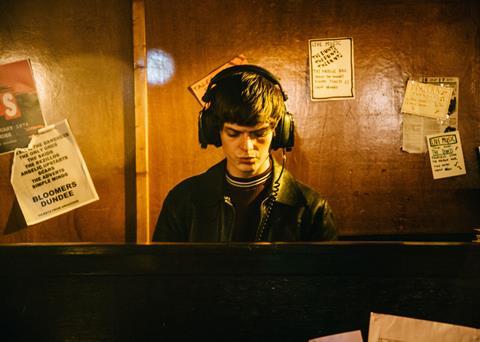 Dir/scr David McLean. UK. 2019. 91 mins.
The positive thing about Schemers, a vanity project directed by the Scottish former rock promoter David McLean concerning his own mis-spent youth in Dundee, is that it doesn't take itself too seriously. Telling the story of a young lad in Thatcher's Britain who tries to con his way out of factory work by putting on concerts with money from the local mob hardly breaks new ground, though. The soundtrack helps, and there are edits straight from the Trainspotting playbook, but promises of a modern-day Gregory's Girl come aground on the rocks of the writer-director's sky-high estimation of its hero – or, himself.
Writer/director David Mclean has a problem dealing with any character who isn't based on himself
Audiences who were hanging around Caird Hall in 1979 waiting breathlessly to see whether the crucial Iron Maiden show would go ahead will undoubtedly pack the house for Schemers' Edinburgh Film Festival premiere alongside writer/director Mclean's family and friends. Repeat engagements outside Scotland seem unlikely, although indifferent reviews are unlikely to dent the brash confidence in evidence for this big-screen debut.
Inhaling Irvine Welsh and exhaling unevenly, Schemers starts with some fitfully-amusing sequences which recount how lad-about-town Davie's (Conor Berry) promising career as a footballer is cut short by the boyfriend of a drunken one-night-stand. (Mclean has a problem dealing with any character who isn't Davie, and women in particular suffer from this blind spot.) Not wanting to settle for the boring nine-to-five factory work offered by an unintelligible friend of his equally broad-accented father, David starts to scheme his way into life as a concert promoter. This involves, essentially, taking his friends' cash and squandering it at the bookies, being obnoxious to his no-character Irish nurse girlfriend (Tara Lee), and falling foul of the not-very-convincing local mafia.
McLean has written an omnipresent voiceover which acts as a kind of love letter to his younger self. In fact, the film is so absurdly convinced of Davie's irrepressible Jack-the-lad charms that it ends up having a reverse effect. Newcomer Conor Berry, looking like a young Sam Riley, goes heavy on the haircut and doe-eyed close-ups, but it becomes a harder sell as the plot spins on its wheels. Schemers never really answers the question of why we should care if Davie succeeds or not, while the 1980s soundtrack makes you think longingly of happier times spent watching 2016's Sing Street.
While the cast is palpably young and inexperienced, and McLean's directorial skills betray the fact he's new to this game, the film's technical team works overtime to cover up the cracks. Production design is fine, constrained by a clearly tight budget to using the same venues but repeatedly over-coming the visual hurdles this entails. Costuming is also good, while editor Khaled Spiewak turns in some convincing genre pastiches involving freeze-frames and still photography. Rarely, however, has a sell-out pub concert on screen seem so thinly attended. It seems likely that McLean's experience of packed houses may be restricted to his live music career, although the progamme notes indicate there's another feature in the pipline for those left wanting more.
Production company: Riverman
International sales: Rebekah@thefilmfestivaldoctor.com
Producers: Alex Weston, Virginia Lee
Screenplay: David Mclean
Production design: Wendy Cairns
Cinematography: Alan McLaughlin
Editing: Khaled Spiewak
Main cast: Conor Berry, Tara Lee, Sean Connor, Grant R. Keelan