A bereft Brazilian teen turns to witchcraft to bring her boyfriend back to life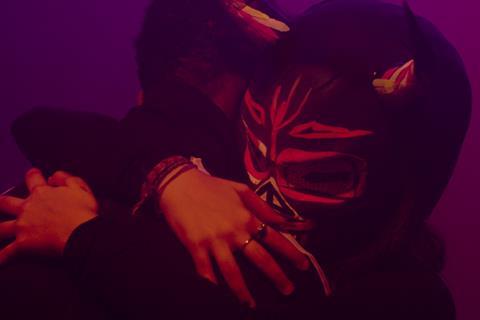 Dir. Alice Furtado. Brazil-France-Netherlands. 2019. 100mins
This is an ambitious debut from Brazilian director (and co-writer) Alice Furtado, dedicated almost entirely to creating mood around the slight story of doomed young lovers and an obsession that goes beyond the grave. A little more structure might help Sick, Sick, Sick connect better with audiences; its handsome cast and locale, mightily effective score and hypnotic visuals are emphasised, but the longeurs are equally as intense as its mute teenage heroine. Premiering at Director's Fortnight in Cannes, its commercial prospects seem limited outside festival exposure in co-production markets focused around its young director.
Furtado has a talent for arresting visuals
There's a definite indulgence in the shooting and edit which favours young protagonist Silvia, played by up-and-coming actress Luiza Kosovski who struggles to provide all the sparse screenplay demands of her. The story seems intensely personal. Silvia is a remote presence in her class until she meets with the handsome young Artur (Juan Paiva), a skateboarding enthusiast and sometime poet who has been repeatedly expelled from other schools.
The pair have such an intense connection, both spiritual and sexual, that they become immediately inseparable. Artur, however, suffers from haemophila, and dies shockingly in an abrupt accident around 20 minutes into the film's 100-minute running time. Sullen Silvia is so bereft, she becomes sick; vomiting blood, hallucinating. She goes for a gastroscopy.
After a pointless encounter with Artur's estranged brother at a bondage photoshoot, Furtado then unhitches her films from its urban moorings and sends Silvia off with her family to a beachside house on an island in the south of the country. She meets a man and his pregnant dog on the beach and they become friends. He tells her of a French mother and son who walk around naked, and that leads Silvia to Lia (BPM's Nahuel Perez Biscayart). They talk about voodoo and witchcraft. Silvia seems haunted herself and it appears that she has become obsessed with the idea of raising Artur from the dead. However, by this time Sick, Sick, Sick barely has a pulse left itself.
Trying to push through an entire film based on an almost mute lead character would be a challenge for any director, never mind a first-timer. Furtado fills the void with mood, and she has a talent for arresting visuals. She's also helped by an excellent score from Orlando Scarpa Neta, which adds greatly to the atmosphere. A scene where Silvia casts a spell is intense and effective. But all the tricks in the world can't disguise the gap which is supposed to be inhabited by the characters and story. A delayed payoff comes far too late to resuscitate this film.
Production company: Estudio Giz
International sales: Alpha Violet, info@alphaviolet.com
Producers: Aline Mazzarella, Matheus Peçanha, Thiago Yamachita
Screenplay: Alice Furtado, Leonardo Levis
Cinematography: Felipe Quintelas
Editing: Alice Furtado, Luisa Marques
Production design: Elsa Romero
Music: Orlando Scarpa Neta
Main cast: Luiza Kosovski, Juan Palva, Digão Ribeiro, Silvia Buarque. Lourenço Mutarelli. Ismar Tirelli Neto, Valentina Luz, Nahuel Perez Biscayart