For her big screen debut, web personality Fawzia Mirza plays a closeted Chicago lawyer by day, a smackdown "luchadora" wrestler by night.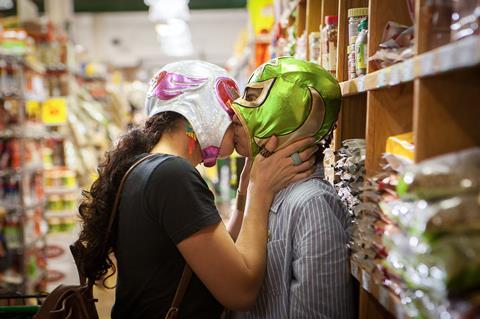 Dir. Jennifer Reader. US, 2017, 82 mins.
Hot on the heels of The Big Sick – a Sundance title about a Muslim stand-up comedian and the American girlfriend he hides from his family – comes Signature Move, in which a lesbian Muslim lawyer who falls in love with a vivacious Mexican bookseller is forced to confront her recently-widowed Pakistani mother. Cross-cultural comedies are clearly in currency right now, although this Chicago-set story is more polite than its immediate predecessor.
Ironically, given its title, Signature Move could have done with something to distinguish it
Co-writer and -producer Fawzia Mirza brings a warm, easy sensuality to her role as Chicago lawyer, although Signature Move is too small and specific to move far outside what should be a warm welcome on the LGBT circuit after its SXSW premiere (it will close London's Flare festival shortly after). There's also the pleasure of seeing veteran Indian actress Shabana Azmi giving her support to this project by tackling the rather stereotypical role of an Asian mother desperate to marry off her daughter.
One of Signature Move's charms is a perky soundtrack which makes the most of the plot's cultural potential – from Pakistan to Mexico by way of Chicago's immigrant communities and the luchadora female wrestling ring. First-time director Jennifer Reader's staging can lack the flair and comic timing to break the film out, but there are plenty of vivacious consolations in a screenplay which is set partly in the ring of this outsized world. Despite its subject matter however, and the fact the story must be close to Mirza's life as an out, Muslim, former lawyer, Signature Move is – like its heroine – cautious when tackling its most contentious themes.
Mirza plays Zaynab, a Chicago lawyer specialising in immigration issues whose widowed mother Parveen (Azmi) has recently moved into her home. Parveen spends all day sitting on a La-Z-Boy watching Pakistani soap operas and, in some awkward plotting, peering outside the window through binoculars to find Zaynab a nice Muslim husband from random passers-by on the street. This arrangement works uneasily enough until Zaynab meets the sparky Alma (Sari Sanchez) in a bar and they begin a tentative relationship.
Injecting a plot point which falls outside the romantic comedy norm, a repressed Zayneb takes wrestling lessons from her client and confidante Jayde (Audrey Francis) in lieu of payment. So it's a happy coincidence that Alma's feisty mother Rosa (Charin Alvarez) turns out to have been a professional luchadora back in Mexico. All roads lead out of the closet and into the ring for Zaynab as she struggles to tell the truth and accept that she has fallen in love.
Signature Move starts with an attractive pre-title sequence as Zaynab zips around Chicago's immigrant neighbourhoods on her moped, and the wrestling sequences are also colourful and engaging. Elsewhere, technical credits are of a standard level.
The theme of an Asian family being desprate to marry off their gay offspring isn't quite as fresh as the film-makers seem to imagine — it's nearly a quarter of a century since Ang Lee made The Wedding Banquet - yet any fresh observations on religious issues are mostly swept aside amidst pallid commentary on how Pakistani and Mexican soap operas aren't quite so different, after all. Ironically, given its title, Signature Move could have done with something to distinguish it.
Production company: New City, Full Spectrum Features
International sales: brian@newcity.com
Producer: Brian Hieggelke, Eugene Sun Park, Fawzia Mirza
Executive producer: Michael Shannon, Jan Hieggelke, Hugh Schulze, Nabeela Rashid
Screenplay, Fawzia Mirza, Lisa Donato
Cinematography: Christopher Rejano
Editor: Felix Pineiro
Production design: Amanda Brinton
Music: Carlos Villalobos
Main cast: Fawzia Mirza, Shabana Azmi, Sari Sanchez, Audrey Francis, Charin Alvarez, Molly Brennan, Mark Hood