Dongnan Chen's documentary about a rural Chinese Christian choir is unexectedly - and vividly - revealing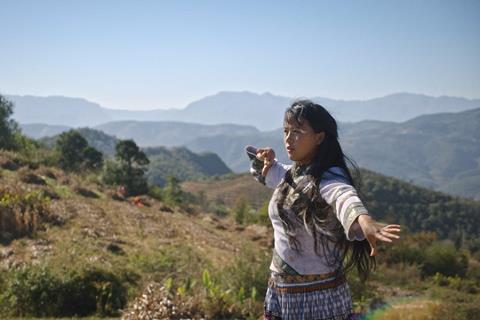 Dir/scr: Dongnan Chen. China. 2021. 99min
The disorienting speed of "progress" in modern-day China is engagingly encapsulated in Dongnan Chen's Singing in the Wilderness, whose starting-point is a Christian choir in the mountains of the southern Yunnan province. Switching nimbly between individuals, groups and their wider cultural and socio-economic contexts over several tumultuous years, Chen — herself Chinese, though New York-based — effectively conveys vivid implications without the need for direct editorialising.
A touching and rewarding example of deceptively low-key political documentary
Slickly assembled in all areas, the film bows in the main competition at Thessaloniki Documentary Film Festival, where it appeals as a prominent awards contender. Further exposure at non-fiction-oriented festivals, channels and platforms will doubtless follow for this atmospheric, visually impressive and thought-provoking work of empathetic humanism.
The choir has operated in the remote Little Well village for over a century, though Chen does not explain how and why Christianity managed to penetrate and take hold among these representatives of the minority Miao ethnicity. Offshoots of the Miao (who speak the A-Hmao language) are to be found in several of China's south-eastern neighbours, the best-known subgroup being the Hmong — thousands of whom emigrated from Laos to the United States in the mid-1970s.
Chen's camera observes with fly-on-the-wall detachment as the choir — populated by local farmers and farm-workers, and led by smiling, self-effacing conductor Long — enjoys attention from domestic tourists and then from wily "county propaganda minister" Zhang, who is quick to exploit their charming appeal for promotional purposes. The latter efforts provide the film's early highlight, when selected female members of the mixed-gender choir suddenly pop up in folk attire on television, belting out the Abba standard 'Mamma Mia' or rather a breakneck 38-second condensation of same — on an American-style TV talent-show.
This incongruous collision of traditional/eastern and modern/western catches the film's audience off-guard; its bolt-from-the-blue impact is a nifty coup by editors Chen and Emelie Madhavian. (The two co-editors are Yann-Shan Tsai and Matthieu Laclau; the latter a Taiwan-based Frenchman who has assembled notable East Asian credits in recent years including Jia Zhang-Ke's Ash Is Purest White and Diao Yi'nan's The Wild Goose Lake.)
Ascribing credit for editing when multiple hands are involved — Keith Fulton (of Lost In La Mancha renown) is listed as "additional editor" and there are four "assistant editors" — is always a matter of guesswork, but it seems probable that the experienced and skilled Laclau played a considerable role in Singing in the Wilderness' overall consistency and merits. Fulton, meanwhile, came on board with his regular collaborator Lou Pepe as a result of the project's selection for the 2019 Sundance Institute Documentary Edit and Story Lab. The film's credits are laden with such labs and funds, but for once a multiplicity of cooks has yielded a coherent and satisfying broth.
Chen pays particular attention to two choir-members: Ping, a spirited, ambitious woman in her early 20s ("I don't want to be a farmer for a lifetime,") and Sheng, a 30ish goatherd who concentrates on his religion, work and singing to the detriment of his personal life. Both Ping and Sheng eventually get married – Ping moves 50 miles away and must leave the choir – and both experience harrowing domestic woes as a result. Over several years we see them suffer the social, economic and cultural vicissitudes of the area, and its citizens receiving regional, national and ultimately international attention.
The insensitive handling of people, traditions and landscape conveyed by Singing in the Wilderness is, of course, a microcosm of much wider developments across China. Zhang schemes with a developer to turn Little Creek into a tourist magnet, "a very exotic town", with predictably unfortunate consequences for all as residents are displaced and farming and traditional crafts are rapidly abandoned. Chen maximises her access to several revealing discussions, all which paint officialdom in a dim light. Her eye-openingly candid film may attract a frosty reception from the Chinese authorities; audiences both at home and abroad, however, will find this a touching and rewarding example of deceptively low-key political documentary.
Production company: Tail Bite Tail Films
International sales: c/o Dongnan Chen nanchen1895@gmail.com
Producers: Dongnan Chen, Violet Du Feng, Qi Zhao
Editing: Dongnan Chen, Emelie Madhavian
Director of photography: Jisong Li
Music: Chad Cannon