Dir Gregg Bishop. USA, 2016. 82mins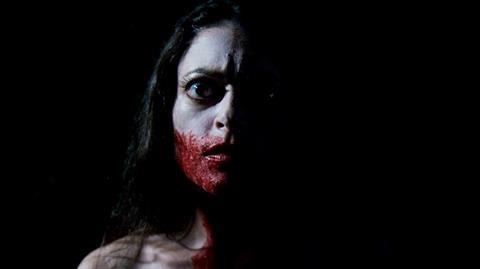 A stag night-gone-wrong horror film with a compelling female monster, SiREN is a remake of / sequel to 'Amatuer Night', an episode of the three-film V/H/S found footage anthology franchise scripted by Nicholas Tecosky and directed by David Bruckner (The Signal, Southbound). Here, director / co-writer Gregg Bishop mashes up the premise of Amateur Night with the themes of his V/H/S Viral episode 'Dante the Great'.
This is a fully-developed narrative with sub-plots and a welcome range of ideas
SiREN abandons the found footage angle - overworked in the last few years - to play as conventional film narrative, and consequently depends more on plot and characters than the V/H/S vignettes. Better-natured than much contemporary horror, this will work well even with jaded genre devotees and has decent theatrical prospects with a view to reaping further coin on other platforms.
British-born Hannah Fierman, reprising her V/H/S turn as lithe femme fatale Lily, combines unworldly sexiness and feral viciousness. Justin Welborn, the mad magician of 'Dante the Great', matches her as cowboy-hatted, goateed, sunglasses-sporting conjurer Mr Nyx, proprietor of an out-of-the-way after hours kink club. Lily is a obviously a sequel-friendly character but we also see enough of Mr Nyx and his stable of strange sex workers - especially Brittany S. Hall as a bewigged bartender with a surprising scalp condition - to have a sense of their spin-off potential.
After a prologue set in a desecrated church, showing how Lily comes to be shackled in Nyx's club, the film gets into Hangover territory as nice guy Jonah (Chase Williamson) leaves his fiancée Eva (Lindsey Garrett) to be taken on a bachelor party by his wilder brother/best man Mac (Michael Aaron Milligan) along with more stable pals Rand (Hayes Mercure) and Elliott (Randy McDowell). In a comically disappointing lap-dancing club, Mac is accosted by a tout (William Mark McCullough) who promises to lead the guys to a more extreme venue - which turns out to be Mr Nyx's ominously genteel/decadent establishment.
Taken down to a labyrinth of booths, Jonah is overwhelmed by the effect of Lily's song and decides she's a captive sex slave who needs to be released. Out of her box, she soon shows her claws - and teeth and wings and tail - as she latches on to her rescuer as a lover-cum-sweet-treat (using her tail innovatively in a funny-scary sex scene).
'Amateur Night' was a sketch, but this is a fully-developed narrative with sub-plots and a welcome range of ideas; leeches fat with memories that can be drunk in a cocktail, the tension between the brothers and the several shapes of the demon-succubus-siren-Lilith-vampire waif, who is as much heroine of the story as its main menace. Bishop, director of The Other Side and Dance of the Dead, likes stories of everyday folks who stray into weird worlds. This is more of a thrill-ride than a scare-fest, though Fierman snatches a few quiet moments with her digitally augmented stare and toothy smile.
Production Companies: Chiller Films, The Collective Studios, Digital Bytes
Distributor: Chiller Films (USA)
Producers: Gary Binkow, Jude S Walko
Executive Producers: David Bruckner, Brad Miska
Cinematography: George Feucht
Editor: Gregg Bishop
Music: Kristopher Carter
Production Designers: Boontawee Thor Taweepasas
Cast: Hannah Fierman, Chase Williamson, Justin Welborn, Michael Aaron Milligan, Hayes Mecure