Dir. Nick Whitfield. UK. 2009. 96 mins.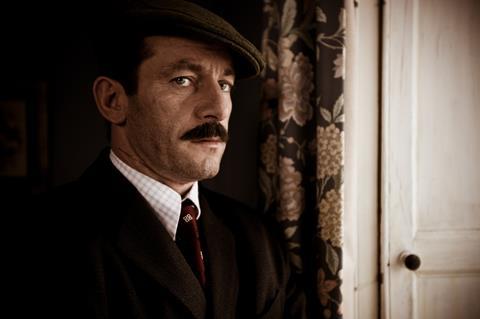 Gifted Danish actress Paprika Steen appears one-third of the way into this tiresome exercise in extending Whitfield's short into feature length and nearly makes it all worthwhile. Yet she can only do so much for what is more an episode of a mass-appeal British sitcom than a film per se.
Extensive use of close-ups, an under-populated cast, and the spare (if neat) production values underline the small-screen aspects of his comedy about small-town exorcists, played by Gaughan and Buckley.
Whitfield tries too hard to make their itinerant work in the homes of naïve couples in charming villages the object of laughter. The Mutt-and-Jeff sized men speak in euphemisms, spout out bureaucratic nonsense, and utilise low-tech "machines" to suss out "skeletons in the cupboard."
The whole scheme is presented as if they are dabbling in risky espionage, and the occasional gratuitous presence of Isaacs as their enigmatic chief, the Colonel, is meant to reinforce this impression. Just in case this is over any viewer's head, Whitfield inserts a raft of cheap gags to keep things moving along.
When the fellows meet Jane (Steen), she is furiously digging in an attempt to locate the burial spot of her beloved husband, missing for eight years. Davis (Gaughan) and she take more than a liking to each other, while Bennett (Buckley) and her strange daughter (Middleton) forge their own bond. The narrative does tighten once they move into Jane's home, and the enterprise darkens in a positive way after they discover and reveal the painful truth about the feckless spouse.
To sign up for Screen's weekly Reviews Newsletter with all the week's new releases, international openings and full festival reviews delivered free to your mailbox every Friday, please click HERE
Production companies
Forward Films
Edge City Films
EM Media
Scottish Screen
International sales
Forward Films
+ 44 (0) 207 632 9643
Producers
Suzanne Alizart
Robbie Allen
Anna Seifert-Speck
International sales
Forward Films
Screenplay
Nick Whitfield
Cinematography
Zac Nicholson
Editor
Rachel Tunnard
Production design
James Lapsley
Music
Simon Whitfield
Main cast
Ed Gaughan
Andrew Buckley
Tuppence Middleton
Paprika Steen
Jason Isaacs
Josef Whitfield