Produced in collaboration with China's Air Force, this military actioner fails to get airborne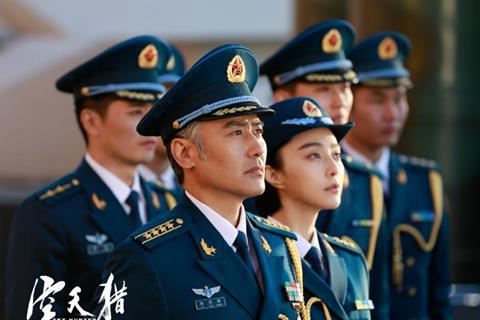 Dir: Li Chen. China. 2017. 115mins
Just as this summer's record-breaking Wolf Warrior 2 was widely seen as China's version of Rambo: First Blood Part II (1985), director-star Li Chen's air force adventure Sky Hunter has been touted as its answer to Top Gun (1986). Produced in collaboration with the People's Liberation Army Air Force, this thinly-veiled recruitment film sets out its agenda with an opening sequence in which flight school graduate Wu Di (Li) gets the better of an arrogant U.S. military pilot with an audacious upside down maneuver and captures the attention of the American's female co-pilot.
Sky Hunter has the rushed feel of a direct-to-DVD quickie
China's current patriotic mood following the recent celebration of the PLA's 90th anniversary should ensure solid local box office returns. The appeal of such unabashed flag-waving will, however, be largely restricted to local cinematic airspace.
Structurally, Sky Hunter is modeled on Wolf Warrior (2015) with the first half devoted to the training of the titular elite unit and the second putting its recruits into the field. After being accepted to the program, Wu aims to impress legendary instructor Ling Weifeng (Wang Qianyuan) and work up the nerve to express romantic feelings towards classmate Zhao Yali (Fan Bingbing).
Wu gets the chance to prove himself when a terrorist operation led by Rahman (Tomer Oz) takes a dozen Chinese citizens hostage in the fictional Republic of Mahbu in order to demand the release of their leader. An exchange is agreed but, when the organization's figurehead is gunned-down by the father of one of his victims, Wu and his unit prep a high-risk rescue mission.
Publicity for Sky Hunter has focused on the unprecedented level of cooperation that the producers received from the PLAAF, which allowed access to its bases and provided the use of its latest J-20 stealth fighter. This has, however, clearly been granted on the condition that Li presents the PLAAF as an appealing career option for young people. The romantic subplot between Wu and Zhao never goes beyond chaste flirtation, and there is little friction of any kind between the other rookies, presumably because the PLAAF wants the public to know that its pilots put country before personal matters. While this may be reassuring, it doesn't spur any particularly compelling dynamics.
On the international side, Oz makes the most of his one-note role as a snarling terrorist having been promoted to lead bad guy duties following small parts in such Jackie Chan vehicles as Dragon Blade (2015) and Skiptrace (2016). The production otherwise falls back on China's strategy of hiring whichever foreigners are readily available regardless of professional experience, with some line readings prompting unintentional laughs.
Despite being equipped with a $32 million budget and benefitting from a suitably rousing score from Hans Zimmer protégé Andrew Kawczynski, Sky Hunter has the rushed feel of a direct-to-DVD quickie with variable CGI renderings in the aerial sequences and ground level shoot-outs that lack any sense of danger. Regardless of how one felt about the jingoistic fervor of Operation Mekong (2016) or Wolf Warrior 2, their ferocious action scenes sprayed the screen with blood and sweat; in comparison, Sky Hunter is antiseptic in its depiction of combat situations.
Production companies: Air Force Political Department Television Arts Center, Chunqiu Time Culture Films
US Distributor: Asia Releasing
International sales: Pegasus Motion Pictures info@pegasusmovie.com
Producer: Lv Jianmin
Screenplay: Li Chen, Li Zhang
Cinematography: Danny Chen
Music: Andrew Kawczynski
Main Cast: Li Chen, Fan Bingbing, Li Jiahang, Wang Qianyuan Wang, Tomer Oz, Lee Leon, Guo Mingyu