Goldie Hawn and Amy Schumer mine for comedic gold in Jonathan Levine's hostage scenario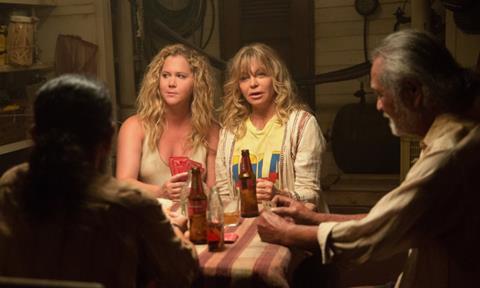 Dir: Jonathan Levine. US. 2017. 90mins
Often amusing but rarely shifting into a higher comedic gear, Snatched features fun chemistry between co-stars Amy Schumer and Goldie Hawn, some delightfully goofy moments of stray hilarity, yet not enough story or heart to keep this thin tale afloat. While there's potential in a film about a mother and daughter who bond once they're kidnapped during an Ecuadorian vacation, director Jonathan Levine and writer Katie Dippold trip up trying to pay off their premise — not to mention capitalising on Hawn's first big-screen role in more than a decade.
Snatched can surprise you with a weird comedic digression
Fox will be releasing Snatched in the US on May 12, and the UK a week later. Schumer's star has been on the rise thanks to 2015's Trainwreck, and Hawn is a beloved Hollywood icon whose return to acting will appeal to older audiences. Until Baywatch's arrival later this month, this genial R-rated laugher will face very little direct competition, paving the way for a long cable afterlife.
As the film begins, shiftless Emily (Schumer) has just been fired from her dead-end retail job and dumped by her rock-star boyfriend (Randall Park). All of that is depressing enough, but she has also purchased two non-refundable tickets to Ecuador, a trip she's now forced to go on with her overly protective mother Linda (Hawn). Leery of her mum's nagging, cautious personality, Emily nonetheless finds herself relishing the opportunity to reconnect with Linda — until a sexy, duplicitous stranger (Tom Bateman) lures the two women away from their resort, leading them to be captured by local criminals.
Levine (Warm Bodies, The Night Before) mostly sits back and lets his lead actresses steer. In her first film since 2002's The Banger Sisters, Hawn has an easy rapport with Schumer, happy to play an uptight older woman who subtly undermines her daughter's confidence. By comparison, Schumer plays a version of her stand-up persona — which was also used to good effect in Trainwreck, which she wrote — presenting us with a slightly immature, well-meaning screw-up. These are undemanding roles, but the two women prove to be likeable company.
Dippold, who previously wrote The Heat and co-wrote the Ghostbusters remake, has a penchant for dissecting female relationships, and she makes light sport out of mother-daughter tension. Early on, Snatched leans heavily on random jokes about personal grooming, rape whistles and Emily's sheltered brother (an endearingly nerdy Ike Barinholtz). Once the film becomes more of an action-comedy-thriller, the stakes don't get appreciably higher as Emily and Linda run for their lives through South America's inhospitable jungles. Snatched keeps lobbing bizarre non-sequiturs at the audience — a tapeworm has a most unexpected cameo about halfway through — but Levine can't quite overcome the material's nagging slightness.
Just as the comedic tension doesn't escalate, Snatched falters while trying to explore Emily and Linda's relationship. Essentially, Emily has to learn to stop being self-centred and Linda needs to take chances. The characters' emotional progression is so rudimentary — and, more frustratingly, not very funny — that it slows down the movie's momentum. As a result, Snatched relies too much on its actresses' rapport to make us care about fundamentally dull people in a mildly hair-raising scenario.
That said, Snatched can surprise you with a weird comedic digression. Linda's confusion about her rape whistle — it's actually a dog whistle — results in some humorous moments. Barinholtz's escalating, ineffectual attempts to rescue his family end up being Snatched's best running joke. Side characters die in gruesome, shockingly abrupt ways. And then there's the inspired introduction of Roger (an enjoyably blustery Christopher Meloni), a rugged jungle adventurer who vows to guide the women to safety — a promise, we'll learn, that may be hard to keep.
But the film's slapdash execution keeps getting in the way. That irritation is best embodied in Joan Cusack and Wanda Sykes, who play eccentric best friends vacationing at the same resort as Emily and Linda. Gifted comediennes, Cusack and Sykes are saddled with shtick-y characters who become increasingly important, although Snatched doesn't quite know what to do with them.
Production companies: TSG Entertainment, Chernin Entertainment, Feigco Entertainment
Worldwide distribution: Fox, www.foxmovies.com
Producers: Peter Chernin, Jenno Topping, Paul Feig, Jessie Henderson
Executive producers: Donald J. Lee Jr., Amy Schumer, Kim Caramele, Katie Dippold, Tonia Davis
Screenplay: Katie Dippold
Cinematography: Florian Ballhaus
Production design: Mark Ricker
Editors: Melissa Bretherton, Zene Baker
Music: Theodore Shapiro & Chris Bacon
Website: www.foxmovies.com/movies/snatched
Main Cast: Amy Schumer, Goldie Hawn, Joan Cusack, Ike Barinholtz, Wanda Sykes, Christopher Meloni, Óscar Jaenada, Tom Bateman, Randall Park